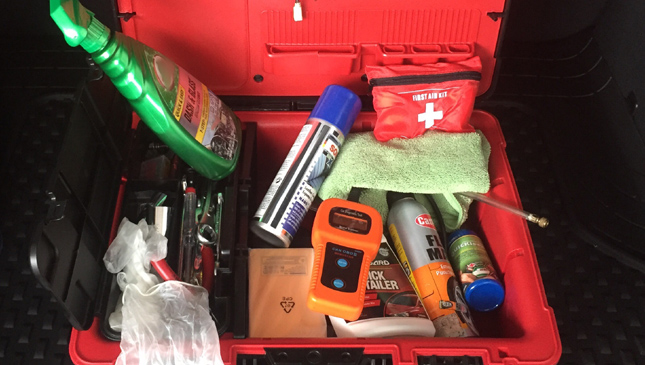 If you are reading this and sitting next to your wife or girlfriend, ask her what her beauty essentials are whenever she leaves home. We're pretty sure that she'll mention a number of things.
The same thing applies with your car. It sucks when you are caught in a situation that could have easily been resolved had you only brought certain items. This is why I can't head out without my ride's kikay kit. Here are its contents:
1) Detailer. You never know when a flock of pigeons decides to do a bombing run on your car. It's always good to be prepared by having detailer spray in your kikay kit. It's a great way of preserving your vehicle's paint and shielding it from damage or stains.
Continue reading below ↓
Recommended Videos
Lesson of the day: Did you know that bird droppings are acidic? When their s*** comes into contact with your clear coat (especially under the sun), it can leave hideous marks and cause damage if not cleaned up right away. The same goes for bug juice!
2) Microfiber towels. Your car deserves better than an old rag. Microfiber towels are essential for cleaning and buffing different parts of your ride, and they provide the least amount of abrasiveness and absorb moisture well. Keep a few in your kit for inside-out use.
3) Chip/scratch filler or touch-up pen. It is unavoidable to get scratches and chips on your paint. Sometimes these blemishes can go deeper than your primer, exposing the bare metal to the elements and eventually causing unsightly corrosion.
A chip stick is a hardened form of wax that matches the color of your paint and easily fills that chip or scratch, making it less obvious and protected.
A touch-up pen is used to fill blemishes with paint matching your car's finish. When purchasing one, make sure the product has the same code as your vehicle's paint.
4) Leather and upholstery cleaner. No matter how much care you take, mishaps in your interior can still happen. Be ready to clean spills and dirt right away on both leather and fabric lining before it becomes a real problem.
5) Glass cleaner. Maintaining a clear view of the outside world and keeping your driving gauges/infotainment screen spotless is a good thing. Use effective yet gentle enough glass cleaner, preferably ammonia-free, for all your glass and glossy bits.
6) Flat repair kit/solution and tire pressure gauge. Changing a flat can be a daunting task, especially when the weather isn't friendly and you are far from civilization. Having a flat repair solution with compressed air lessens that hassle and gives you time to get to a professional vulcanizing shop for repairs. A trusty tire pressure gauge should always be a partner for your kit so you can check for proper pressure before you get rolling.
7) Power bank jump-starter. Jumper cables are only helpful when you have a support vehicle to give your ride that spark to run again. A power bank jump-starter is more reliable as you won't need help from anyone. A fully charged unit can jump-start your vehicle several times, plus it charges your mobile devices in case you need to call for assistance. It also has an LED flashlight. Look for one that comes with safer no-spark cables. Many hardware stores in malls have this product.
8) Tools and backup parts. The tools that come with your car are only basic enough for tire changes and a few other things. Make sure you have an extra array of tools applicable to important parts of your car. Have a soldering pen, lead, heat-shrink wire insulator and electrical tape ready in case of electrical issues. It won't hurt to carry along spare fuses as well.
9) Latex/rubber gloves. Protecting that manicure and silky smooth skin is important whenever you do a car detail on-the-go.
10) First aid kit. Keep a medical kit handy to prevent infection and a mess in case you somehow cut or injure yourself. We are pretty sure you wouldn't want your upholstery looking like a crime scene.
Bonus point: Diagnostic tool/scan gauge. A diagnostic scanner can extract fault codes and give you system information whenever warning lights like a 'check engine' come on. Localizing the source of an issue can better aid you in your approach to solving it. You'll also be a step ahead of the dealership just in case it needs to be brought in.
Note: It helps to have a neat box to put all these items in, too.