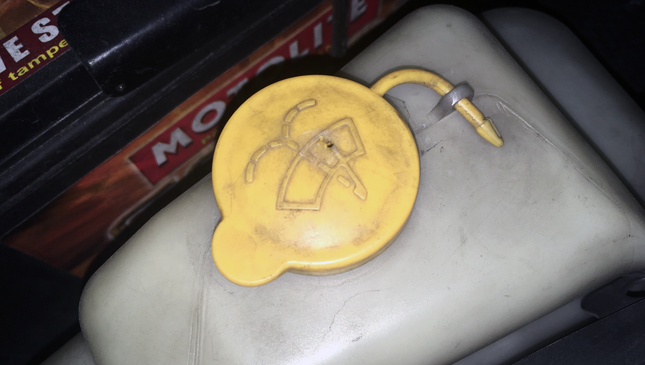 Drivers shouldn't take windshield washer fluid for granted, especially during the rainy season. The windshield washer is primarily used to wash away any dirt and grime that can collect on your windshield. During the rains, it is an even more essential tool in ensuring your safety. You see, a lot of the muck that collects on the glass comes from the road spray kicked up by the car up ahead. And the faster you are traveling, more of this gunk and grease (and other unmentionable grossness) ends up on your windshield. Do you drive a car that sits low to the ground? If so, it is even more susceptible to collecting even more grime. At this point, your wipers will need all the help they can get in clearing the dirt off.
Continue reading below ↓
Recommended Videos
If this muck isn't cleared away, there's also a chance that it can damage the windshield. You won't see big scratches, but over time, these 'micro' scratches will appear. This is most obvious when driving at night, when the glare from oncoming vehicles seems more intense. That's from micro-scratches.
There are a good number of products that you can use as windshield washer fluid. We even wrote an article about some household products that can be used. Some drivers even recommend using a mixture involving water and white vinegar. Some folks use only distilled water. Some use a combination of dishwashing liquid and water. Why? Because the degreasing abilities of these mixtures help in cutting through the grime. However, we'd be wary about what you put into the washer reservoir. We've already experienced using a product that ended up clogging the washer jets and stressing out the washer motor.
But that's just half of the story. The wipers have to be in good, supple condition as well, and the windshield has to generally be clean from contaminants. For me, personally, what's more vital is that the reservoir doesn't run empty. Using clean water is okay and does the job effectively enough. It's also free.
So there you go. Always keep the reservoir topped up. Check on it whenever you are at a gas station to fuel up. Don't let it run empty, because that might mean a challenging drive, especially when it's raining and dark.