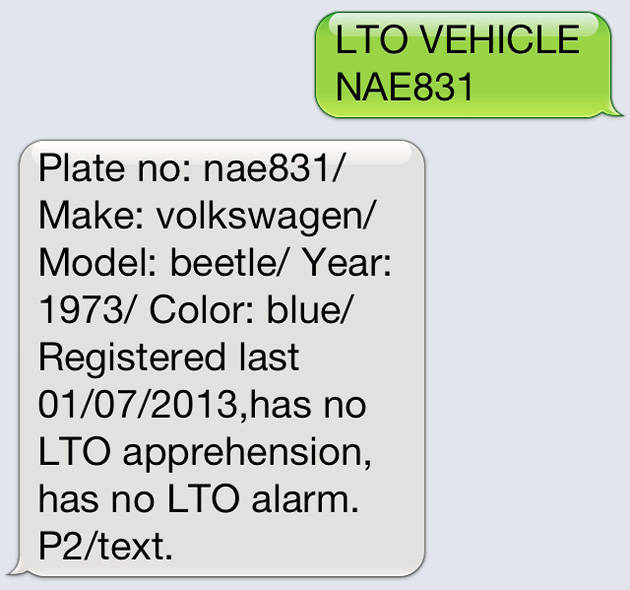 We discovered something cool today! Yes, we know, we're probably a little too late in the game considering we're an automotive website. We're talking about the Land Transportation Office's SMS service that allows the public to access official information about a certain motor vehicle. All you have to do is text LTO VEHICLE (PLATE NUMBER) to 2600, and then sit back and relax while LTO's data computers go to work.
We wanted to find out how accurate this service is, so we tried it on an old Volkswagen Beetle whose photo had been submitted to us by a member of our Facebook page. The above screenshot was the result. As you can see, it's pretty precise. Information supplied includes the car's make and model, the year the car was first registered, the car's body color, the date the car was last registered, and whether or not the car has LTO apprehensions or alarms.
An SMS text to this service costs just P2 (yes, two bucks).
This service should prove extremely helpful when you're considering buying a secondhand vehicle, or when you're tracking down the car of a wayward motorist, a suspected criminal or a celebrity like Daniel Padilla.
Below are the other motoring-related information you can access through this LTO service (by texting the all-capital keywords to 2600):
LTO NEW NON PRO: Requirements for new non-professional driver's license
LTO RENEW NON PRO: Requirements for renewal of non-professional driver's license
LTO NEW STUDENT: Requirements for a new student permit
LTO NEW REG PRIVATE: Procedures for new registration of private vehicles
LTO RENEW REG PRIVATE: Procedures for renewal of registration of private vehicles
LTO COMPLAINT PUV (PLATE NUMBER) (COMPLAINT): Complaints regarding for-hire motor vehicles
Go try it out. It's fun!
UPDATE: Apparently, this service is only good during office hours of weekdays. If you send a text after 5pm or on a weekend, you won't get a reply (but you'll still be reportedly charged the P2 fee).
Photo from Chanelle Sabater