How far is the break-in period for a car? It depends on who you ask. Some place the figure as low as 300km to 500km, while others estimate you shouldn't run your car hard for at least a few thousand. For me? Wisdom from veteran mechanics and old-school car guys I've come across have always pegged the number at 1,000km.
That might sound like a big number, but that's just an average month of daily driving for a Metro Manila resident who uses their car to go to and from the office. But imagine trying to cram that distance into just two days of driving. Breaking in, or reaching breaking point?
Look, we love driving and all, but two 12-hour stretches behind the wheel is enough to make anyone throw away the keys to any car in contempt. To just be done with it. Lock it up. Hide it from me forever. Tear up my driver's license and let me enjoy solid ground.
ADVERTISEMENT - CONTINUE READING BELOW ↓
OTHER STORIES YOU MIGHT HAVE MISSED:
Illegally parked van fresh from the impound gets second ticket in a span of two hours
Number coding to be implemented from 7am to 10am, 5pm to 8pm starting August 15
Still, far be it for me to complain about getting to explore more of the country. This trip took us from the congested streets of Metro Manila to the wide-open provincial roads of Misibis Bay in Bicol. And there are worse cars to be doing that trip in than Nissan's latest offering in the local market: the Kicks.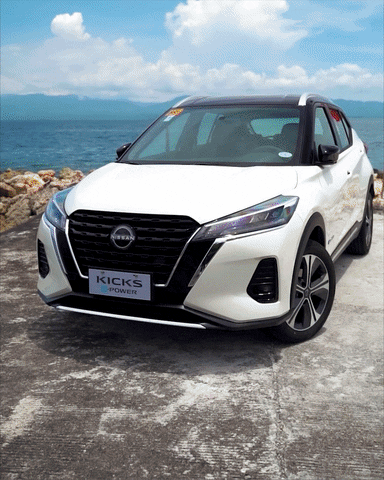 ADVERTISEMENT - CONTINUE READING BELOW ↓
Recommended Videos
The Kicks is, by all accounts, an undertaking born from ambition. Nissan is no stranger to electrification, of course. The Leaf was the best-selling EV in history throughout most of the 2010s, and the aging but still-capable second-generation version was launched in our country just last year. But unless you have midsize SUV money to spend on a hatchback and you don't mind that charging stations aren't commonplace in the Philippines, jumping on board Nissan's EV hype train might be a tall order for now.
Still, the Japanese marque has good reason to be hopeful. A study it commissioned in 2018 found that the Philippines had the highest rate of EV acceptance among countries in the region. But our current landscape has a ways to go before EV ownership is a convenient option. Enter e-Power.