If you're like me, you'll know Acerbis as the brand that makes all sorts of off-road things, like handguards, off-road boots, and dual-sport boots. Given this, it came as a surprise to me when I found out that the Italian brand has offerings that are not off-road-specific. Bikerbox recently gave us the chance to test out one of Acerbis's street-gear items by introducing us to the Derwel modular helmet.
Being a sport-oriented motorcycle guy, I put full-face lids at the top of the helmet hierarchy. Hence, modular helmets never appealed to me all that much, so when I was handed the Derwel by the cool folks at Bikerbox in Parañaque, I didn't have high expectations of it. But boy, did it end up flipping my standards for a street helmet. Just how capable is it? Find out in our review below:
Styling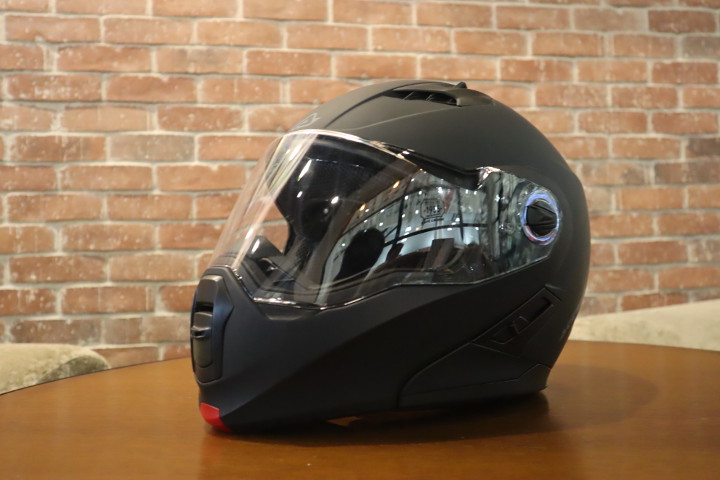 Continue reading below ↓
Recommended Videos
Want a helmet with a premium look? Acerbis will not disappoint. A simple glance will tell you that the Derwel is well-put-together. The quality paint finish, the calculated proportions, and the balanced styling put the Derwel in a position to easily compete with any other helmet in its class.
The lid's chunky nature will sort of make you look like one of the Power Rangers, to be honest. Or like some sort of fighter-jet pilot. If you like having fun and looking cool, then that won't be a problem. Do note, however, that modular helmets like the Derwel will look a bit chunky due to the flip mechanism.
Comfort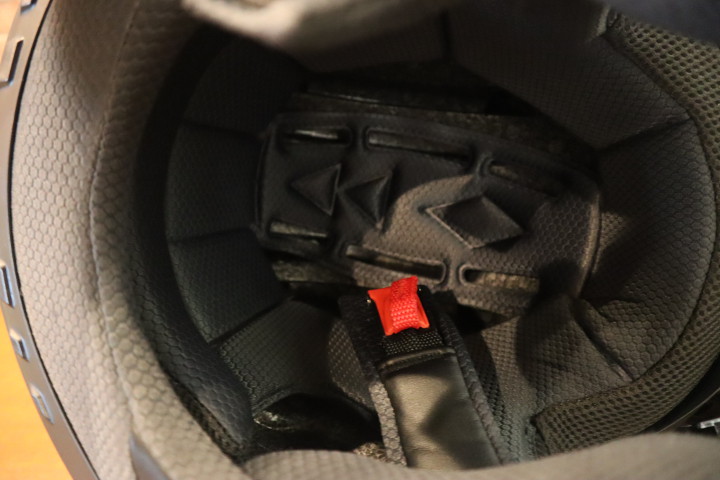 As a rule of thumb, all helmets should be comfortable if you get the right size. Following this principle, I got the Derwel in large, and it fits my noggin just right. It's a breeze to put on and pull off, as should be the case for all modular helmets.
It seems Acerbis has taken a minimalist approach when designing the inner lining and pads for the Derwel, as there are several gaps between the inner pads that show the helmet's black EPS foam. These exposed EPS foam sections serve a purpose: Most of them make way for the ventilation ducts (or breathers) in the helmet. The number of air channels inside the helmet reflect the amount of airflow you get. At speed, there's enough air pulled in via the vents to keep your head relatively cool, especially in the summer months.
This ventilation comes at a price, however, as the noisy nature of modular helmets is amplified by the sheer number and size of areas for wind noise to enter the Derwel.
Another drawback of using a modular helmet is the weight, since incorporating a flip-up chin bar without compromising safety adds a significant number of grams. The large-size Derwel weighs in at around 1,750 grams—quite heavy by regular full-face helmet standards, but not so much for a modular.
Safety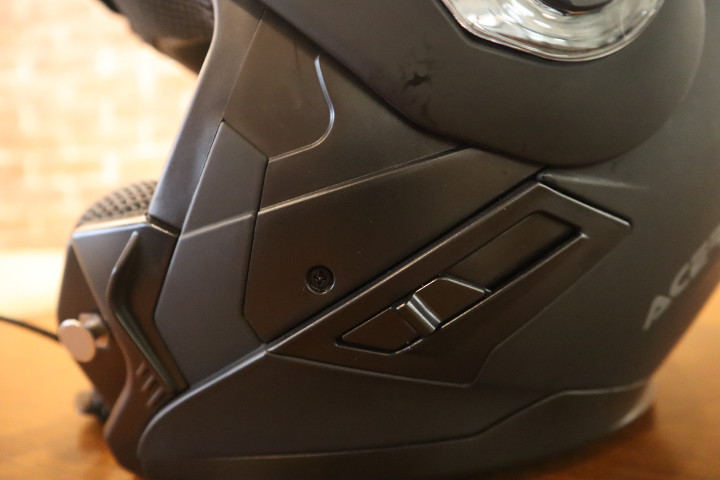 The first thing you should do when looking at a helmet is to check the safety-rating sticker at the back. Although it's there at the back of the helmet, the ICC sticker isn't what you're looking for when it comes to international safety standards. Instead, it'll be one of these three markings: DOT, ECE, and SNELL. If any of these are legitimately present on your helmet, then you can rest easy knowing the equipment has passed the rigid testing on safety. The Derwel features an ECE sticker.
Among the added safety-specific features are the reflective decals on the back and the emergency pull tabs on the cheek pads.
Extra features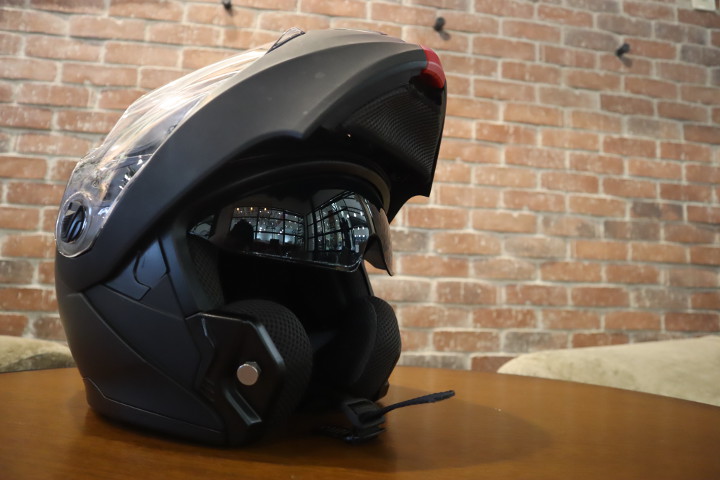 Considering its P10,500 price tag, you'd expect the Derwel to come with a few bells and whistles, and it does. Being touted as a "dual road helmet," it seems to put emphasis on ventilation, as reflected by many of its features.
The decent amount of airflow you get in this helmet can be controlled via the three active vents on the exterior: one on the chin bar that opens and closes, and two on top that have open, half-open, and closed positions.
For the viewport, a drop-down sun visor shields your eyes from the glare without necessitating a separate tinted visor, while the main clear visor itself is made with EX-clear technology, ensuring a clear view of the road ahead. A removable breath guard is included and stops your breath from fogging up the main visor. Also, generous inner cutouts for communication systems double as space for Bluetooth earphones or intercom speakers, should you have them.
One feature you could come to expect at this price point is a pinlock visor, which would've helped to further reduce fogging. But sadly, Acerbis apparently missed this detail.
Verdict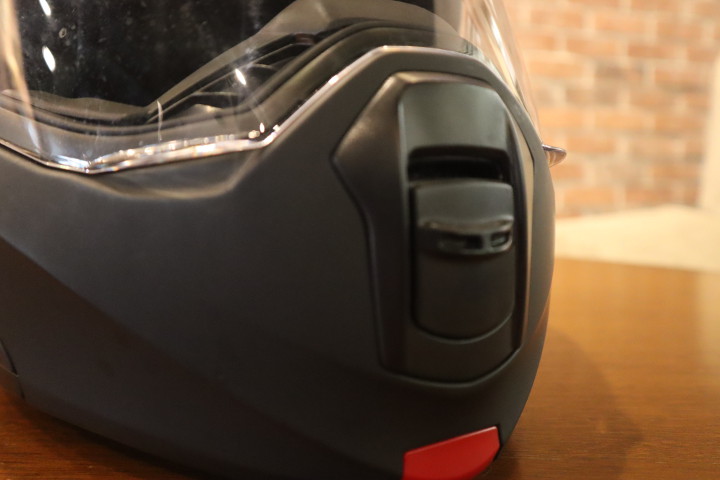 Modular helmets are a staple for sport tourers and commuters alike. They provide a level of safety close to that afforded by a full-face lid, and the convenience and breathability of an open-face helmet. The Derwel executes this best-of-both-worlds approach pretty damn well.
For more specialized ventures, I'd pick other specially designed helmets, since the Derwel is too noisy and heavy for ultra-long-distance rides, too relaxed for the racetrack, not dirt-focused enough for the trail, and so on. The Derwel is a jack of all trades: It'll do most things with competence, but not at a class-leading level. If you only plan on using one helmet for most of your riding needs, something like the Derwel should be right up your alley.
SPECS: Acerbis Derwel helmet
Price: P10,500
Weight: 1,750 grams
Type: Modular
Score: 16/20