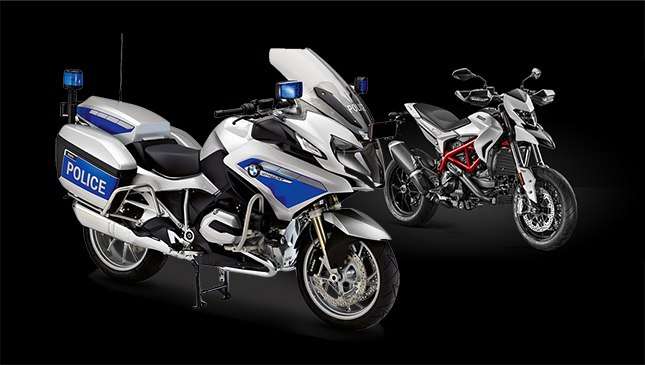 Good guys vs. bad guys. Cops vs. robbers. BMW vs. Ducati.
Before you place your bets on who'll be victorious among these clashing camps, let me stress that this is all about an upcoming movie.
On March 23, Warner Bros. Pictures will unleash CHiPs, a remake of a TV hit back in the '70s and '80s. CHiPs depicts the life of two California Highway Patrol (CHP) members—officer Jon Baker and officer Frank 'Ponch' Poncherello—while fighting criminality in one of the America's most populated states.
The lead characters in this comedy/action film are now portrayed by Michael Peña (Poncherello) and Dax Shepard (Baker), both tasked to expose the CHP personnel protecting criminal syndicates.
Continue reading below ↓
Recommended Videos
Starting out as odd bedfellows engaged in bottomless trash talk, Ponch and Jon strengthened their partnership not only to hunt those involved in an armored vehicle robbery, but also to nail the protectors among the police ranks.
As they pursue criminal elements on-board their police motorbikes, two mighty BMW R1200 RTs, they find themselves being harassed, chased, and attacked by villains mounted on quick and nimble Ducati Hypermotard 939s.
In this modern setting, the shaft-driven R1200 RT replaces the old Kawasaki KZ900 street naked that was once used in the original CHiPs series, then starring Larry Wilcox (Baker) and Erik Estrada (Poncherello) that ran from 1977 to 1983.
In the 2017 CHiPs movie, the road scenes are faster and more fierce. The classic battle of BMW and Ducati is highlighted by burnouts, wheelies, donuts, endos, and jumps. To further heat up the animosity between the two premium brands, one of the bandits even blurted: "These bikes won't catch us!" They were referring to the R1200 RTs which were seen crashing in certain scenes in the trailer.
Will the CHP riders shift to the quicker and lighter Hypermotard? Or will they just level up their rider courses to match the skills of the robbery gang?
To find out which among the two European motorcycle brands prove to be superior in speed, road performance and stunts, watch the CHiPs remake.
Ducati Philippines is also offering tickets at P500 each for a special showing of CHiPs on March 25, 4pm at the EDSA Shangri-La Mall Cinema in Mandaluyong City.
Tickets are available at Ducati dealerships in Metro Manila.
Fellow bikers, see you in cinemas!