Weddings and motorcycles seem like an impossible pairing. It's hard to imagine a newly married couple dressed to the nines, hopping on a motorcycle, and riding off to their honeymoon. There might be a mess of some sort involving a loose wedding train or kicked-up dirt (or worse, mud).
But two couples have found a unique way to celebrate their love for each other and their passion for riding: photo shoots on the saddle. They were kind enough to share their experience with Moto Sapiens, and we're now sharing with you their love stories on two wheels:
Lawrence and Abigail Macalinao
Continue reading below ↓
Recommended Videos
Lawrence (32) and Abigail (30) tied the knot just two months ago. Though much of their married life is still ahead of them, the newlyweds have already shared special motorcycle memories together. They rode a cool BMW R nineT for their prenup shoot.
How did the idea to use a motorcycle for your prenup photoshoot come up? Were you both on board?
Lawrence Macalinao: We love going on trips and adventures, [and] riding the motorcycle is one of them. Yes, [I have a] very supportive wife, [even when I had] just started racing back in 2014.
Did you also ride a motorcycle on the day of the wedding?
LM: No, [because] our wedding was held in La Union, her hometown. But in our prenup, we used one.
What fond memory do you have with your wife riding on a motorcycle?
LM: July 14, 2018—my birthday and our first long ride. Just the two of us [going] to Dingalan, Aurora.
What's your dream motorcycle? 
LM: A BMW R1250 GS HP.
Aris and Genalyn Cuevas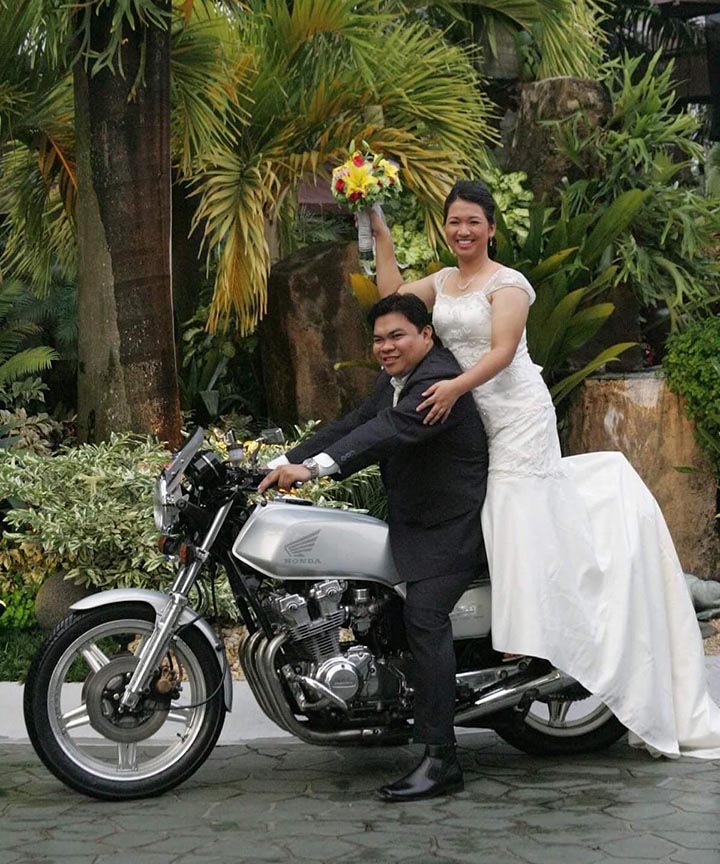 Eleven years of marriage and 21 years shared together hint at the bond Aris (44) and Genalyn (43) Cuevas have. The photo above shows the couple posing with a classic Honda CB750F on their wedding day.
How did the idea to ride a motorcycle for your wedding photoshoot develop?
Aris Cuevas: I am a rider by passion, and she supports me all the way with that. Eventually, she enjoyed [riding with me], especially when we traveled to distant places. It's the perfect thing that bonds us together.
Were you both on board at the start?
AC: Yes, we rode the bike to the reception from the church, and she was very happy and agreed fully with the unique idea—something others don't do often at a wedding.
What fond memories do you both have with motorcycles or riding them?
AC: A lot of memories we both cherish and talk about when we're together. [We've traveled] the whole Philippines [by motorbike] three times already. We've joined the BOSS Ironman Motorcycle Challenge three times…[finishing] strong, always in the top ten. We've even put up a Facebook page (Happy Couple Riding in Tandem) to collect our memories and share them with others.
What's your dream bike?
AC: I had a lot of motorcycles in the past, and I think the one we are using now, a BMW R1250 GS HP, is the best and our dream bike. She is very comfortable with it and will not get tired even on long rides without stops. That's the most important for me. She needs to be happy when riding because I am happier if she is riding in tandem with me.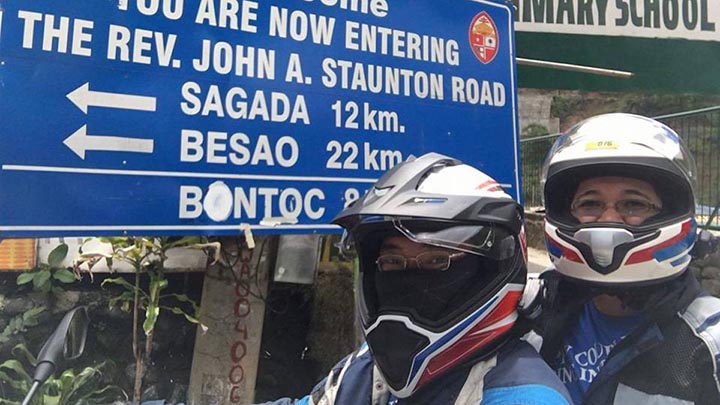 It's cool to be a little mushy sometimes—especially on Valentine's Day. Care to share your love story on two wheels in the comments?