Just over a week ago, I completed an exciting ride with members of the motorcycle media hosted by Yamaha Motor Philippines in a secluded yet picturesque trail called 'laharlandia' in Porac, Pampanga. After surviving the grueling route, we all gave each other high-fives and fist bumps. I tried to hide my feelings as if it were just another ride, but truth be told, I was trying to contain all the thrill and exhilaration from my first off-roading experience.
Joey 'Storm' Rivero, coach of the Zero2Podium riding school, tagged me along to this awesome event. I've been riding for less than a year and before this, I had regularly trained on the tarmac once or twice a month with Yamaha R15 and R3 sportbikes. I can count on my fingers the number of times I've been on the road on a scooter. I consider myself a newbie rider.
When I got the invitation for the lahar ride, I felt a mixture of anxiety and excitement. I searched online for more information on what the lahar trail looks like. Next was paranoia: Can I survive all the sand, rocks, and river crossings? Is it safe? Can I handle a motorcycle on that kind of terrain? Is someone going to help me if I fall? With my level of riding skill, am I really ready for this?
Continue reading below ↓
Recommended Videos
I looked at the sky, took a deep breath, and thought: Who gives a damn?
I had never been on a trail ride before. I started contemplating: If others can do it, then so can I. Later on, I heard from my other rider friends who had done it, and their stories made me want to experience it myself. I decided, "Yes, I am ready for this."
It was a rainy morning on D-Day. A safety briefing was conducted by off-roading guru Mel Aquino before we hit the trail. He gave a quick overview of what to expect during the ride, how to control the Yamaha XTZ 125, and what to do if we drop the bike. Right after the briefing, we all suited up in complete safety gear and headed out to mount our bikes.
The more experienced riders shared tips on lahar riding and assured the less-experienced riders that there's absolutely nothing to worry about. They told us that it's safe and that this adventure will be super-fun and unforgettable.
Ready or not, the moment arrived.
We fired up the engines past 9am. We passed through wet and dry lahar, slippery soil, and treacherous stones and rocks. The slopes were steep, slippery, and uneven in some parts, while the rivers had rising waters and rampaging currents. I was the only female rider in the group, my physique small and frail compared with the other riders.
Because of my lack of experience, my fear of crashing kept on recurring. However, being around experienced riders gave me a sense of security. Words of encouragement just kept pouring in.
After a few kilometers, reality started to sink in: It was not a smooth ride and I dropped the bike a few times. The first time I fell, Coach Mel helped me pick my bike up and checked if I was okay before we proceeded. I learned to pick up my bike as fast as I could whenever I fell. Running regularly has strenghtened my leg muscles—it's a must for trail riders.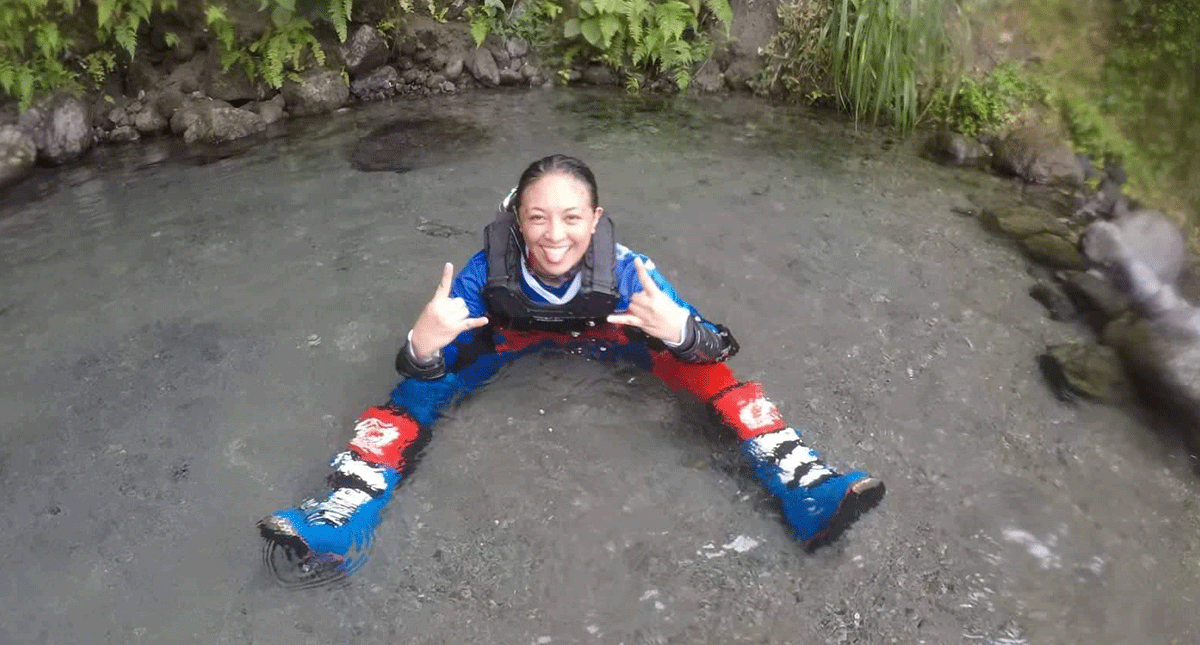 Falling wasn't as painful as I thought it would be. I kept looking where the other riders were passing and followed them. The terrain really looked intimidating, but to my surprise, the bike handled insanely well even on loose lahar. The ride didn't feel as slippery and as horrifying as I initially perceived it would.
As we progressed through the trail, I felt more at ease. I  became comfortable standing up while riding in order to make the bike more stable while rolling on different sorts of volcanic debris. I was picking up my pace and, in my mind, I was starting to understand all the tips the other riders were sharing. Then came a point in the ride when continuous rain didn't matter anymore as I was already getting acclimatized with the hostile environment.
I was learning. As compared to track or circuit riding, the requirements of off-roading seem to be the opposite. To make a turn on the track, you countersteer. On the trail, you use direct steering.
The surface of the track is well-paved, and the straights and the turns are constant. By contrast, the lahar trail's condition is always changing because of natural factors—rain, rising river water, strong winds, even earthquakes. The track challenges your speed, while the trail tests your riding skills beyond paved and unknown surfaces.
It's time for nature tripping. The group ended up somewhere in the middle of laharlandia where there was a hot spring for riders to have a quick, relaxing dip. The feeling of slowly submerging yourself in hot water and being surrounded by Mother Nature after a cold, dirty, and weary ride was incredibly soothing. In that very moment, I began reflecting on how the whole experience had made me conquer my fear and improved my skills after just a few hours of saddle time.
With more riding confidence, I want to run that trail again. Maybe next time, I will attack the lahar trail with the more powerful and agile Serow 250, Yamaha's very capable off-road machine.
I started riding because I had this feeling like I was in love, but not with a person. The first time I had such an emotion was when, as a newbie pilot, I saw the airplanes we were about to fly up close. Motorcycling gave me the same high. I felt freedom while being in control of this two-wheeled machine that not everyone understands.
Here's from one pilot to another: If Liu Yang, that courageous and inspiring lady pilot from China who eventually leveled up to become an astronaut, considered the blue sky as her ultimate 'rose garden,' she might find that proverbial silver lining once she gets to ride in our very own laharlandia.
And when that time comes, I volunteer to be her guide. So, when is the next lahar ride?