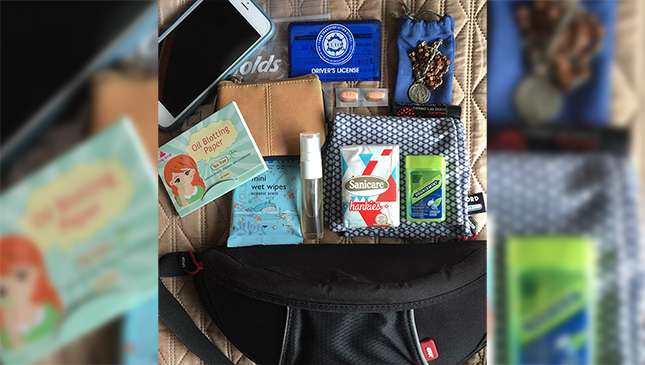 My husband Pat Mamon and I ride a lot. With the limited storage space a motorcycle has, every rider, whether male or female, needs a bag to carry the 'essentials' during a ride. It is important that we both travel light.
On the road I sport a small belt bag, and I find it has ample space for what I need to bring along during my short half-day weekend rides. Hopefully, this will dispute perceptions that women, particularly those who ride motorbikes, cannot survive a day without a big carry bag.
So in my small bag I have the following and what I need them for:
Continue reading below ↓
Recommended Videos
1. Driver's license - This one's a no-brainer. No rider should ever leave home without this.
2. Holy rosary and St. Christopher medal - No amount of safety gear makes me feel as safe as when I have these two religious items with me.
3. Coin purse - I only bring a small amount of cash with me on rides, enough for a meal or two and refueling.
4. Mobile phone - In case of an emergency, I can contact my loved ones and vice versa. And of course, for capturing moments and beautiful scenery with my phone camera.
5. Resealable plastic bag for my phone - I learned about this from other riders' sad stories of their phones getting irreparably soaked when a sudden downpour hit during a ride. Believe me, it's tried and tested. I have been caught in strong rain where my jacket was drenched but my phone was bone dry due to the protection provided by these handy resealable bags.
6. Tissue paper - Either for wiping my visor clean or for use in restrooms that don't provide it, or for anything that needs to be wiped.
7. Wet wipes - These come in handy when I can't wash my hands or when I need to freshen up a bit.
8. Oil blotting paper - I have oily skin and I find this a better and easier way of 'de-oiling' my face than spritzing it with water. And clean water isn't readily available at some pit stop locations.
9. Lip balm – Riding in hot weather can really dry out not only your skin but your lips as well. That's why I like having lip balm handy to relieve the dryness. And I prefer the tinted kind because, yes, I'm girly that way.
10. Cologne in a small atomizer - I'm very sensitive and particular about personal hygiene. I've found that lightly spraying my neck scarf with cologne helps mask some of the more offensive ones. I also have this to help freshen up after a hot ride.
11. Paracetamol - I make sure I have one or two pieces of this medicine in case I experience body pain or headaches during a ride.
12. Mints - Most of my rides are breakfast or food trip rides. In lieu of brushing my teeth after a meal to freshen my breath, a piece of mint candy does the trick. Especially after you've had longganisa in the morning!
13. Extra neck scarf - I've discovered that on long rides, my neck scarf (which also doubles as a face mask of sorts) kinda smells like the fumes emitted by other vehicles on the road, and so I always bring an extra one so I have a fresh and unpolluted one to use.
I'm sure the list would differ among riders and I'm curious as to what these differences are. Did I forget anything?