Days before the Metzeler Lahar Experience in Pampanga on April 17, 2019, one question kept repeating itself in my head: to join or not to join?
Pre-Holy Week vacation anxieties, unbearable hot weather, lack of riding equipment, rusty trail-riding skills, even unstable blood pressure—these were issues that almost made me back out of the event organized by Motoworld and Metzeler Philippines (with support from Yamaha Philippines and Imprint Customs) for media riders. The ride would also serve as a prelude to the Lahar Challenge 2019 happening from May 3 to 5.
In the past two decades, I have been to 'laharlandia' countless times on four wheels, so the perilous trails leading to scenic Mount Pinatubo eco-tourism sites are not new to me. However, this would be the first time I'd venture there riding a motorbike.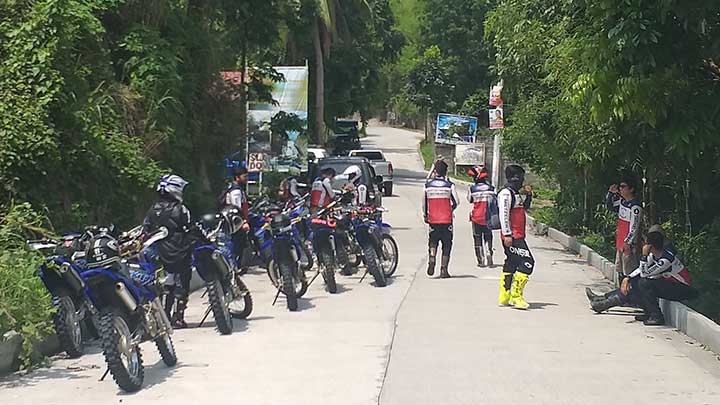 The lahar-filled Porac River is not a place for newbie riders. This type of adventure riding requires a higher level of skill (and lots of balls) to survive the challenges of the treacherous trail—river crossings, rocky passages, muddy terrain littered with forest debris. Here, bike control matters more than speed. It's of utmost importance to master the art of balancing a motorcycle, controlling the throttle, and braking properly before attempting to conquer this hostile environment.
On D-Day, the first thing I did after rising from the bed is to check my blood pressure—120/85. Second, I made sure to have a hydration pack. And third, I packed a complete set of riding gear, including an adventure helmet borrowed from Ride PH's Jay Taruc.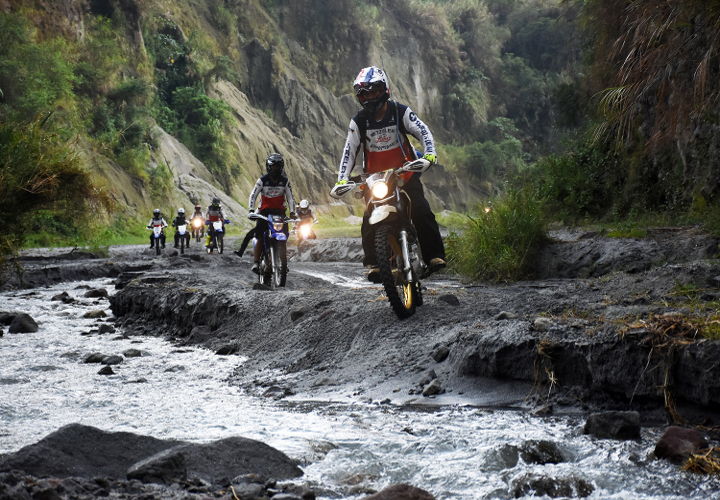 During the riders' briefing at Susie's Cuisine in Angeles City, off-roading coach Mel Aquino of KRB Off-Road Training Academy enumerated some safety riding tips: Avoid braking when the motorbike is turning. Stand on the foot pegs for easy shifting of body weight, especially toward the rear. Always look far ahead to help keep your balance. Also, poor distribution of body weight can result in the ditching of the front tire in lahar, subsequently causing the bike to dive.
Here's another important piece of advice: Avoid wheelspin (using too much engine power) when bailing out the motorcycle from a loose surface. Wheelspin may look good for photo ops, but in reality, it will only make your bike sink further into the sand. The key to surviving lahar trails on a motorbike is maintaining traction, according to Coach Mel.
While we were attempting to digest Aquino's riding tips, delicious Pampango kakanin were served by our gracious hosts.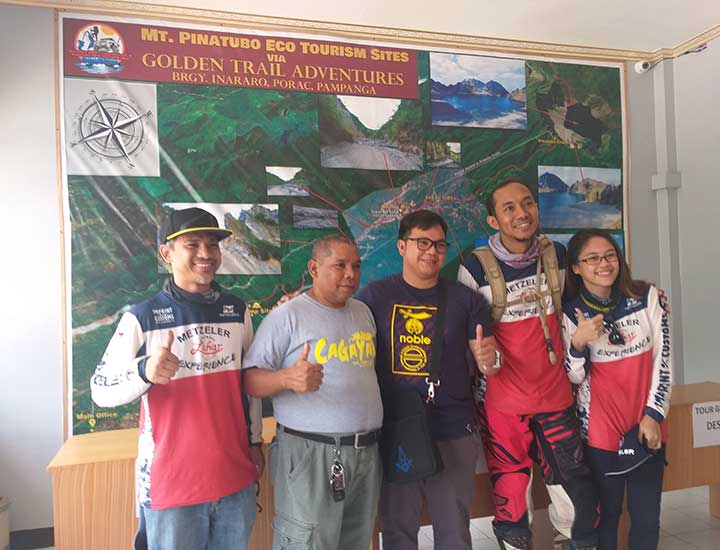 Other than riding tips, what stuck in our mind was a strict reminder from barangay chief Roman King for us to respect the culture of the native Aetas and their ancestral land. Knowing that this tribal group has a completely different justice system, everyone obliged.
It was almost 9am when we set off on the lahar bed of Sapang Bato, and thoughts of suffering heatstroke entered my head. After a few minutes of riding, cloud formations overhead provided reprieve from the sun's excruciating glare, allowing us to ride with no more fear of experiencing a blackout.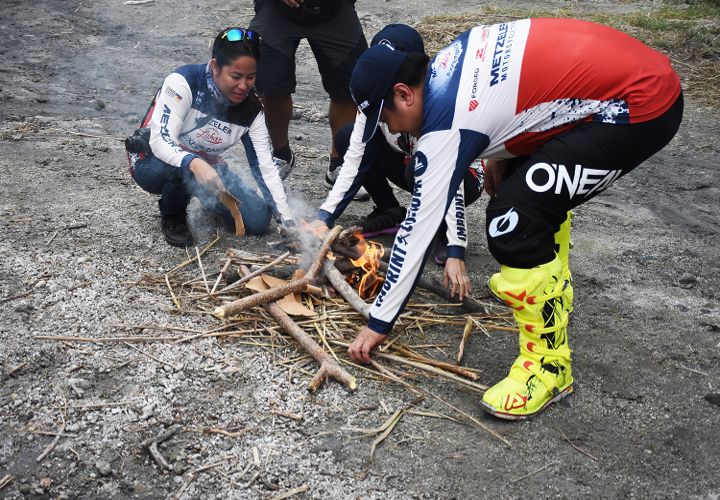 Attacking the lahar bed on two wheels wasn't easy. Steering the bike, maintaining balance, and negotiating the endless bumps became the ultimate tests of our riding abilities on loose, unpredictable road surface. We saw our colleagues falling off their bikes, but words of encouragement from fellow riders kept them going.
Here's the most important lesson to be learned from this: Never go into battle unprepared. For the event, Motoworld fitted the Yamaha XTZ125 off-road bikes with Metzeler MC 360 (Mid Hard and Mid Soft) tires that can ably take on such extreme road conditions.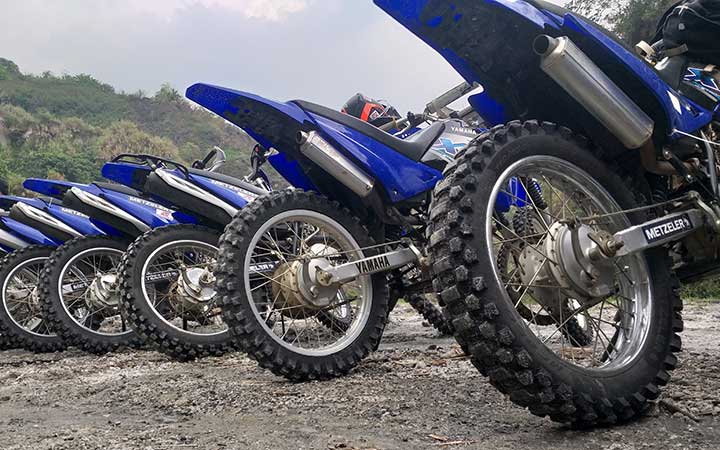 Along the route, the organizers had set up a resting area a few meters away from the Ana-an Falls. There, tents were erected so the riders could rest and partake of spicy chicken and sizzling sisig for lunch. To beat the heat, some riders took a quick dip in a small pond.
As a rehearsal for the upcoming Lahar Challenge 2019, we were asked to join some fun games like a slalom challenge and an ignite-a-fire contest with exciting prizes from Motoworld. Meanwhile, I also took the golden opportunity to savor the natural beauty of Porac River and the tall mountains that stand as a fortress protecting this unique water system.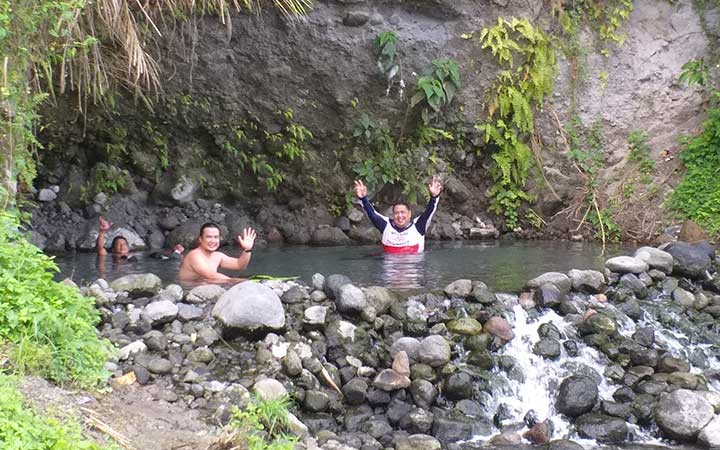 On our way to the Barbecue and Beer Grill in Angeles City, we all thought we're done with the so-called challenges. Not yet—out of the blue, a heavy downpour triggered floods along the narrow barangay roads. From hot and spicy, the Metzeler Lahar Experience turned into a wet and wild event. Luckily, everyone survived.
Now, what else could we have asked for?