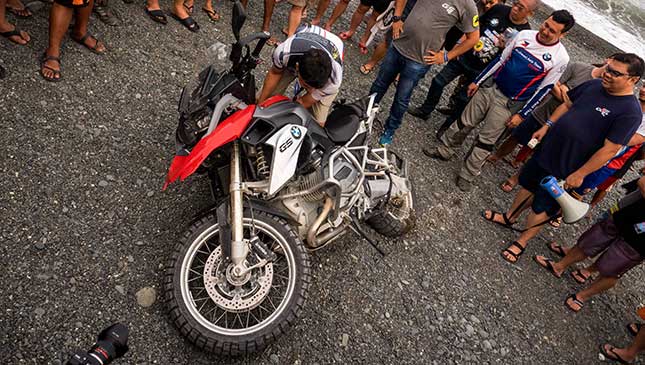 Motorcycling as a hobby has many facets. You could be into anything--participating in track days, cruising, motocross, or even trials riding. Name it, and you would most likely find a niche that you could enjoy doing while on two wheels.
In fact, ask a hundred riders why they ride, and you are bound to get more than a few varied answers. Foremost of these however, is the usual answer of the 'feeling of freedom' that one gets when on a motorcycle. No other form of riding embodies that freedom as much as adventure riding does.
Loosely defined as riding a motorcycle on and off-road to arrive at a certain destination, adventure riding enjoyed a boom upon the release of the classic book by Ted Simon, Jupiter's Travels. In it, he rides a Triumph motorbike to circumnavigate the world. His adventures, which took many months, inspired others to follow in his footsteps and try to experience even just a taste of the adventure that he so gladly shared with the world.
Continue reading below ↓
Recommended Videos
Touratech, a company that specializes in producing and selling motorcycle accessories for adventure bikes recently held the GS Camp 2018 in Aurora, Quezon in partnership with BMW Philippines. The GS, of course, is BMW Motorrad's most capable adventure bike, the same used by Ewan McGregor in his hit TV series Long Way Round.
Here are six things I learned from our weekend adventure ride in the depths of Central Luzon.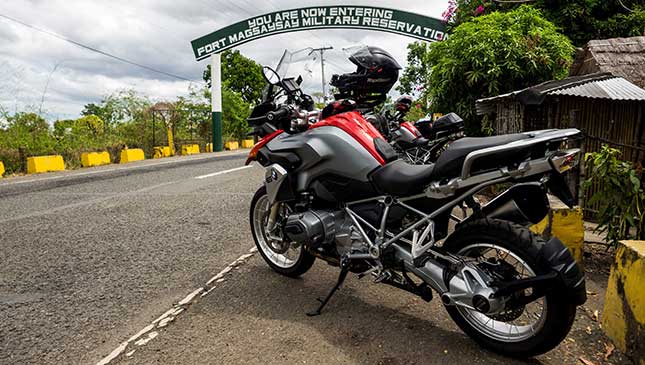 1) There is a growing number of bikers who are into adventure riding now.
This event was huge. Touratech estimates that more than 160 riders signed-up for the weekend in Quezon. With the rooms filled to capacity, riders decided to bring their own tents and set up camp in and around the picturesque beach.
Motorcycles clogged the parking lot as over a hundred bikes squeezed side-by-side, with all their off-road ready accoutrements taking more space than the bikes themselves.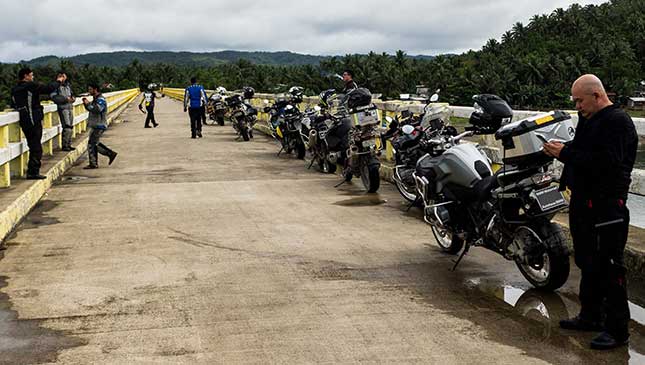 2) The BMW GS is by far the most popular large adventure bike.
With the parking lot filled with bikes, it was clear to see that the BMW GS, aside from the event being named the GS Camp, is, by far, the most popular large adventure bike on the market. The GS has always been the benchmark of the adventure bike class and from the amount of BMWs on hand, this was evident. True, Touratech opened up the gates to non-GS motorcycles, but this only allowed a handful KTMs, Ducatis and Kawasakis into the event as the sheer number of BMWs clearly demonstrated the dominance of the brand.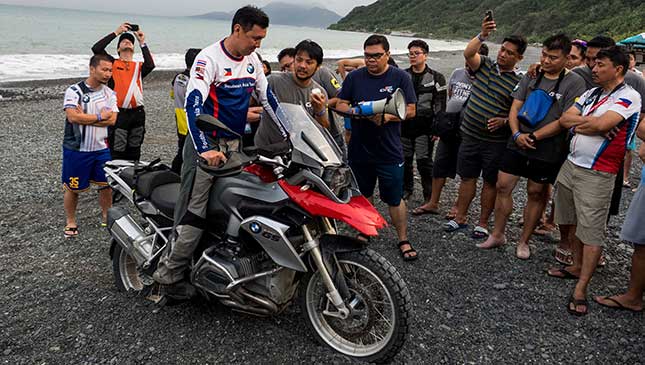 3) Any bike, no matter how heavy, can be picked up with the proper technique.
Speaking of the BMW GS, saying that the R 1200 variant is not lightweight, is a gross understatement. This huge bike weighs almost 600lbs fully-fueled. This also leads to one of the greatest fears that riders have, which is crashing it in some remote place, ending up stranding them because they cannot even pick up the bike when it had been laid down.
Faizal Sukree, a certified BMW Motorrad Instructor form Malaysia, would like to disagree. He is in no way a huge man. Yet, during a lecture-demonstration, he was able to lift the bike up from a crashed position using proper technique. It wasn't exactly effortless, but it was definitely doable despite his size and the 600lbs weight of the bike.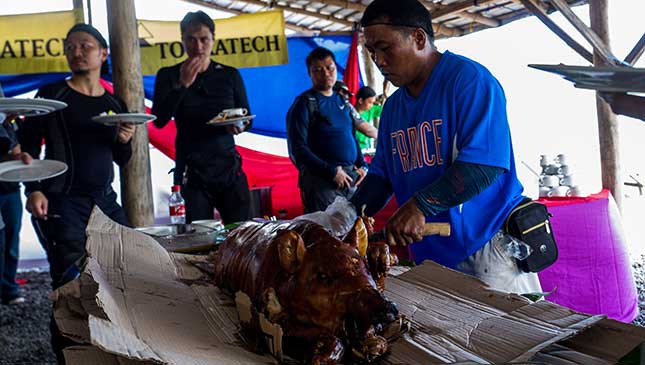 4) Motorcyclists like roughing it outdoors.
Motorcycling is all about being exposed to the elements. Rather than being confined to a metal box with automatic climate control, cooled and heated seats, and a numbing driving experience, motorcycling involves getting rained on, mud splashed on your face and a thick layer of dirt that hides your true skin color.
Motorcycle adventuring is as involved as it gets when it comes to roughing it. You must carry your camping gear either at your back or on your bike and what doesn't fit gets left behind. From the smiles, whoops and cheers that went up in the middle of merrymaking during dinner, it is clear that adventure riders love the outdoors, which is a great experience.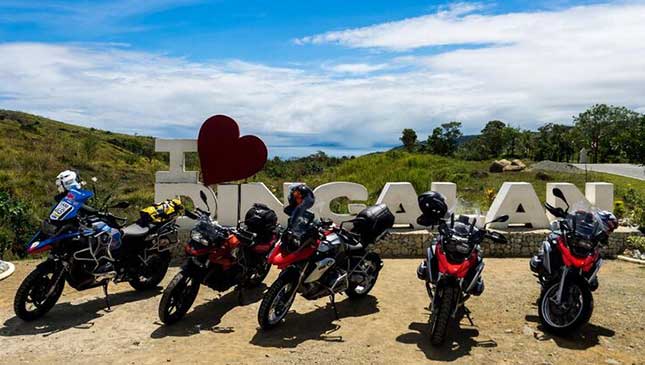 5) There are countless gorgeous places in the Philippines accessible only by motorcycle.
The Philippines is an archipelago of 7,107 islands (upon last count). We are one of the most biodiverse countries in the world. With so much flora and fauna endemic to our country, it is a shame that most places are inaccessible by most vehicles. Most, but not all.
Motorcycles can go to places that other larger vehicles can only dream of. We took our bikes through rough terrain, over river crossings, and through muddy roads to arrive at our destination: a bridge overlooking an outlet into the sea. As our tired bodies slumped against our bikes with the background of mountains and rivers, all we could think about was our next adventure.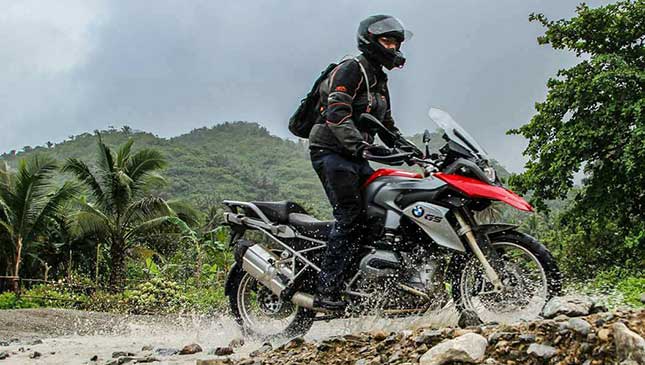 6) Off-road adventure riding is horribly addictive.
Coming to this adventure, I had never taken a motorcycle off-road before. As we were about to take off and while cradling the 600lbs beast of a BMW GS between my legs, I was told to relax and trust the bike. "Let the front-end move" was the instruction I got.
Nervously, tentatively, I complied. As the world flew past while the bike rumbled through a dirt road and through a broken bridge, my grip loosened, my smile widened, and I suddenly realized just how awesome a true adventure could be.
On my way back home, I started thinking: When will my next adventure ride be?