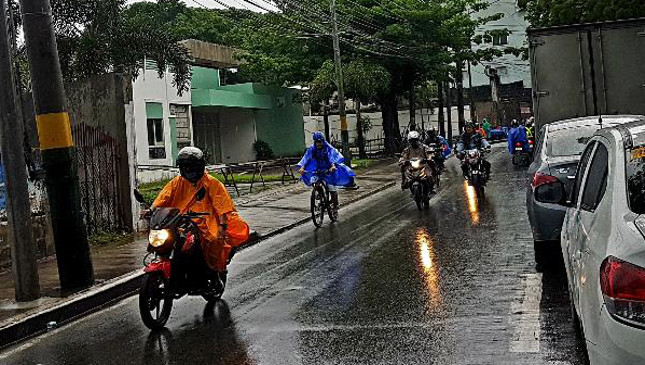 Heavy rain triggered by tropical storms or the southwest monsoon take its toll on everyone.
When there's a downpour, no one escapes the monstrous traffic, floods, and being stranded on the street for hours because public transportation becomes scarce.
These are the scenarios that force motorcyclists to defy the forces of nature. For fear of losing their jobs, they would rather brave the rain and floods instead of getting stranded and being late for work. For them, it's a matter of 'ride or die.'
As untoward weather unfolds, we can observe how hardcore riders endure these adversities. It's a painful reality that not all raincoats can completely shield you from rainwater. The materials used for raincoats, even those from expensive brands, can only protect a rider for a few hours before water finally seeps into the fabric.
Continue reading below ↓
Recommended Videos
Feeling the rainwater slowly creeping along your arms, legs, and even up to your genitals, will not only disrupt your riding focus, but can compromise your safety as well. It's very distracting and uncomfortable.
So, don't just sit there and take the beating. Be like MacGyver. Look around you. There are some things that can be useful to protect you from the rain.
Here are some useful-but-not-so-stylish tips for riders to keep dry during a downpour: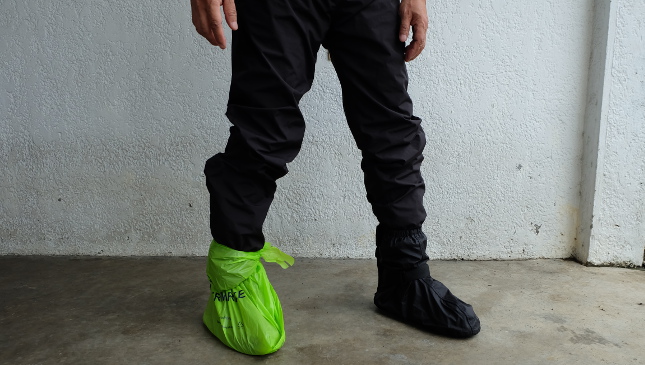 1) Plastic bags make good footwear.
Okay, you're wearing a pair of shoes as you ride to the office. Settled on the pegs, your feet are the most vulnerable to getting wet from rain and splashes from puddles. With the number of leptospirosis cases rising in Metro Manila, it is important that you keep your feet protected against floodwaters and rain. This can be done with the use of plastic bags that you'll cover your feet with. Seal in the heat with the help of rubber bands.
Just be careful when you put your feet back on the ground with the plastic bags on, because they're slippery. Putting those plastic bags over your shoes will look ala jologs-style, but they will surely keep your feet dry. Those rubber bands will make sure rain won't penetrate through your socks and shoes.
No doubt this setup is much safer than riding only with your slippers on.
2) Trash bags are in.
Not all riding jackets were made to repel water. Not even putting a raincoat over the jacket can totally save you from getting wet. But some MacGyver-inspired riders have a solution--using a black garbage bag.
Garbage bags can be bought from convenience stores in almost every corner of Metro Manila. To become a protective layer against wetness, you must cut holes from the upper part of each side, and another on top of the bag. Slide in your arms and head from inside.
By coming up with this second layer, your T-shirt will stay dry even as water starts to creep into the different layers of fabric of your jacket.
Wear it proudly. Keep your chin up and walk like Sponge Bob.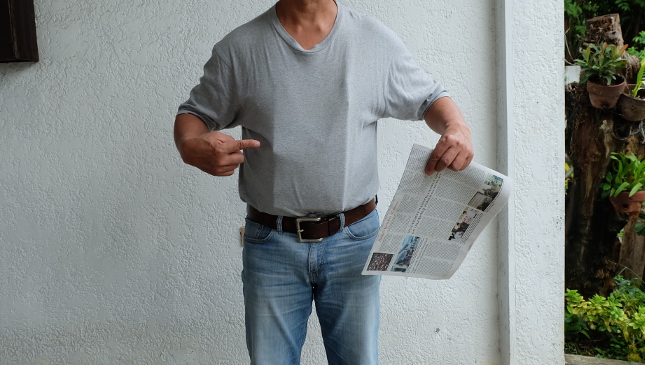 3) Print media (also) makes sense.
You failed to find a plastic garbage bag and your shirt is now drenched with rainwater and you start to feel cold. There's no shopping mall nearby to buy a cheap dry shirt. So what do you do to raise the temperature of your body?
Get a newspaper and put it inside your wet shirt. This will absorb the moisture and keep your body temperature at a normal level. Once the newspaper becomes wet after a few hours of riding, replace it with another. I'm sure you'll prefer to shell out P20 for a newspaper instead of spending P20,000 for an overnight stay in a hospital.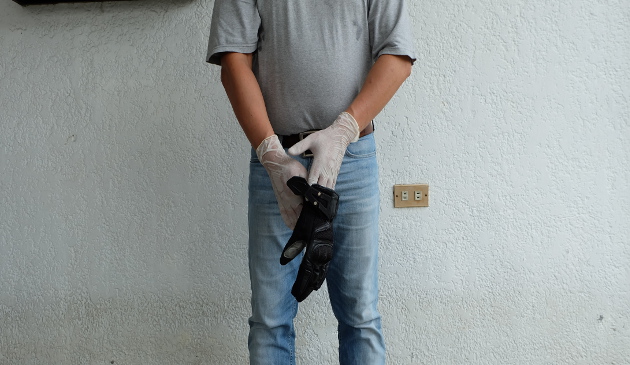 4) Hand job will do the trick.
When riding in the rain, it's important that a rider always wears a pair of gloves. Usually made of leather, mesh cloth, or a combination of both, gloves are the rider's best protection against injury in the event of a bike crash.
However, wearing a wet pair of gloves can make the rider shiver during long rides, especially when its material has already absorbed water. Other riders would rather not wear riding gloves when it's raining, leaving their hands exposed to possible danger.
One of the quick remedies is to find surgical gloves or gardening gloves. Wear them under the regular riding gloves to make sure your hands remain dry, and at the same, you don't lose grip on the handle bar.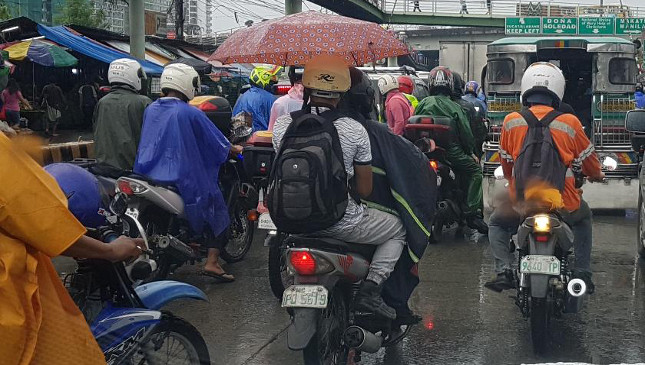 5) Be like 'Mary Poppins.'
We're not sure if this is safe but we see a lot of them pull this stunt when stuck in traffic during a downpour. Back riders provide relief to the rider by pulling out their folding umbrella from the bag and using it to provide cover. You'll see some umbrellas popping out from motorbikes trapped in a traffic jam.
Clever? Yes. For safety reasons make sure that the back rider folds up the umbrella and secures it in his or her bag before the motorcycle picks up speed.
Considering the Filipino's great ingenuity, we can come up with 1,001 ways to help us survive heavy rain. Before attempting to brave stormy weather, it's always important for a rider to weigh his options first and always double check if it's worth taking the risk. During rainy season, always monitor the latest weather bulletin.
Remember to make safety a priority because nothing is more valuable than a person's life.