Last March 21, 2020, we published an article about the First Edition Black Magnesium variant of the much-awaited Italjet Dragster, a radically designed scooter that is entirely built in the company's factory in Bologna, Italy. It was the height of lockdowns in many parts of the world due to the rapid increase of COVID-19 cases at that time.
With a skeletal team manning the assembly plant, Italjet has managed to proceed with the production of the Dragster to cope with the big global demand for this scooter that's powered by a single-cylinder, liquid-cooled, DOHC, 200cc motor with a claimed 19.8hp and 17Nm of torque.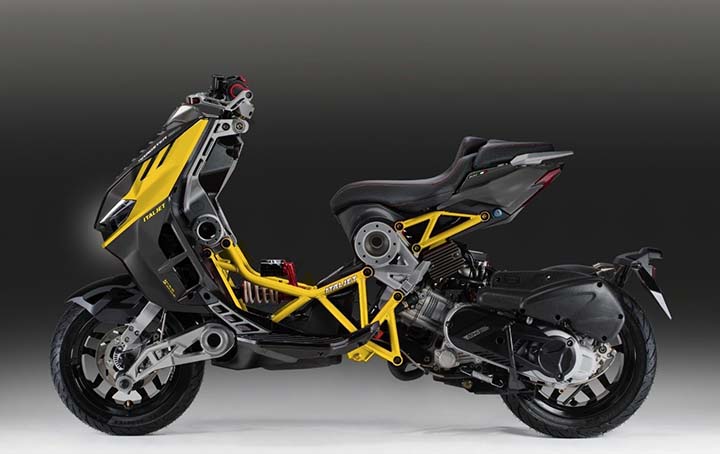 Continue reading below ↓
Recommended Videos
Italjet CEO and president Massimo Tartarini was overwhelmed by the response of Pinoy riders, with at least 100 reservations sealed through Access Plus (authorized distributor of the Italjet Dragster here).
The standard versions of the Italjet Dragster are offered in two color combinations: anthracite/red/white and anthracite/yellow, and anthracite/orange. The First Edition Black Magnesium sports a color scheme that lives up to its name, with a number plaque that indicates that the owner belongs to the exclusive First Edition Dragster Community. Recently, two more color combinations were added to the First Edition variants as shown in the photos here. All the five units with different color variations are priced at P360,000 although the badass-looking First Edition is on a first-come, first served basis.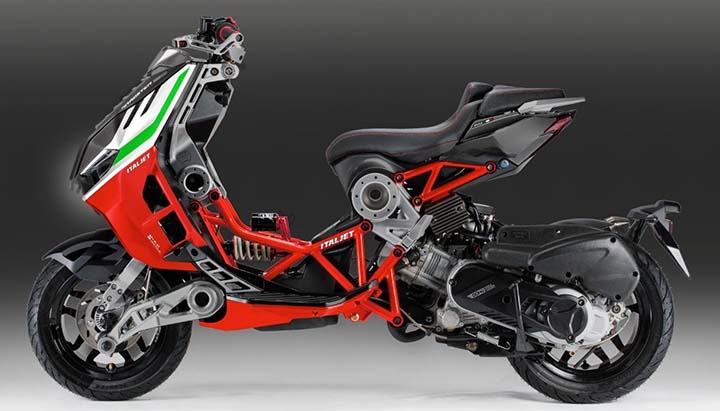 And in our March article, we mentioned that Tartarini gets the First Edition with number plate 001. That info was given to us by an insider who turned out to be a little off the mark. Sorry about that. A Pinoy rider messaged us this morning, claiming that he had been informed by Italjet that he will get the first unit of the First Edition Black Magnesium Dragster. Well, that's still good news.
"Nagulat lang ako sa article mo na kay Mr. Tartarini mapupunta 'yung 001," said the Pinoy rider, who requested not to be named until he gets hold of the unit. This guy's Dragster is expected to arrive between September and December this year. Here's an image of the email sent to him by Italjet: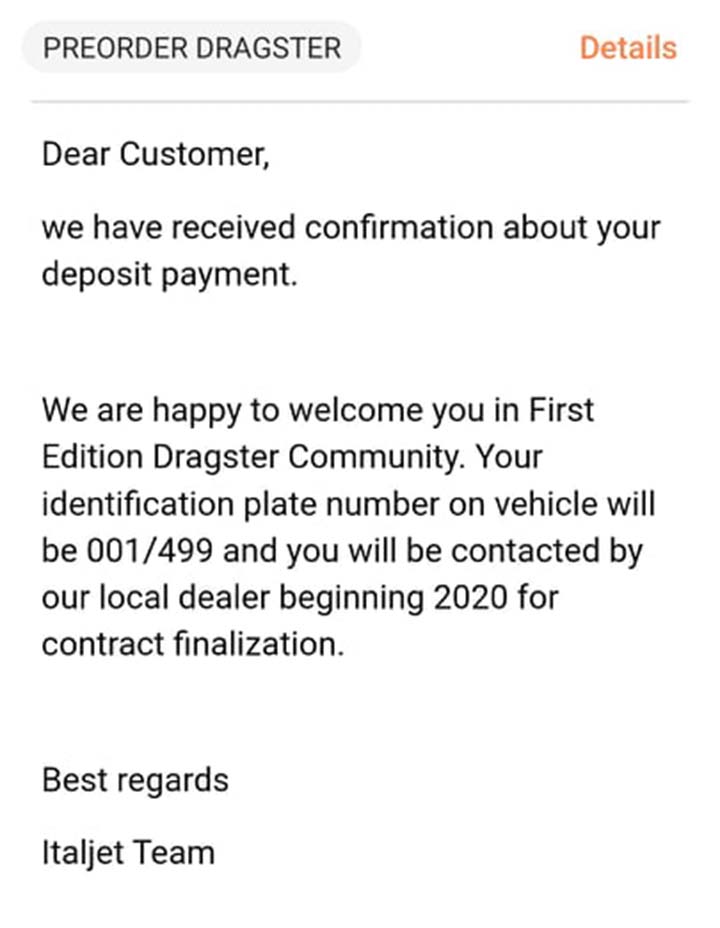 We also messaged Tartarini and he verified the information. Again, this proves that Tartarini has a special place in his heart for Pinoys. Aside from enjoying his brief vacation at Boracay, Tartarini got overwhelmed when the new Dragster got a rousing welcome from the local motorcycle community during its unveiling at the EICMA show in Italy.
And to our "mystery man," congratulations for bagging the Dragster 001/499.