With the avalanche of controversies and intrigues Malacañang is facing nowadays, being the presidential spokesperson is probably the last job you'll want to consider. Atty. Salvador Panelo, President Rodrigo Duterte's mouthpiece, is probably the busiest man in the Palace, answering media interviews on the chief executive's state of health.

To prove that the President is okay, Panelo even went so far as to show off photos of Duterte holding a copy of the day's newspaper while drinking coffee, as a proof of life. This was several months back.
But talk about the President's intermittent absence from the limelight just won't die down. Recently, Panelo had to explain once more the President's reported hibernation, saying the chief executive is in good form and relaxing at his home in Doña Luisa Subdivision in Davao City.
"Ang sabi niya, marami siyang trabaho na mga papeles, binabasa niya isa-isa. Hindi siya makapirma nang hindi nya thoroughly reading these papers," says Pañelo in a press conference.  "In fact, he shared with me yesterday, ang sabi niya: 'Alam mo ba I went out on a motorcycle?' Nag-motorsiklo raw siya sa subdivision niya."

This time, there's no photo of the President riding a motorbike.

Continue reading below ↓
Recommended Videos
As motorcycle media, Moto Sapiens is actually more interested to know if Duterte is indeed riding motorbikes again. On June 30, 2016, we wrote about the President trying to give away his Harley-Davidson motorbike for free to one of his companions when they watched the MotoGP race at Sepang International Circuit. Yours truly got to interview him a few months after, and his main reason for dumping his motorbikes was his recurring gout problem, which makes it difficult for him to press the clutch and brake levers. Apparently, that was his only reason back then.

His long absence in the local motorcycle community has been felt by many riders. They miss him a lot for being a passionate, fun-loving, and down-to-earth rider, particularly during group rides. Also, Duterte never fails to show up at the annual National Motorcycle Convention held in various parts of the country. He loves to rub elbows with the riders and share his endless tales of unforgettable riding escapades.
At the convention in Iloilo City early this year, Duterte ordered the suspension of the implementation of Republic Act No. 11235 or the Motorcycle Crime Prevention Act, which had been strongly opposed by riders nationwide for allegedly being "discriminatory" and "grossly flawed." He called for amendments to RA 11235, otherwise known as the 'doble plaka' law.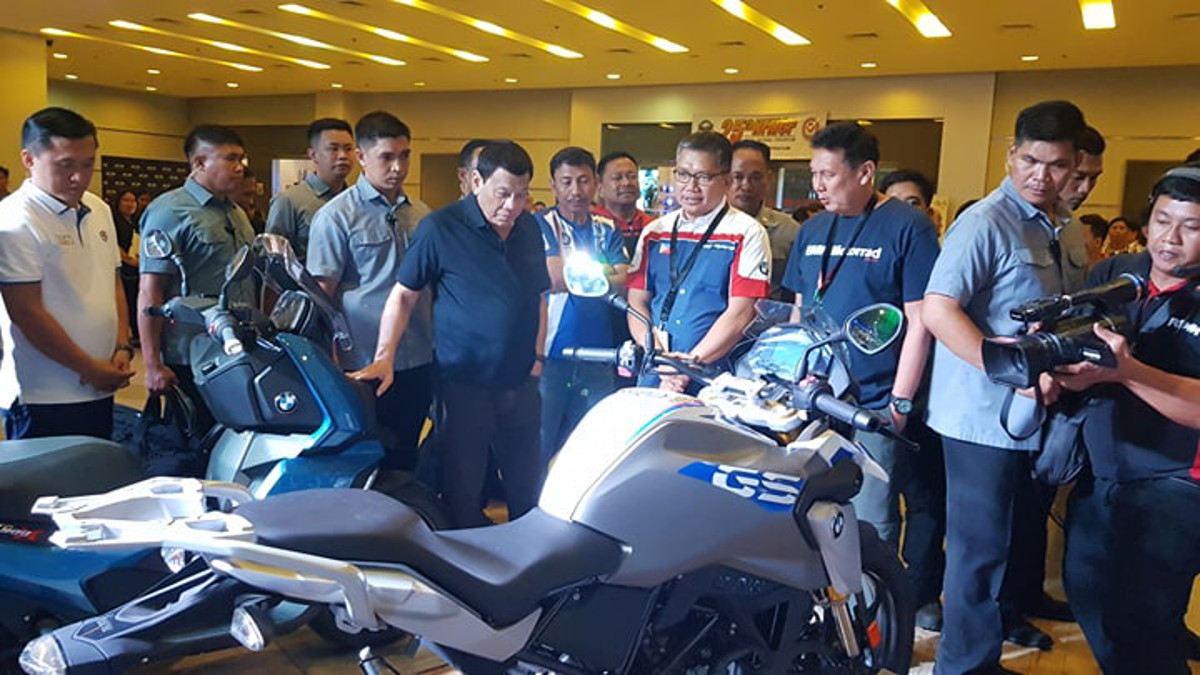 These past few months, Moto Sapiens has been consistently receiving information that President Duterte is indeed back on the saddle. Our insiders claim Duterte slips out of the Palace on a Honda Rebel, a middleweight, user-friendly cruiser, in the middle of the night or early in the morning to breathe fresh air and unwind. He makes the great escape in full riding gear and with a handful of Presidential Security Group escorts tailing him. The ride usually takes place just in the surrounding areas of Malacañang. Duterte knows that the best antidote against stress is motorcycle riding.

We've asked our Palace sources for photos of Duterte while riding, to no avail.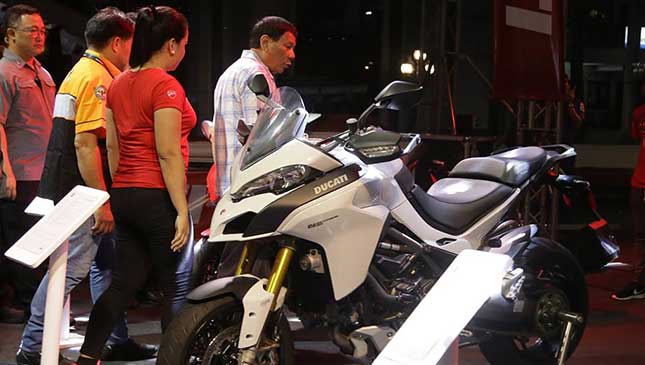 With his quiet comeback to riding, we also suspect that President Duterte might be reorienting himself with motorcycles in preparation for the 2020 National Motorcycle Convention to be held in Davao City in April. It would be heartbreaking for Rody the rider to imagine his daughter, Mayor Sara Duterte, taking the limelight for herself by riding her Yamaha XSR900 during that grand gathering of two-wheelers. Like father, like daughter—Davaoeños know Mayor Sara is also crazy about motorbikes.
Mr. President, how about taking a selfie with your motorbike? Ride safe!