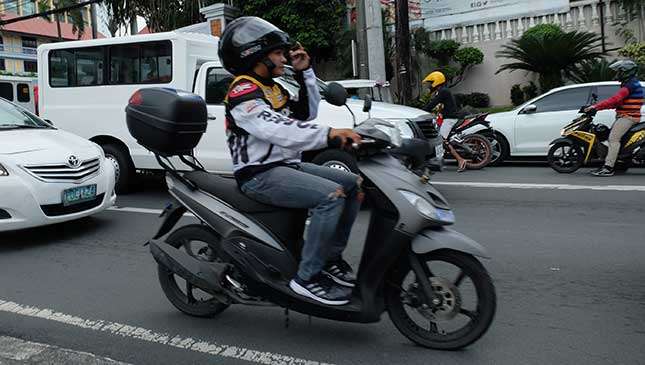 We have a confession to make. We haven't been responsible motorcycle riders. It's a disgrace, really. But we are not making excuses anymore. We are going to put an end to all the bad riding habits we've acquired one way or the other through the years to become better riders in 2018!
It is said the first step to change is acknowledging your mistakes, so we are revealing here 10 of our nastiest riding habits on our way to getting rid of them. Hang on, guys!
1) Riding without a helmet.
Sure, crash helmets are cumbersome in so many ways, but wearing one is essential to riding a bike. Although only too obvious, we are among thousands guilty of neglecting this rule and for far too many times. Call it plain laziness or simple conceit but this will change. From now on, even if just driving around the cozy confines of our neighborhood or running an errand at the nearest convenience store, we will always wear a helmet.
ADVERTISEMENT - CONTINUE READING BELOW ↓
2) Allowing a passenger to mount on the bike without a helmet.
What's worse than riding a bike without a helmet? Letting someone without it ride with you. Again, we have done this more times than we would've wanted. This time, it'll be different. Even if the prospective passenger insists, we will not budge without them putting on a helmet first. And just to make sure, we will always ride with an extra helmet handy.
3) Wearing inappropriate gear while riding.
We never go to a party wearing pajamas, but why do we insist on riding our bikes wearing sando and tsinelas? I don't know the answer to this, but we sure as guilty as the next guy. As if our skin could actually compete with gravel if push comes to shove. Yes, we love the sweet rush of air through our body as we gallop through the streets, but it is not worth the aggravation. We will not wait until we learn this lesson the hard, painful way.
4) Counterflowing.
It's the rebel in us. Going against the flow just feels too good, too cool. Or maybe, we're just too much of in a hurry that we don't want to be inconvenienced by rules. Not anymore. From now on we will make a point to note that accidents will happen, and we will not do anything to court them.
5) Swerving.
We all love speed, don't we? Ever since we discovered running as kids, we always wanted to go faster against whomever. But let's face it, it's actually silly. Of course, there will always be someone faster than you. In any case, we will now consider every ride a moment to cherish. We will simply enjoy it and won't let it end in a wreck just because we want to prove ourselves better than others.
ADVERTISEMENT - CONTINUE READING BELOW ↓
Recommended Videos
6) Riding through sidewalks.
Yes, it is convenient particularly when stuck in traffic, but did you know you could actually get fined P150 for this? Besides, we're tired of seeing or hearing pedestrians mumble expletives at us as we pass by.
7) Disregarding pedestrian lanes.
We didn't realize this one until an elderly lady approached us one morning as we lazily waited for the lights to turn green. "Hijo, alam mo ba ibig sabihin ng mga guhit na 'yan?" she asked. "Pedestrian lane ang tawag diyan. Hindi 'yan parking slot para sa motor mo." So yes, we won't be called out for our stupidity ever again and avoid those lanes all the time.
8) Beating the red light.
This one we are already practicing, after personally witnessing a rider eat gravel and asphalt on his way to meeting his maker only a few months ago. I didn't know the guy but I bet he thought he could actually zoom faster than the speed of light. Sadly, the jeepney on the other end of the intersection was thinking the same thing.
9) Riding under the influence.
If you think you're not too drunk to drive, you probably are. This is the advice we received from a man who lost several of his buddies following a drunken ride from a party. We've violated this rule a couple of times in the past, and this time we are taking heed.
10) Participating in illegal street races.
Yes, we've done this a couple of times with varying results. Fortunately, not one involved us losing a limb. Alas, it was a different story for a friend, who lost most of his right arm and all of his right eye (actually half his face and his left middle finger too) following a tragic race. So, no more impromptu races for this rider.
ADVERTISEMENT - CONTINUE READING BELOW ↓
Being humans, we may not be able to completely adhere to this New Year's resolutions. But just like last year and the many years before, we just need to keep on trying.