We're pretty sure that one time or another, you've attempted to pop a wheelie on a motorcycle. Those who've managed the stunt will attest it's a blast to do and oftentimes addicting.
A lot of riders dream of popping a power wheelie, but only a few are able to pull off a good one. We've witnessed countless riders ending up with broken arms and legs after attempting a 'wheelstand.' Aside from sustaining injuries, they go home with damaged bikes and, worse, bruised egos. It's only after they've kissed the ground that they realize there's a proper and safe way to keep a bike's front wheel off the ground—either in quick bursts or over a sustained period.
Seasoned motocross coach Sam Tamayo and his team of riding coaches at the MX Messiah Fairgrounds in Taytay have come up with a locally made wheelie weapon that can lessen the risks involved in learning this special skill.
Wheelies, he says, cannot be done using the 'clutch in–throttle–clutch out' routine alone. "Learning to wheelie is a process of improving coordination and balance, and [mastering motorcycle] controls. It's very overwhelming if all can be done at the same time," he points out. Correct engagement of the rider's core is also a factor in the successful execution of wheelies.
Inspired by a similar apparatus used by a stunt and wheelie school in Europe, Tamayo has made available a wheelie device that's 100% designed and fabricated here with the help of a cousin and a friend of his. It took him three years to make this project a reality.
ADVERTISEMENT - CONTINUE READING BELOW ↓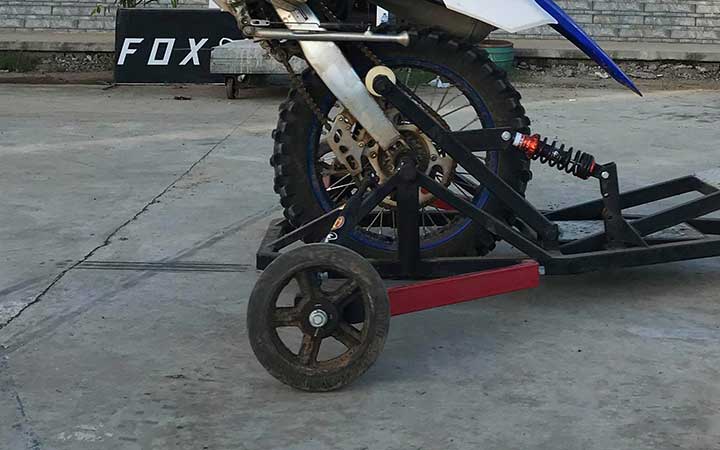 Constructed from solid steel angular bars and rods, the wheelie device has a specially designed stopper that holds the attached motorbike's swingarm. It's also got small wheels (two in front and one at the rear) and a shock absorber. It looks more like a 'training wheel' we see on kiddie bicycles, but with a third wheel installed farther back.
The wheelie device helps the rider focus on the controls, figure out his center of balance, and keep the bike in a vertical position by modulating the throttle and the rear brake. Failing to execute any of these in the proper way may cause the bike to go full 12 o'clock: This is when the rider is ejected from the seat and finds himself lying flat on the ground. Meanwhile, the shock absorber prevents the bike from over-rotating.
"The goal is to stay there in the balance point with the correct body position and throttle and rear brake control," Tamayo emphasizes. As long as the rider is wearing proper riding gear (with elbow and leg pads as well as a back protector), he assures that learning to wheelie a bike with his device is very safe.
The bike shown in the photos is a Yamaha YZ250FX that weighs around 113kg. It's the heaviest bike Tamayo's wheelie device can take. The device, which is attached to the bike's rear axle, was not designed to accommodate mini-dirt bikes like the Yamaha PW50.
Instead, the MX Messiah Fairgrounds offers a Yamaha XTZ125, which is lighter and tamer than the YZ250FX, for the wheelie training offered in three sessions (one hour each). The P15,000 training fee includes free use of the bike and riding gear. For those who want to try the wheelie device using their own bikes, the rental fee is P750 for a maximum of two hours.
Here are additional words from Tamayo: Wheelies are not only for show. They also build up riding confidence because you know you're able to totally control the bike at any given time. But for beginners, just have fun and always remember the golden rule: Don't push your limits!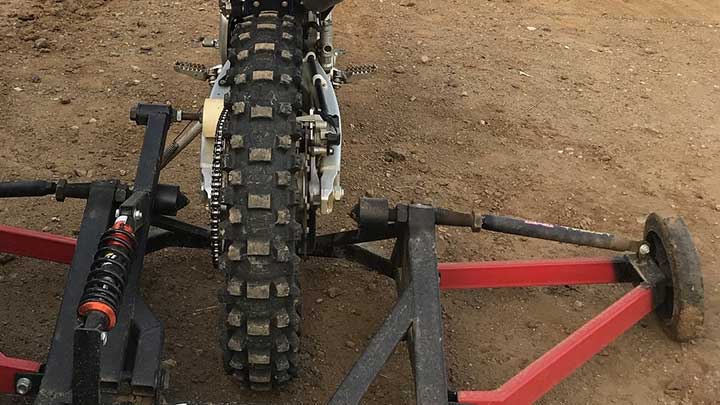 ADVERTISEMENT - CONTINUE READING BELOW ↓
<