There's something about night rides that's so therapeutic. Whether it's the reduced traffic on the road, the refreshing night air, or the sheer cool factor of roaring down the streets on your motorcycle while the city sleeps, the concept of riding at night strikes a chord with most riders. Also close to riders' hearts is the idea of a group ride: a bunch of bike-loving friends picking a direction away from home and riding off to who knows where.
Both these kinds of rides are undoubtedly exhilarating, so of course, it's a no-brainer to combine the two.
Yamaha Motor Philippines (YMPH) recently sent us an invite to tag along on its first organized group night ride, the thought of which was exciting enough. Then they let us know that they'd be lending us an MT-15 unit for the event. Not one to pass up on living out my childhood fantasies of experiencing what biker gangs are up to at night, I said yes without even glancing at my schedule.
ADVERTISEMENT - CONTINUE READING BELOW ↓
For those who aren't aware, the Yamaha MT-15 is the latest addition to its MT line of naked sport bikes, with the 'MT' moniker standing for 'Master of Torque.' Being the smallest and most affordable of the line, the MT-15 is the entry-level bike in the family. Its appeal isn't entry-level by any measure, however, as its dashing looks and YZF-R15 sport-bike engine tucked into the frame had me bugging Yamaha for a chance to take it out for a spin ever since it came out earlier this year.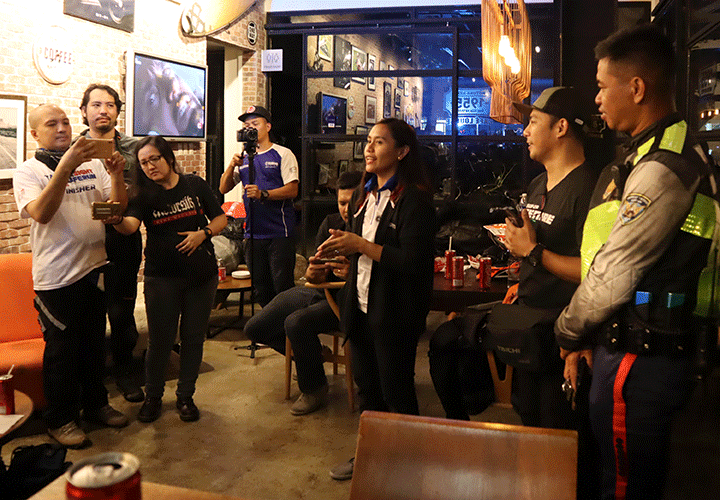 Arriving at Yamaha's YZone flagship shop at 6pm sharp, I met up with the YMPH personnel and members of the media I was going to spend the night with. After a bit of socializing and fishballs, the pre-ride briefing began.
The event marshals gave us a run-through of the necessary details for our ride. The briefing covered essentials like the route, how we'd be pacing ourselves, and a couple of helpful hand signals.
ADVERTISEMENT - CONTINUE READING BELOW ↓
Recommended Videos
We left Greenfield around 7pm, which would usually mean horrendously heavy traffic on the way out and onto EDSA. Riding out of the metro was a breeze on the MT-15. Filtering between traffic took minimal effort thanks to the 150cc streetfighter's slim profile and agile handling. We must have been quite a sight to pedestrians and cars stuck in traffic as we moved like a swarm of nearly 20 motorcycles.
As we got farther away from Metro Manila, the scenery began to change. Gone were the bustling intersections and the bright city lights, and instead there were wide, open roads and the night illuminated not by artificial lighting, but by the stars above. The stars only gave us so much light, causing us to depend on the MT-15's bright LED headlight and the taillights of the lead pack.
The less populated the roads became, the more aggressively we began to ride. I got more and more comfortable in the MT-15's stiff sporty saddle, leaning the bike over a little bit more after each turn, making sure there's ample distance between me and the riders in front of and behind me. Once the turns increased in frequency and severity, I knew this ride would be something special.
ADVERTISEMENT - CONTINUE READING BELOW ↓
Catching glimpses of crashed cars and trucks on the side of the road confirmed that we were indeed now riding along the infamous Marilaque Highway. I've ridden along Marilaque's many turns a couple of times before, but never in pitch-black darkness. Of course, I couldn't ride too hard in dark, risky conditions, but I couldn't help but feel alive as I revved the MT-15's punchy single-cylinder engine, reveling in the surprisingly usable amount of power and torque it put out. I eagerly followed the taillights in front of me, their red glow providing light as well as guidance on a familiar route that suddenly felt so foreign.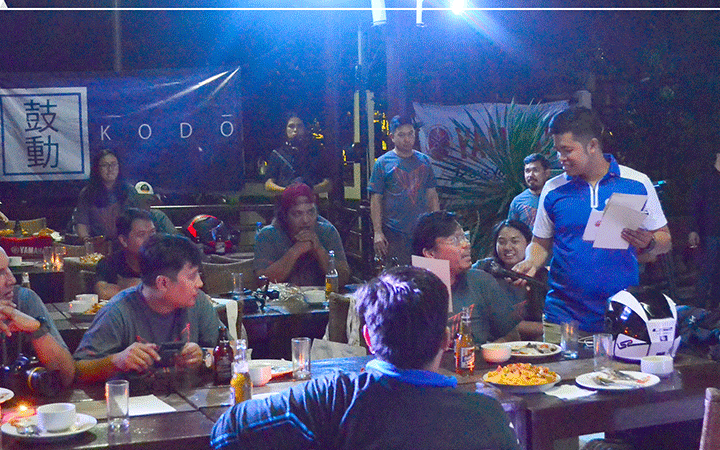 I could tell the other media riders were having fun, too, as I could see them leaning their bikes over and aggressively downshifting before corners. I relished the moment, humming to myself and chuckling whenever I felt like I exited a corner a little bit better than usual.
We eventually arrived at our destination, Punta de Fabian Resort in Baras, Rizal. The ascent to the resort was almost as exciting as some of the turns on the way there, as the upward slope was nearly vertical at times. It was a real test of just how much torque the littlest 'Master of Torque' can muster.
After parking and registration, Yamaha had a little program prepared for us. Of course, there was dinner, too, providing much-needed sustenance for our tired bodies and empty bellies. All of us felt exhausted after the ride, with one thing keeping us from turning in early: the promise of a large cooler full of beer. We drank and laughed all through the night, our fatigued bodies relaxing and letting loose.
Obviously, we crawled out of bed significantly later than we had initially planned, but as with most drinking sessions, we had no regrets. After breakfast and some much-needed coffee, we got ready and had another briefing before heading back to Metro Manila and back to reality.
ADVERTISEMENT - CONTINUE READING BELOW ↓
We took the same route going back, the turns and bends of Marilaque energizing my slightly hungover body. Now that we were tackling the route in broad daylight, we could ride even harder than we did the day before, pushing ourselves and our motorcycles further to properly put the bike through its paces. We still took care, of course, and our staggered riding formation provided enough space for all of us to hit the brakes in case of an emergency. Metro Manila welcomed us back with open arms—or more accurately, with gridlock and a chorus of honking car horns. We soon made it safely back to YZone for lunch.
With the proverbial tear in my eye, I handed back the key to the black MT-15 I had used over the past couple of days. After saying my goodbyes, I mounted my personal motorcycle, which Yamaha was nice enough to let me park in its service garage, and rode home with fond memories, a full stomach, and new friends. Here's hoping I get to ride a member of the MT family of bikes again.