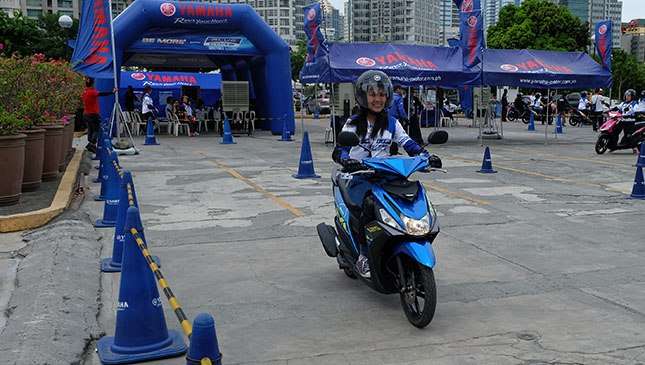 I am a girl not blessed with towering height. So because of my short legs and my skinny arms, the hazard of handling heavy machines—like operating a motorcycle—almost never comes to mind. Because of this, I surrendered to the idea that motorcycle riding is for me; I'd rather be a passenger than a rider.
Then came the Yamaha Safe Riding Science for Women that changed my negative outlook on motorcycling. A free training course designed only for female wannabe riders, it was the second such event that Yamaha Motor Philippines (YMP) sponsored with no cost. Only those with zero riding experience were allowed to join, and almost 60 participants signed up. The Y-Zone dealership at the Greenfield district in Mandaluyong City was a great venue for the lecture since it has air-conditioned rooms and a wide parking lot with lots of safety equipment.
What also made it more special was that it coincided with Mother's Day. Nothing can be more inspiring than seeing mothers, some even with kids that tagged along, wanting to learn how to ride. Yamaha even gifted the moms with roses and a kikay kit that can be useful in their riding trips.
ADVERTISEMENT - CONTINUE READING BELOW ↓
This training course was complete: Not only did they lend their lovable Mio 125s for free, but the organizers actually put a lot of time and effort to make sure that we, women, learned as much as we can in a day. In short, although the event was free of charge, it was not half-assed.
The head instructor, Maria Kristela Roxas, was an awesome lecturer. Not only is she certified on courses for scooters with automatic transmissions, but she is one of the few lady trainers in Yamaha. She got our full attention by cracking hugot lines that we women can relate to in between her lectures.
The course was divided into two—knowledge and experience. The best part about having a lady trainer to teach us is that she taught us how to wear a helmet without ruining our hair.
We were taught the usual benefits, like how having a motorcycle would definitely save a lot of commute time. She also mentioned how riding makes some people happy but it could be dangerous as well. That's why we needed to know the basics before anything else.
For the knowledge part, the lecture included identifying the basic motorcycle parts, impact forces, safety riding gear, riding position, and pre-operation checks before riding. Kristela also gave riding tips on danger perception and the importance of being conspicuous. This was really important because from the perspective of a daily commuter, I've witnessed many motorcycle accidents in the past years. Of course, she covered basic road information such as signs, licensing and road rules.
ADVERTISEMENT - CONTINUE READING BELOW ↓
Recommended Videos
We moved on to the second part, the real-life riding experience. For me this is the best way to learn how to ride a motorcycle. I learned that the brakes of a bicycle are different from a Mio's. I rode a bike all the time when I was a kid, so it was easy for me to adjust to a scooter. And while waiting for my group's turn, I was quietly observing the other participants because I didn't want to fall with the Mio.
The first step was to don safety riding gear—helmet, gloves, elbow pads and knee pads. Next, we learned how to release the Mio from the center stand. Standing only 4'11," I struggled in this particular exercise because I was prone to toppling over. After a few tries, I later discovered the key here is technique. After learning the technique and practicing a few more times, I was able to release the Mio from its center stand and put it back up again with ease and confidence.
Next is learning how to use the throttle. This is terrifying for a newbie like me. The trick here is to turn the throttle really soft and slow. You have to 'feel it.' While mastering throttle control, we also practiced balance like getting on and off the bike, and turning and positioning the Mio. This was a safe practice for us because the instructors were really guiding us and making sure accidents didn't happen. When we already got the feel of the Mio, we were already going around the course.
ADVERTISEMENT - CONTINUE READING BELOW ↓
It was a great experience. The Mio 125 was the perfect motorcycle to learn from. It was light and easy to handle. It didn't make loud obnoxious noises so it was a breeze to ride. The brakes were not hard to press, which gave me more confidence that I will be okay, and I could always stop slowly when I felt uneasy. It was easy to control and was not a burden to turn.
The Yamaha experience made me forget that I was riding under the scorching afternoon heat, and it taught me how to be a responsible rider.
At the end of the day, I was able to live up to what was printed on the back of my Yamaha shirt: 'Ride with Confidence.' I sure did.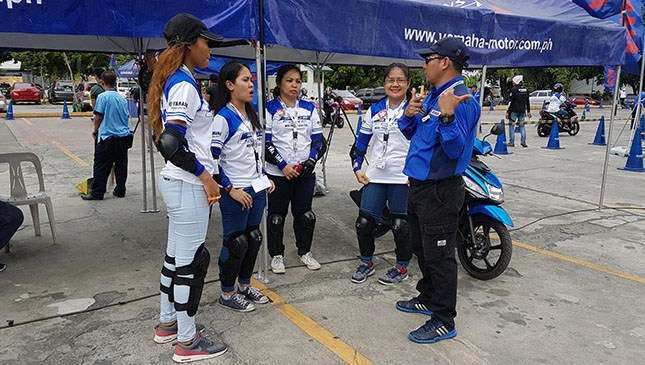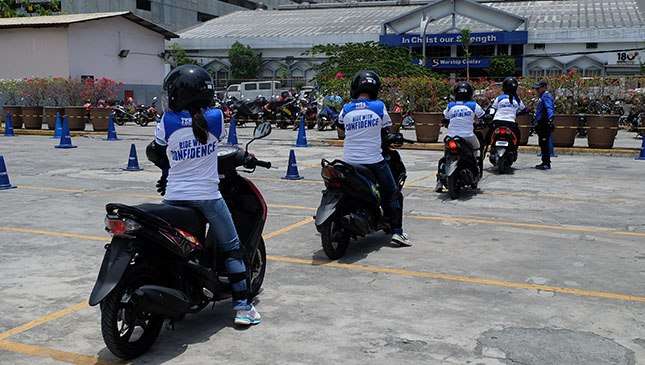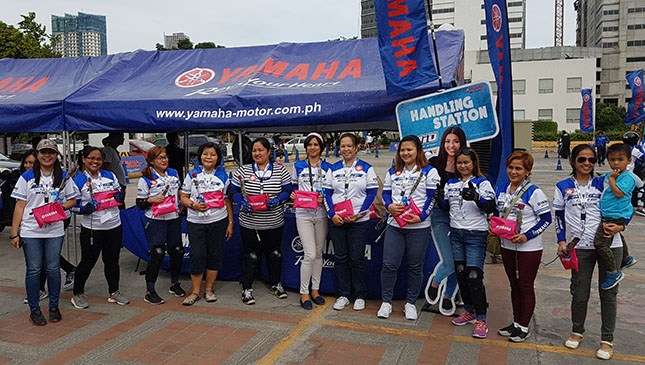 ADVERTISEMENT - CONTINUE READING BELOW ↓