Do we now have a Pinoy version of Marc Marquez emerging at the 2019 Honda Pilipinas Dream Cup (HPDC)?
Sorry, but we can't help compare our very own Alfred Jakob Sablaya to the seven-time Grand Prix world champion and Honda MotoGP rider. From the first three rounds (six races) of HPDC, fourteen-year-old Sablaya has already secured 25 points per race, for a total of 150 points. Carl James Hung is second with 114, while Marco Gil Ventinilla completes the top three with 84.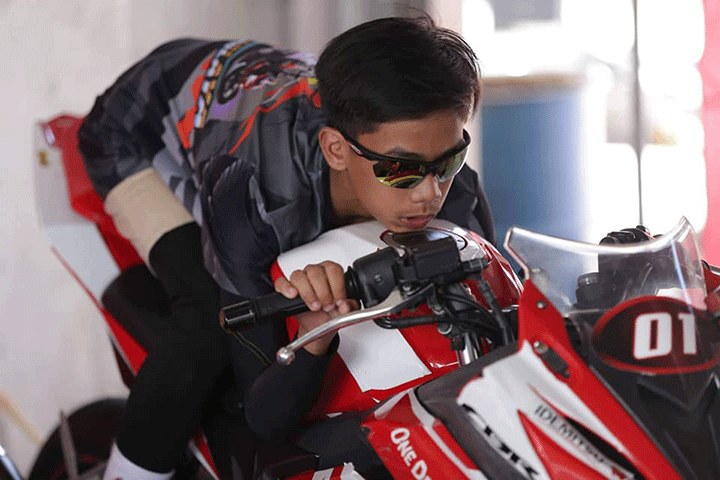 In the third round held on July 29 at Clark International Speedway, Sablaya stunned spectators not by bagging the top positions in both races, but with the way he managed to pull away from the rest of the pack amid a downpour. This stunning performance was consistent from qualifying to the race proper, where he held an average lead of almost 4sec over his competitors.
Continue reading below ↓
Recommended Videos
The champion in this year's HPDC will represent our country in international races organized by Honda. For the local races, which are held alternately at Clark International Speedway and Batangas Racing Circuit, all nine competitors are mounted on same-spec Honda CBR150R units.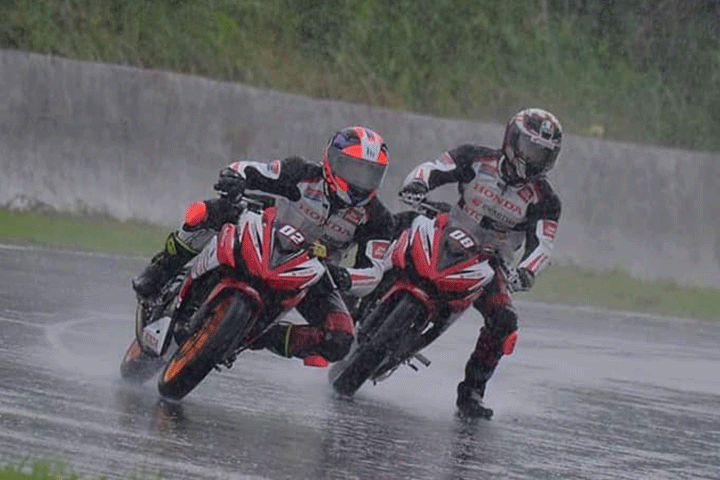 Sablaya was the champion in 2018, although he was challenged by a strong competitor back then. Now, he's showing that he has already mastered the traits of the CBR150R, attacking corners without hesitation.
Sablaya started his racing career at age 10 using pocket bikes. Since then, he has been unstoppable. "Mas malakas at mabilis siya this year," according to Gilbert Theodore Sison, motorsports group head of Honda Philippines.
Moto Sapiens called up the young racer to ask about his winning formula. "My dad (Nonie Sablaya) trained me well to race on wet conditions," said the eighth grader from Our Lady of Peace School in Antipolo City. He claimed he is never scared or rattled while racing in the rain: "Ang sabi parati ng dad ko, 'Just relax and always stay focused.'"
"Ang iniiwasan ko po ay yung gigil," he stressed.
Sablaya, the second youngest rider on the grid, never forgets to pray before each race. He draws inspiration from his supportive parents and racing fans. He has also thanked his coaches Troy Alberto and Joey 'Storm' Rivero for patiently honing his racing skills.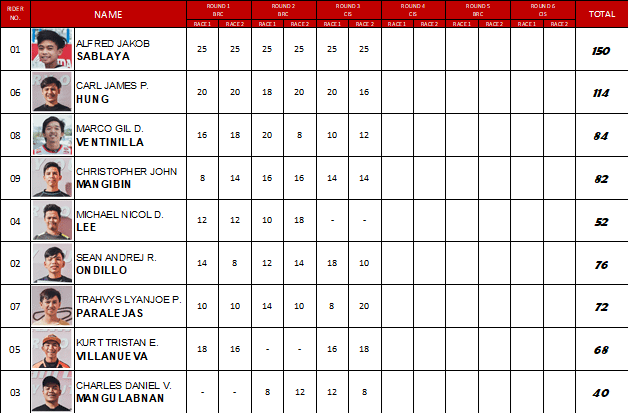 The 'Magnificent 9' will return to Clark on August 3 and 4 for the fourth round (Race 7 and Race 8) of HPDC. However, the weather forecast on those days indicates possible rain in the area.
Considering how he monopolized the first six races, we asked Sablaya if he can already feel the 2019 title within reach. His reply? A resounding "yes!"
And for the rest of the competitors, always remember: It ain't over till it's over! Good luck to all of you in the next race!