Yamaha Motor Philippines enjoyed a productive weekend with its 'Start Your Legacy: Rise of the Ultimate Racer' event on February 9 at the Eastwood Open Park in Libis, Quezon City. The gathering started off with the introduction of Yamaha's young riders and a show of support for Masato Fernando and McKinley Kyle Paz as they embark on the Asia Road Racing Championship in March. But for most of the night, the two shrouded bikes onstage kept everyone on the edge of their seats.
Finally, the host invited everyone to direct their attention toward the bikes to be unveiled. A straightforward reveal would've been plenty exciting on its own, but Yamaha likes to put on a good show, so a third bike rose from a hidden platform—the 2019 Yamaha YZF-R3, and sitting on it was Monster Energy Yamaha MotoGP Team rider Maverick 'Top Gun' Viñales.
Asked how he felt about the new R3, Viñales shared how he'd enjoyed riding it on the track, but he regrets not having the chance to ride it on the street.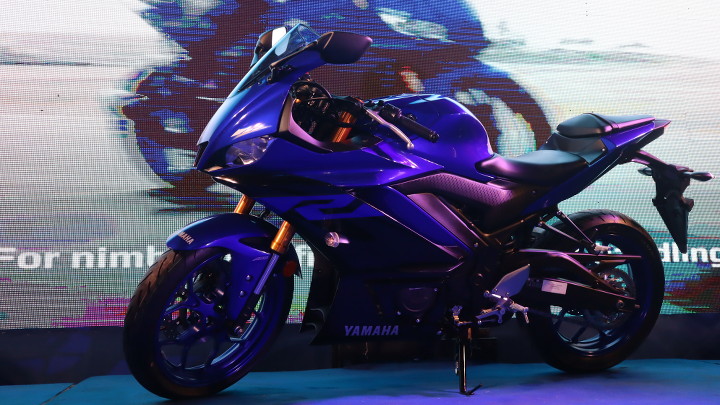 Continue reading below ↓
Recommended Videos
Upgrades for the 2019 R3 include a 37mm inverted KYB fork, a stiffer rear shock absorber for sportier handling, standard Dunlop Sportmax GPR300 tires, new clip-on handlebars that are 22mm lower than before for a more aggressive riding stance, a new triple-clamp and fairings inspired by the YZR-M1 MotoGP race bike, LED headlights, a full LCD dashboard, and a fuel tank that's 20mm lower and 31.4mm wider than in the previous model.
Perhaps the most noticeable change is the styling update, which finally brings the R3's design in line with that of the current R-Series family. Despite being a relatively practical sport bike meant mostly for street use, the 2019 R3 is styled like a true crotch rocket that's made to duke it out on the track.
The bike is still powered by a 321cc straight-twin engine that makes 41.4hp, so while it may not be able to traverse the expressways, it still has adequate power for street and track use.
The revamped R3 is priced at P259,000, and comes in three colors: Black Raven, Race Blu, and Matte Red. Would you get one as a sporty daily ride?