Even with the suspension of the operations of motorcycle taxis in Metro Manila and other key cities in the country as a preventive measure against the COVID-19 virus, two-wheelers continue to hit the streets. We can assume these riders have valid excuses to leave their homes.
But based on what we witnessed last night, we will see a more strict implementation of government checkpoints in other provinces starting tomorrow as President Duterte declared an 'Enhanced Community Quarantine' which now covers the entire Luzon area.
Yesterday morning, motorbikes swarmed almost every corner of the metropolis as employees rushed to their workplace, unmindful of the coronavirus threat. The huge number of two-wheelers caused heavy traffic at police checkpoints that have two purposes: prevent the spread of the coronavirus, and anti-criminality operations of the police.
There are at least 65 identified COVID-19 checkpoints in different entry and exit points of Metro Manila, each being manned by elements of the Philippine National Police (PNP) and local health units. 
ADVERTISEMENT - CONTINUE READING BELOW ↓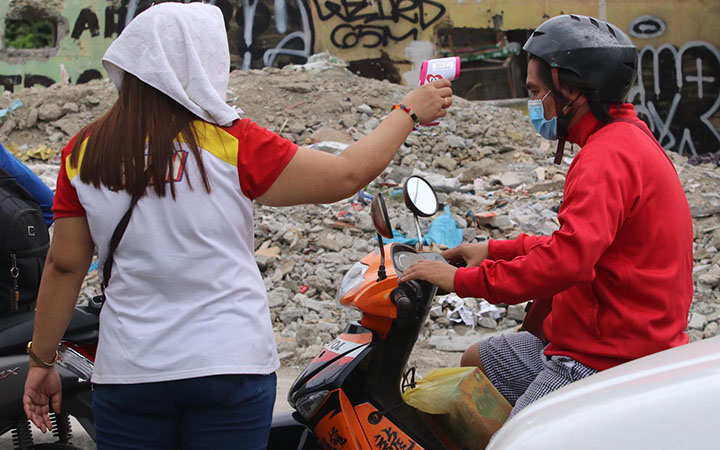 Police Lieutenant General Guillermo Eleazar, chief of the directorial staff of the PNP, appealed to motorists for cooperation and understanding in these critical times.
Alongside local health representatives, police equipped with thermal scanners required riders to remove the helmets to check body temperatures. Taking off the gloves and the balaclava took additional time and made queue longer.
ADVERTISEMENT - CONTINUE READING BELOW ↓
Recommended Videos
To minimize congestion at checkpoints, riders are advised by the police to be ready with their driver's license and the registration documents of their motorbikes. Instead of keeping them in the under-seat which entails a longer period of retrieval, it is would be easier to keep these items in the pockets of their riding jacket or pants. This COViD-19 screening process really takes time—longer if the rider is not prepared.
Riders are also advised to pull over on the safe side of the road, to give way to the passing vehicles that were already cleared at the checkpoints. Do not be complacent if you see some checkpoints not asking for licenses nor vehicle registration papers; random checks happen, depending on the traffic flow in the area.
If you can't avoid leaving your home for one reason or another, please cooperate with the authorities to avoid problems and delays. Stay healthy and ride safe, guys!
ADVERTISEMENT - CONTINUE READING BELOW ↓