Now that it has the blessing of the Land Transportation Franchising and Regulatory Board (LTFRB) and the Department of Transportation (DOTr) to participate in the extended pilot run for select motorcycle-taxi companies, JoyRide initiated a one-day mass-recruitment activity at the Liwasang Bonifacio today, January 5, 2020.
Many of the applicants arrived as early as 6am to be first in line, although the actual program kicked off past 7am. A known venue for political rallies, this historical square dedicated to revolutionary hero Andres Bonifacio was, for once, filled not only with people but also with motorcycles. Two big tents were positioned beside Bonifacio's shrine to accommodate the processing of applicants.
ADVERTISEMENT - CONTINUE READING BELOW ↓
We are not sure if it's was the venue or they were just emotionally charged to begin with, but the JoyRide officials kept repeating some political lines as they addressed the thousands of riders waiting to be included on the company's list of applicants.
"Mabuhay ang JoyRide! Mabuhay ang DOTr! Mabuhay ang Pangulong Duterte!" said Rico Meneses, JoyRide's consultant and CEO of PH-MC Riders Safety and Skills Training Center, while raising a closed fist and enjoining the audience to do the same.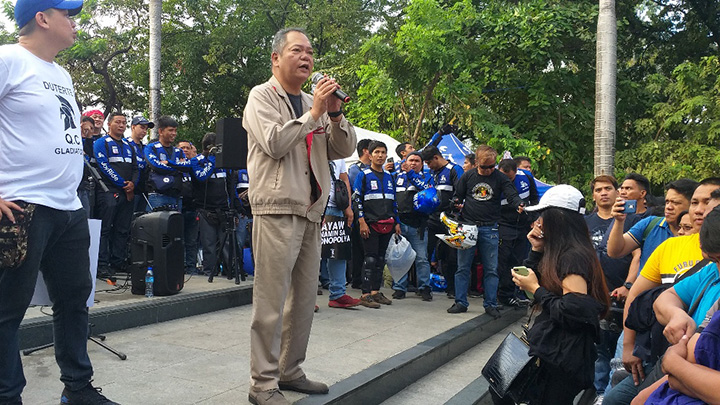 ADVERTISEMENT - CONTINUE READING BELOW ↓
Recommended Videos
It turns out the event was organized by the Duterte QC Gladiators, a group of riders who appear to be staunch supporters of the President. The Chief Executive City is also a known motorcycle enthusiast.
In his speech, Meneses reminded the applicants to put safety first and foremost in their agenda should they make it as rider-partners of JoyRide.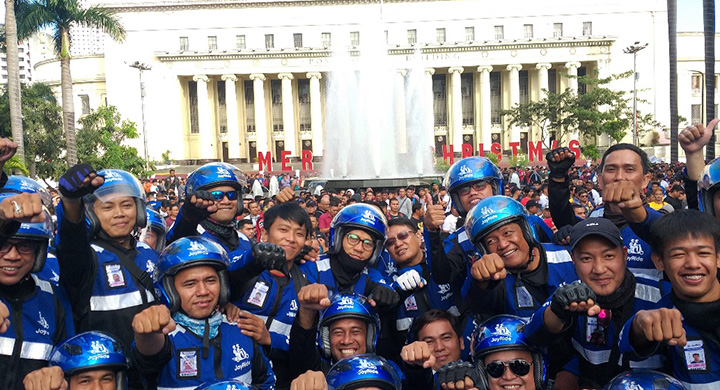 ADVERTISEMENT - CONTINUE READING BELOW ↓
Upon signing up, the applicants have to undergo a one-day seminar and a series of training sessions before they can take the exams. JoyRide officials claim the failure rate in the company's application process is around 30%, which is 40% less than the Angkas figure.
They also reminded the applicants that JoyRide, along with other motorcycle-taxi companies Angkas and MoveIt, is still under the extended pilot run being conducted under the technical working group formed by the DOTr. The pilot run ends on March 23, 2020.
ADVERTISEMENT - CONTINUE READING BELOW ↓
The JoyRide executives encouraged the applicants to give their fullest cooperation in this experimental scheme, in order to inspire the legislators to come up with a law that will legalize motorcycles-for-hire once and for all.
As of the last press conference held by JoyRide last week, the company has around 7,000 riders on its active list. That is still 3,000 short of the DOTr-TWG's 10,000-rider limit for each of the three motorcycle-taxi companies operating in Metro Manila.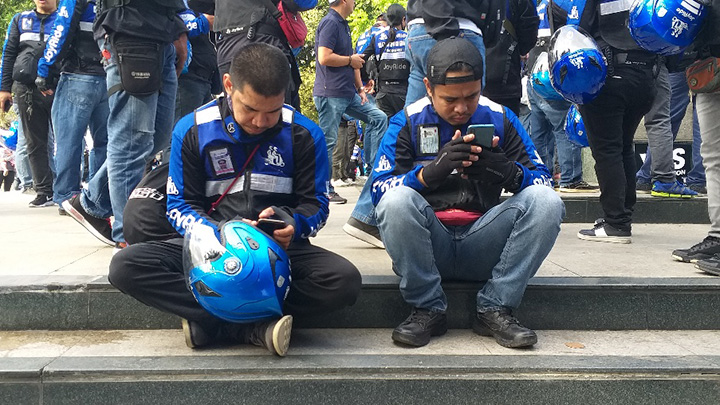 ADVERTISEMENT - CONTINUE READING BELOW ↓
There's no such thing as New Year ceasefire, after all. Other speakers coming from different rider organizations took turns taking a swipe at Angkas, saying JoyRide not only offers good training for applicants, but also better services for motorcycle passengers.
The JoyRide staff ended the recruitment process shortly before noontime.