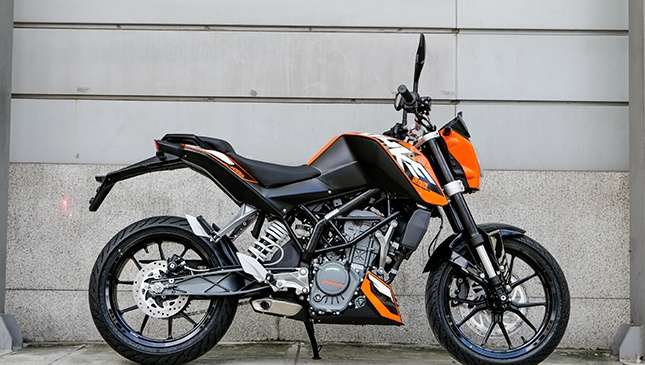 Here's good news for 'Orange' fanatics in the local motorycle communities.
Since we started publishing topics related to Adventure Cycle Philippines, Inc. (ACPI), the local distributor and manufacturer of KTM motorcycles, Moto Sapiens has been flooded with the question: Will the price of Philippine-made KTM motorbikes go down?
Last January, ACPI started its manufacturing operations on four of its models with small engine displacements, namely the Duke 200 and Duke 390 naked, and the RC 200 and RC 390 racing street bike. And every time we come up with updates on our website on the manufacturing operations of the four KTM models, netizens never fail to ask if the prices, particularly the Duke 200, will be lowered.
Lo and behold! Yesterday, ACPI made an official announcement that P22,000 will be cut from the Duke 200's SRP. "Built on the core values of purity, performance, adventure and extreme, the KTM 200 can now be yours for P147,000!," ACPI said in a press statement.
With the new price positioning for the Duke 200, we foresee it locking horns with fierce Japanese street nakeds like the Yamaha TFX (P139,000), the Kawasaki Baja Rouser RS 200 (P125,000), and sport street bikes such as the Honda CBR150R (P150,000) and the Yamaha R15 (P149,000).
The big price cut came a week after Ayala Corporation CEO Jaime Augusto Zobel de Ayala and ACPI president Arthur Tan visited their manufacturing plant at the Ayala-owned KTM Asia Motorcycle Manufacturing, Inc. (KAMMI) in Laguna, and inspected the first batch of locally-made Duke 200s. The surprise visit also coincided with the 58th birthday of JAZA.
Dubbed as the 'Duke 'em @ 147K' offer, ACPI executives are optimistic that the promo price will lure more riders to shift to the Duke 200, which is powered by a compact, water-cooled, four-stroke engine that generates 26hp.
However, ACPI officials are still mum on possible price adjustments on locally-manufactured KTMs in the near future, although sources from the company gave assurances that there will be price cuts on all their products that are made here. Because the Ayala venture generates jobs for Filipinos, ACPI enjoys a sizeable amount of tax incentives from the government.
Aside from this, ACPI said about 40% of the components of the KTMs manufactured in the Laguna facility are made in the Philippines. The source added that the official launching of KAMMI will be in June this year, signaling the full local manufacturing operations of the local KTM products.
ADVERTISEMENT - CONTINUE READING BELOW
ACPI earlier said a big chunk of the Philippine-made KTMs will be exported to other Asian countries, particularly China.
Are you considering KTM now that it has a better entry price?