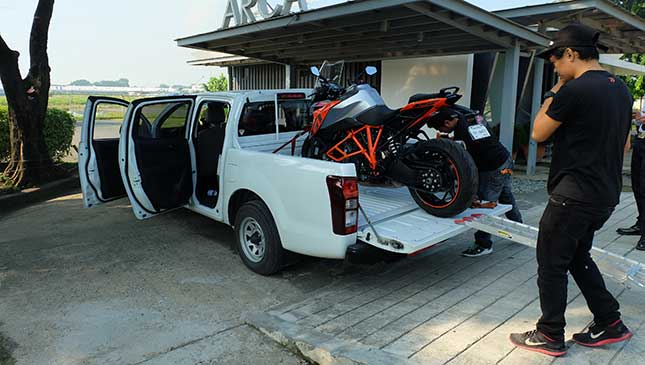 As the summer season reaches its peak, expect to see more two wheelers to hit the road. However, more motorcycles on the streets also mean more possible roadside emergencies. So why travel with a motorbike if it comes with a lot of worries?
To make sure that these concerns won't get in the way between you and your dream long ride and vacation, KTM's local distributor, Adventure Cycle Philippines Inc. (ACPI), forged a partnership with Ibero Asistencia, a global company that specializes in roadside travel assistance.
This collaboration means that a purchase of any street-legal KTM motorbike from May 1, 2018 to April 30, 2019 entitles the owner to a free 24/7 emergency road assistance program. According to ACPI marketing division head Ana Lourdes Lumban, KTM riders who avail of the program can seek assistance for different motorcycle issues like engine trouble, towing, and removal of damaged unit.
ADVERTISEMENT - CONTINUE READING BELOW ↓
Forgetful KTM riders can ask help from Ibero coordinators in the event that they run out of fuel or lose their motorbike's spare key. Ibero is ready to cover the cost of the replacement key.
According to Ibero, it has coordinators in 86 areas in Luzon, 17 in Visayas, and seven in Mindanao. These coordinators are ready to respond to motorcycle emergencies reported through the 24/7 call center hotline (02) 459-4755.
If the rider figures in an accident, he or she may also avail of legal assistance, ambulance service, hospital admission, and accident coordination with the different government agencies such as the Philippine National Police-Highway Patrol Group, Metropolitan Manila Development Authority, and Skyway Patrol among others.
Impressed? We're only getting warmed up here.
In the event the motorbike repair will take longer than 48 hours as claimed by the repair shop, the program will cover the rider's lodging and travel expenses for up to two nights based on an agreed rate of P2,000 per night. Ibero can arrange an alternate means of transportation that will take the rider to his destination or reimburse his transportation expenses.
How about KTM motorcycle owners who bought their units before May 1, 2018?
Lumban says that ACPI has expanded its emergency assistance by allowing owners of KTM bikes to avail of the roadside travel assistance program for P1,500. There's another condition, though: The unit should not be more than 10 years old.
"Our customers deserve nothing less than the best aftersales service because our relationship with them does not end after the purchase of the motorbike," says ACPI chief operating officer Dino Santos.
With all these in one roadside assistance package, is there anything else for a KTM rider to worry about?