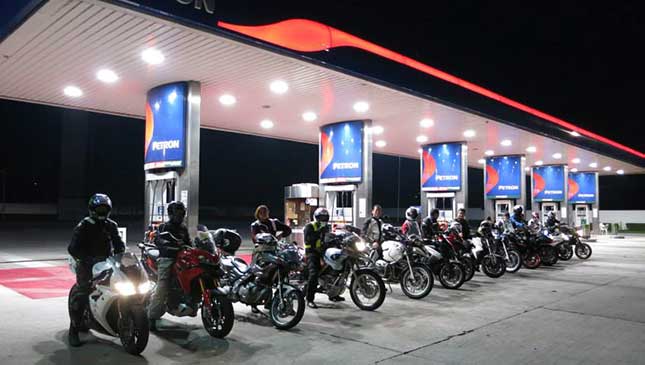 Does your blood pressure fluctuate as often as the change in fuel prices?
With prevailing uncertainty over the price of gasoline, motorists are now becoming conscious about the fuel consumption of the vehicle they use. The same goes for motorcycle users.
To help the public determine which among the motorbikes in the country are the most fuel-efficient, the Adventure Team Philippines, Inc. (ATPI) again joined forces with Petron Corporation in staging the 'Safe Run: The Ultimate Safety Fuel Efficiency Challenge.'
The participants will take off at 5am at the Laus Group Event Center in San Fernando City, Pampanga. Covering some 200 to 600km of roads in Central and Northern Luzon, hundreds of participants have signed up for the 'Safe Run' to vie for the best fuel mileage. The will ride motorcycles with engine displacements starting from 100cc and above.
Depending on the engine size, ATPI president Francis Rivera said there will be three motorcycle categories: Short Range (200km), Medium Range (400km), and Long Range (600km). There is also cut-off time for each of the three categories. The route will go through Pampanga, Bataan, La Union, Tarlac and back to Pampanga.
Armed with 'passports,' the participants are required to refuel only at several Petron stations designated as checkpoints
"This event is not about speed. It's about fuel efficiency," said Rivera as he warned participants against overspeeding and other traffic violations during a safety briefing held at the Wheeltek dealership in Makati City. Rivera himself is a veteran of motorcycle endurance runs.
To attain maximum fuel efficiency, Rivera suggested that participants be gentle on the throttle and just glide and utilize the bike's momentum. He reminded them to make sure that their bike is properly tuned and roadworthy, adding that there is a pre-event inspection to be conducted by event marshals.
"We are aiming for zero accidents," Rivera added.
Rivera also emphasized that the Safe Run will also be the proving grounds for the motorcycle's durability and performance, which prompted some bike companies to deploy their respective teams. One of the major sponsors of Safe Run is Wheeltek, a dealership that carries the brands KTM, Honda, Kawasaki, Suzuki and TVS.
For safety purposes, organizers will deploy flatbed trucks and three ambulance units as emergency vehicles.
Aside from trophies, three winners for each category will be chosen with a corresponding cash prize of P15,000 (Long Range), P10,000 (Medium Range) and P5,000 (Short Range). The results of the economy run will be announced around 7pm. Entry fee is from P1,500 to P2,500.
Are you itching to know how many kilometers per liter your bike consumes?