After a delay of almost three months due to the COVID-19 quarantine measures, the Triumph Rocket 3 TFC has found its way to the showroom of Triumph Philippines in San Juan City.
The Rocket 3 TFC is imported as a completely knocked down (CKD) unit from Thailand, and we witnessed its actual unboxing as shown in the photos here. Only 750 units of this gorgeous beast, which is powered by a 2,500cc three-cylinder engine generates 168hp and 220Nm of torque, will be available worldwide; 225 units have already been sold in North America.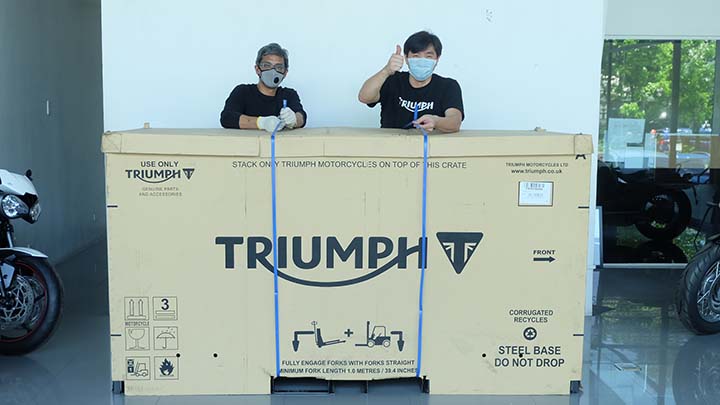 Getting an allocation of this show-stopper was tough. Eleven months after the model's launch in January 2019, Willy Tee Ten of the Autohub Group (the parent company of Triumph Philippines) was able to secure two units of the sought-after bike. Back in November, he played it safe by saying only the R and GT variants will likely be available here for P1.59 million and P1.65 million, respectively.
Turns out the two units of the Rocket 3 TFC made it here back in March, but they were stuck at the Port Area due to the lockdown. The unit—labeled 595 out of 750, as shown by a tiny plaque on top of the handlebar—goes to Jose Rafael Garcia of Bataan. We were told it is due for delivery this week.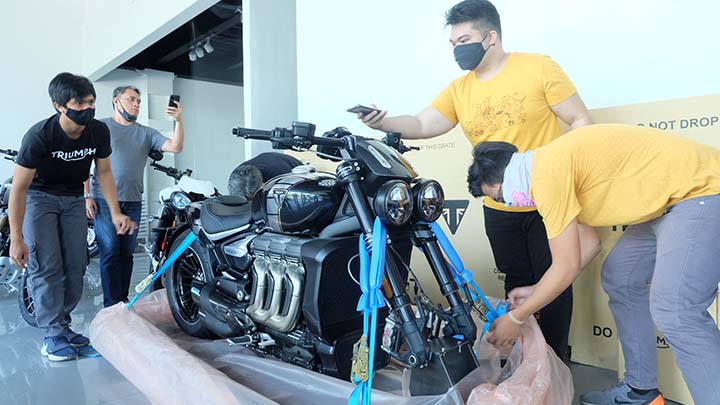 Thanks to the Rocket 3 TFC's premium details like internally wired handlebars and stylish carbon-fiber components, seeing it in the metal for the first time is a jaw-dropping experience. Its muscular silhouette is designed to seduce.
More than the bike's stunning appearance, however, the Rocket 3 TFC's controls, cockpit, and display are a true testament of Triumph's superb build quality and technological prowess. This bike boasts three riding modes with rider-configurable settings, cruise control, shift assist, and hill hold control.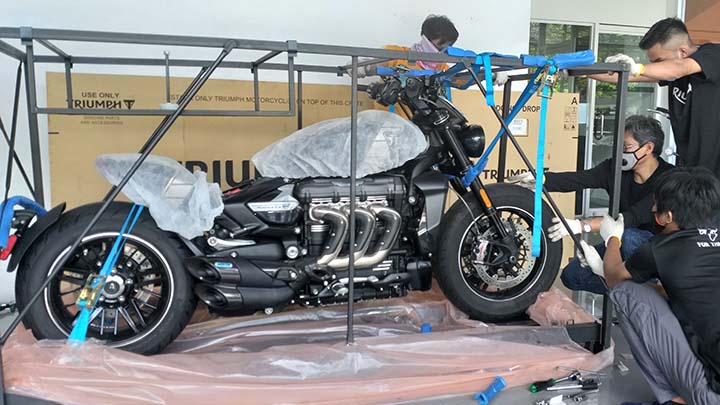 This is a thoroughly modern machine, too. No need to whip out your smartphone, because you can link your gadget to the 'GoPro' control system for music and phone operations.
More on the bike's exclusivity. Each owner gets a tailor-made Rocket 3 TFC handover pack with a certification letter signed by Triumph CEO Nick Bloor, a personalized custom build book, leather rucksack, and an original bike cover.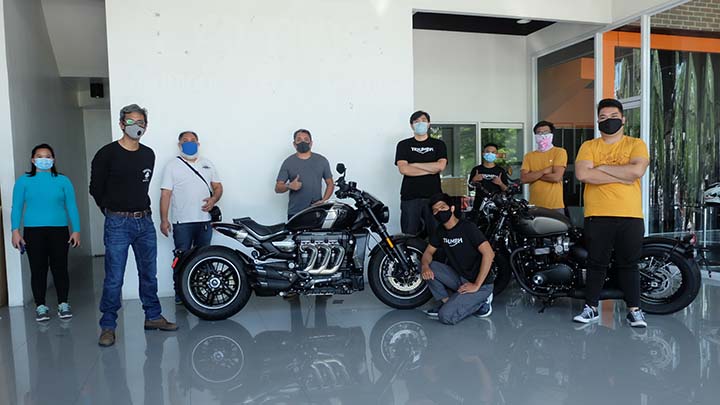 We bet you're itching to know the standard retail price of the Triumph Rocket 3 TFC here. Sorry, guys—Triumph Philippines wouldn't disclose the figure because it has something planned for the second unit, which will probably the last of its kind to land on our shores.
To be specific, the company will hold a charity event to auction off the second Rocket 3 TFC in July, to raise funds for a hospital or an agency directly involved in the fight against COVID-19. The highest bidder will not only be able to ride home this most powerful motorcycle ever produced by Triumph, he will also have the privilege of handing over part of the proceeds to the chosen beneficiary. Are you ready to place your bid?