If their representation in films, shows, and video games are any indication, Triumph's motorcycles lend themselves well to anyone looking to make a statement. I got to experience that cool factor myself when they lent me one of their most iconic bikes—the Street Triple R.
With a peppy engine, top-spec components, and the handling dynamics of the Daytona sport bike, the Street Triple platform—or 'Striple' as it's affectionately called—is hard not to like. Does its near-optimal combination of aggression and refinement translate well to daily-rider duties? Read our review below to find out.
Styling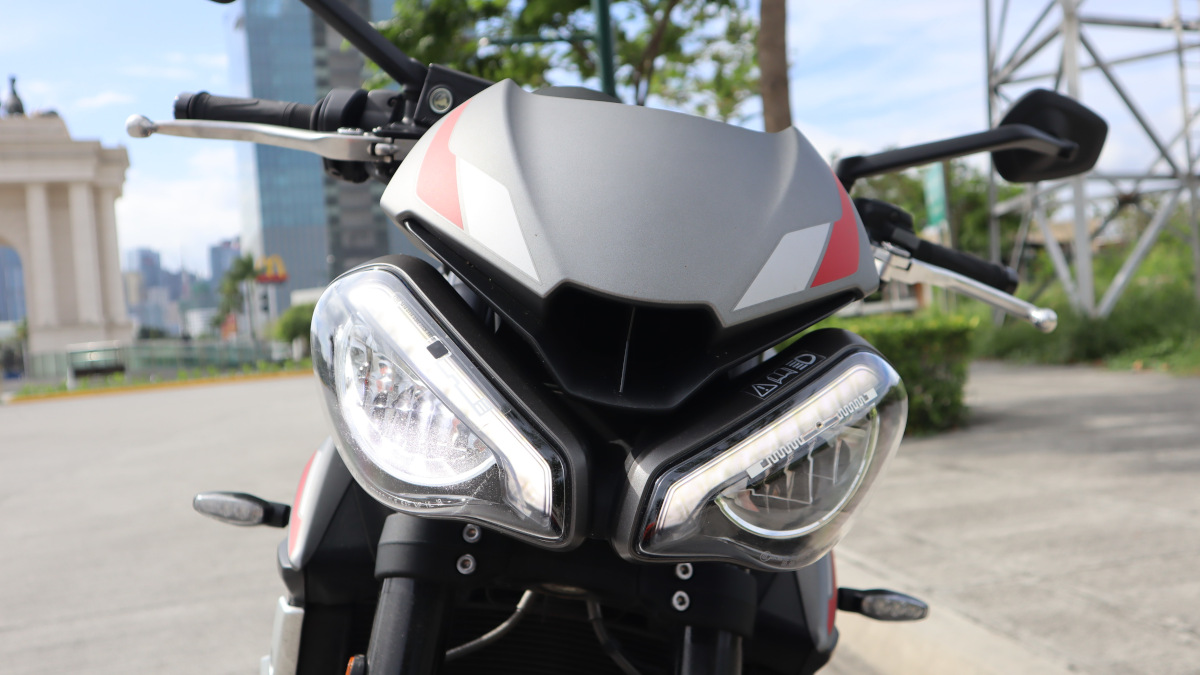 Continue reading below ↓
Recommended Videos
The Street Triple R's styling is something of an acquired taste. From the tank going rearwards, it's essentially a Daytona 765 without the fairings and has the looks of a svelte, sexy sportbike. In front of the wide handlebars is the signature Street Triple twin-bulb headlights, which for this generation look like a dragonfly's eyes.
Personally, I like how the headlights looks. They're quirky and distinctive without being too weird; the functional air intake and the furrowed-eyebrow daytime running lights look especially mean. 
Headlights aside, the Street Triple R is an absolutely gorgeous bike. Each detail is polished to perfection. From the muscular sculpted tank to the beautifully angled swingarm, every component of the bike has been made to fit its sporty streetfighter aesthetic.
The saddle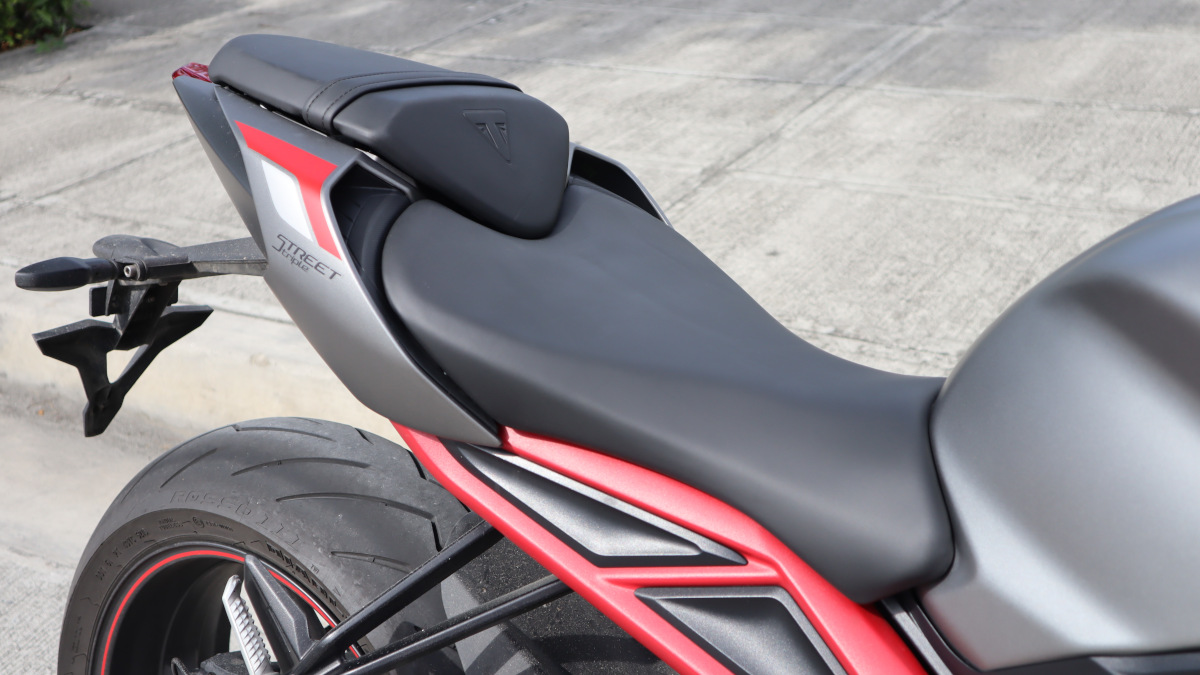 The unit I was lent had the Low Ride Height (LRH) option installed, and the first thing I noticed was just how low the seat is. At 30.7 inches off the ground, it's perfect for my 5'7" frame, as I can get both my feet flat down on the ground and hustle the Triumph through tight spaces with confidence.
This saddle is a surprisingly comfortable place to be. It's well-cushioned and grippy while still easy to move around on, the foot pegs are rear set but not too cramped, and the handlebars are wide and easy to reach. The sculpted tank is also comfortable to grip with your thighs—engine heat is noticeable, but it isn't quite as bad as with other European motorcycles.
According to my pillion rider, the passenger accommodations are quite comfortable. The seat is plush and decently sized, and the foot pegs aren't too far away.
Engine performance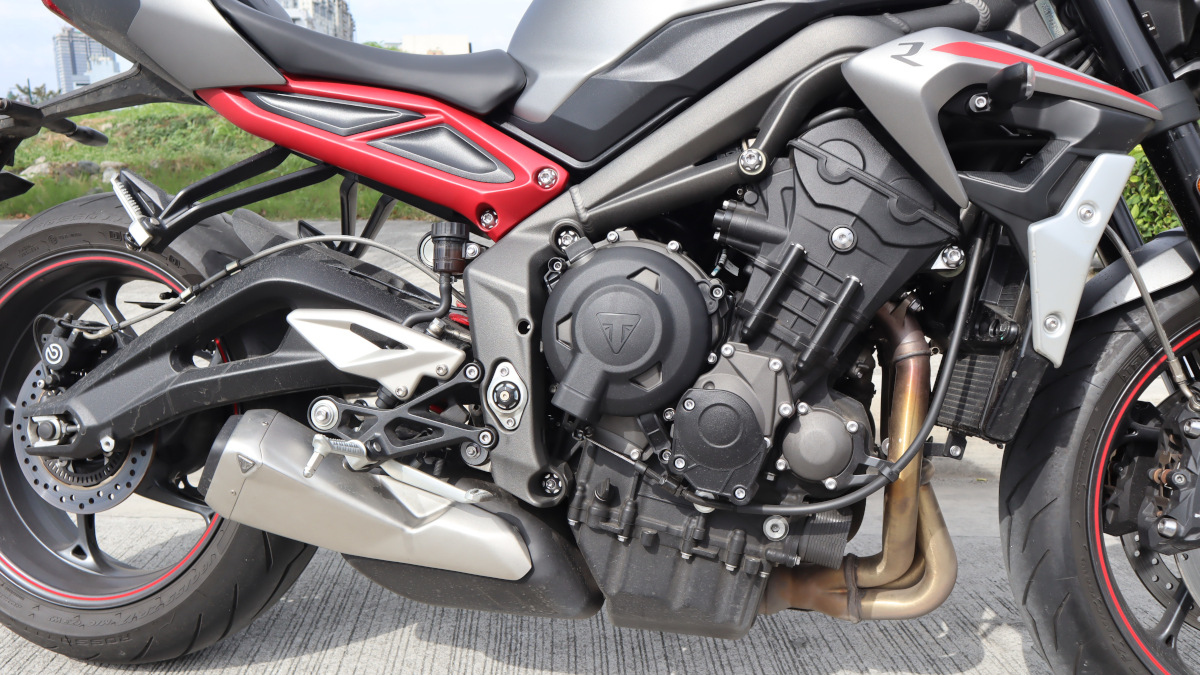 The Street Triple R's namesake and main party trick is its 765cc liquid-cooled, in-line three-cylinder engine, and for good reason: The moment you pull in the clutch and hit the ignition switch, the engine roars to life with the force of all 116 horses. Torque isn't too bad, either, with 77Nm on tap at 9,400rpm. Twist the throttle with some vigor and you'll hit highway speeds before you know it. Acceleration is immediate but refined, with oodles of torque all throughout the rev range as well as ample top-end power.
All riding modes work as advertised—Rain dials the power back and cranks up traction control, Road is more fun but still a bit sensible, and Sport is the way to go with the bike's full output at your disposal. If you want to mess around with the settings, then the rider-programmable mode is for you. 
Shifting is slick and satisfying, thanks to the Triumph Shift Assist bi-directional quickshifter, though you won't have to shift too often because of how usable the entire powerband is. 
Ride and handling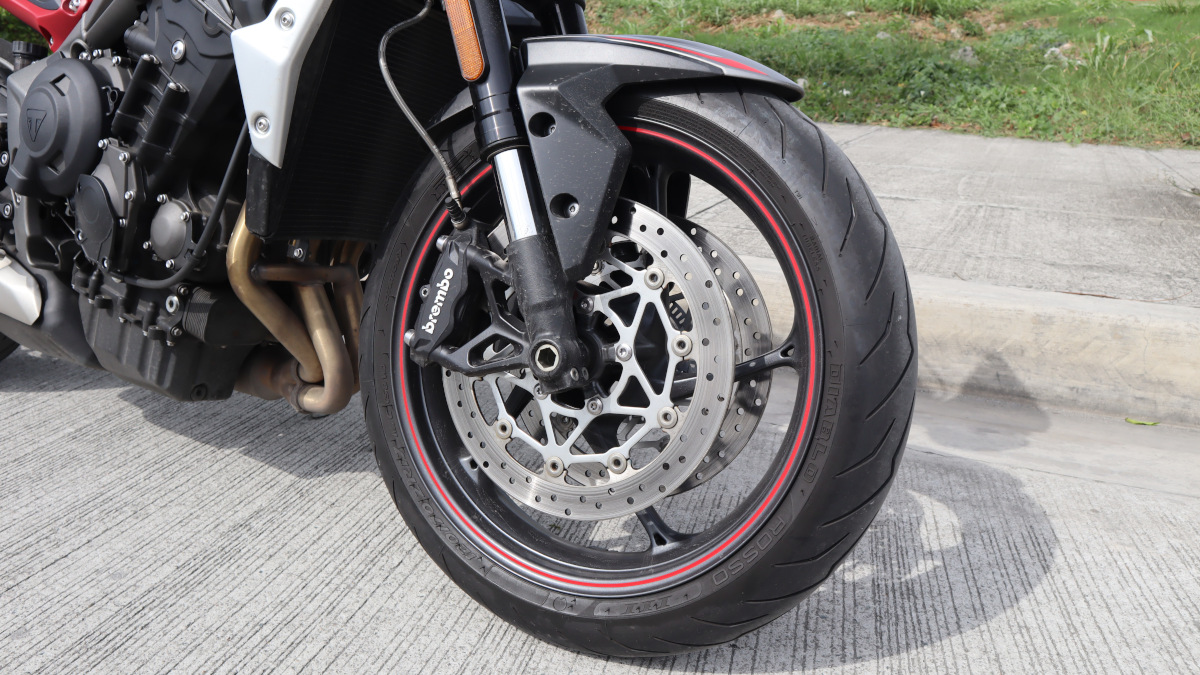 Adjustable Showa front and rear suspension might not be bleeding edge MotoGP-level tech, but it's more than enough to allow the 168kg bike to handle like an out-and-out sportbike. The well-engineered chassis and suspension, combined with grippy Pirelli Diablo Rosso III tires, make for almost telepathic handling on the street that's only held back by the level of your riding ability.
Braking is similarly impressive, with Brembo M4.32 radial-mount monobloc brakes bringing the Street Triple R to a stop with ease. Lever feel and response get top marks, with more than enough bite force to get a bike of this weight under control even at triple-digit speeds.
A drawback brought about by the LRH option's lowered suspension is the bike's tendency to scrape particularly tall speed bumps. It isn't bad to the point of concerning, but it's apparent enough to keep in mind.
Extra features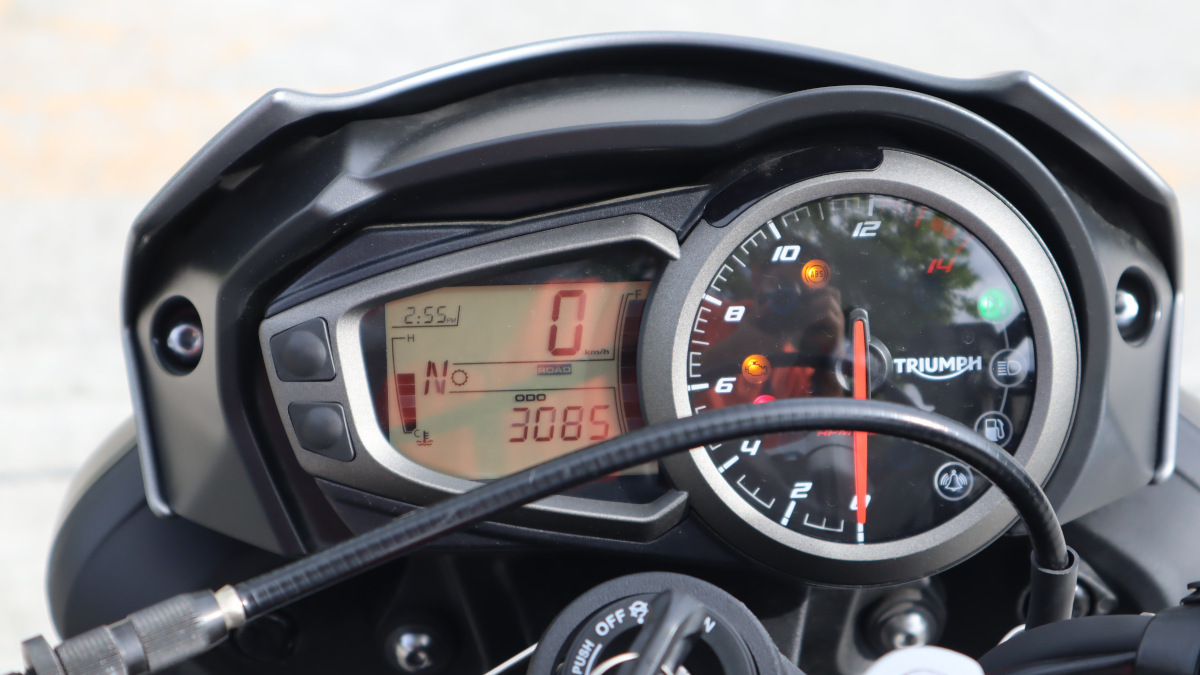 As evidenced by its LCD dash and analog tachometer combo, the Street Triple R is focused on providing the rider with a purer experience unsullied by too many distractions. Even then, the Street Triple R still comes with neat extras, such as that slick bi-directional quickshifter, adjustable brake and clutch levers, programmable shift lights, a gear-position indicator, and an under-tail storage area.
Verdict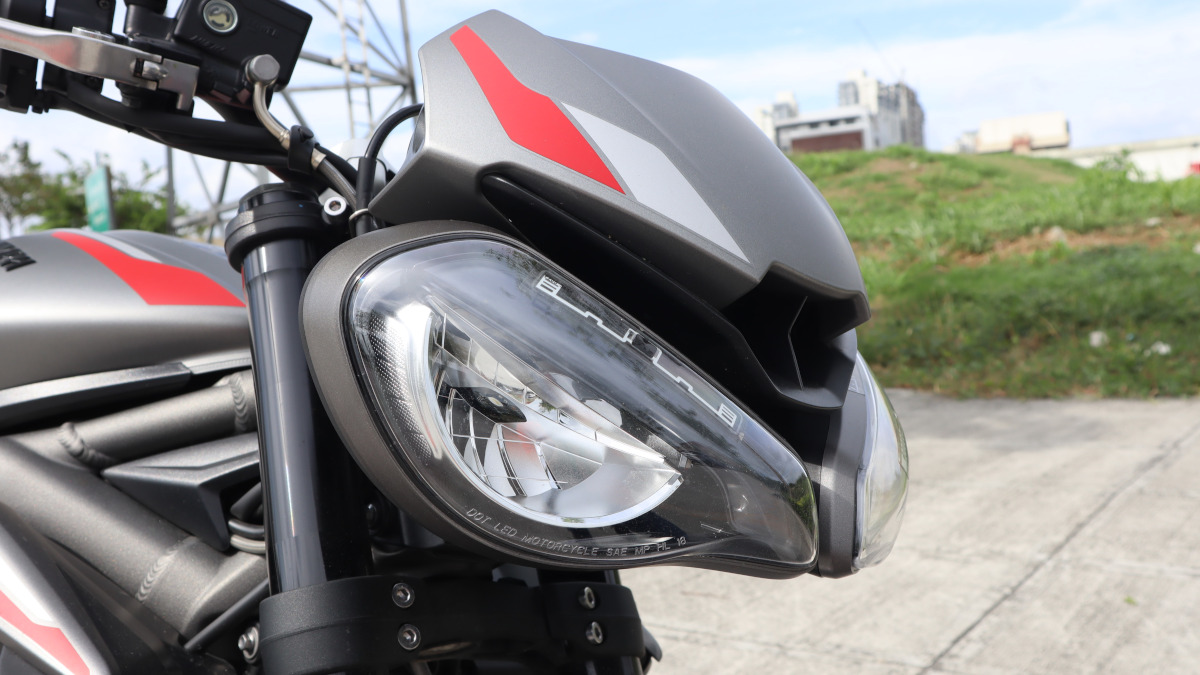 The Street Triple R is the first Triumph I've ridden for any significant amount of time, and if my experience with it is anything to go by, the British brand certainly deserves all the praise it receives. This bike is potent and exhilarating, yet refined and easy to ride. It's aggressive and sharp, but comfortable and composed no matter the situation.
Aside from the hit-or-miss headlight styling and other little nitpicks, the Street Triple R is pretty much the ideal sporty daily ride in every way, especially considering the less than P1,000 per cc price.
SPECS: 2021 Triumph Street Triple R
Price: P695,000
Engine: 765cc DOHC I3
Transmission: 6-speed manual
Power: 116hp @ 12,000rpm
Torque: 77Nm @ 9,400rpm
Seat height: 30.7 inches
Score: 19/20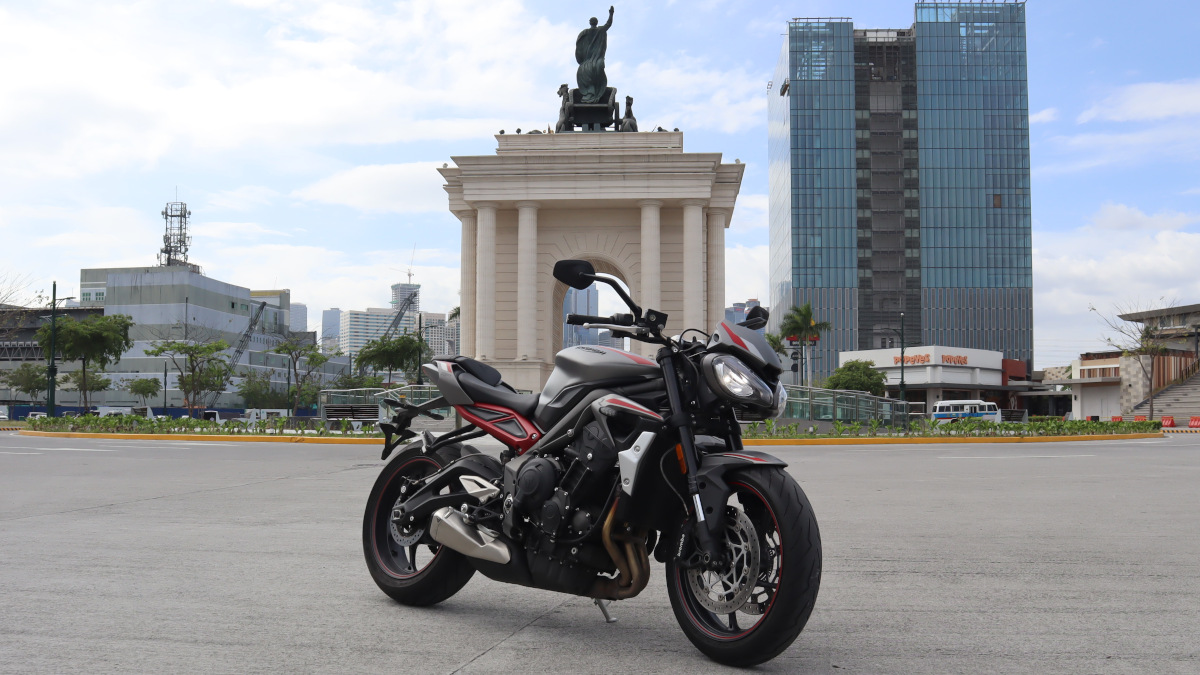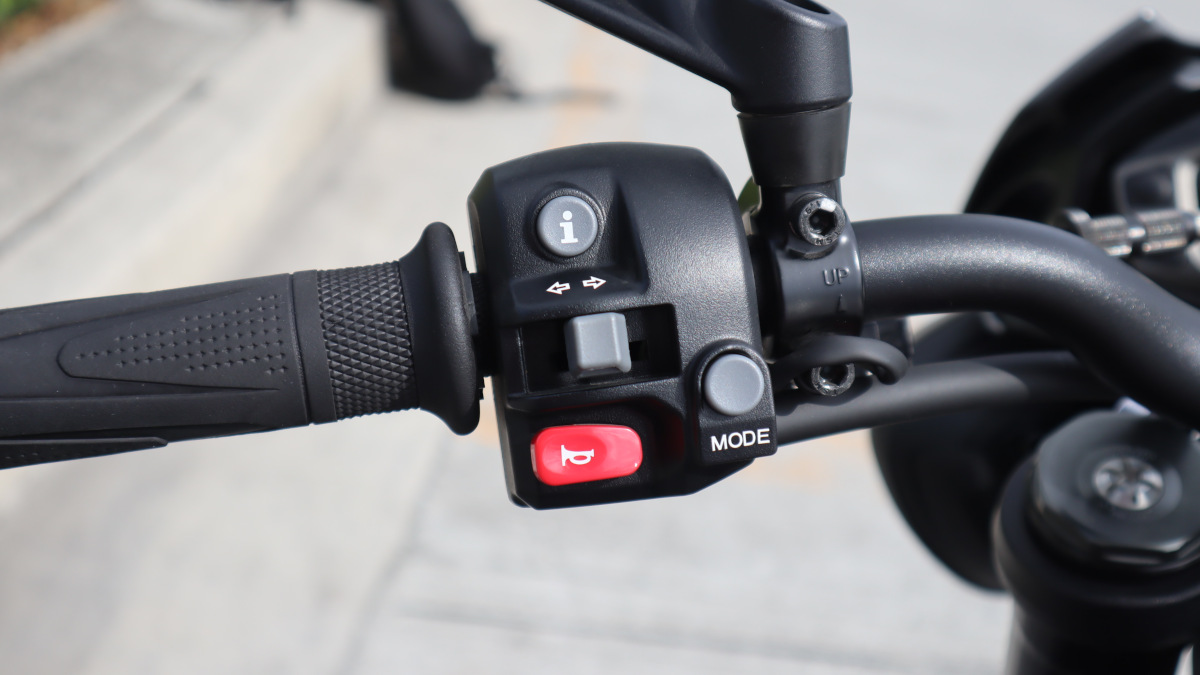 NOTE: This article first appeared on TopBikes.ph. Minor edits have been made.