Philippine city riding conditions aren't exactly ideal, with congested streets and highways that make filtering a must, and road surfaces that barely deserve to be called 'paved.' It's a wonder riders here can thrive in the city at all.
Most urban-based motorcycle owners prefer convenient and compact scooters over bulkier big bikes for their everyday needs, as can be seen by the veritable army of scooters that weave their way in and out of Metro Manila traffic on a daily basis. Knowing this, BMW Motorrad Philippines has acknowledged that it can't just offer the usual lineup of 1,000cc+ motorcycles to riders looking for a stylish yet comfortable way to get around town. And so the guys from Germany has introduced the C400 X, BMW's take on what a city scooter should be.
We were fortunate enough to be provided a freshly activated unit at BMW's recent breakfast ride. Does the C400 X live up to an urban rider's expectations? Or is it just another chunky scooter best reserved for weekends? Read on to find out.
Styling
ADVERTISEMENT - CONTINUE READING BELOW ↓
The C400 X is unmistakably a BMW, as the German brand's design language is apparent at first glance. This scooter takes several styling cues from its bigger brethren, like the bright asymmetrical headlight, the look of the front beak and the windscreen, the upright stance of the iconic GS line of adventure bikes, and the overall silhouette and form of the C 650 scooter.
This mishmash comes together to form quite a handsome scoot, one that draws the attention of both pedestrians and fellow riders at stoplights.
The saddle
The first thing you'll notice upon straddling the scooter is the unintimidating seat height, as the seat is at just the right level for a 5'8" rider to be able to plant both feet on the ground. The seat itself is plush and comfortable, with enough contours to support most butt sizes.
Through the long straights of C5 and Katipunan and the narrow thoroughfares of Binondo, the C400 X delivered the kind of comfort we've come to expect from a premium brand like BMW. Both the well-cushioned seat and the well-made suspension made city riding a breeze. The windscreen also helped eliminate some of the fatigue caused by winds buffeting your chest and face. Another neat touch is the stepboards, which allow for some freedom of foot position as there are small angled sections at the front for you to rest your feet cruiser-style when riding on long stretches of road.
The easy-to-read digital dash contains useful information like engine temperature, current fuel range, trip meters, and even the date. The controls are all strategically placed, though the buttons used for some of the controls feel a bit cheap and plasticky.
The two compartments located under the dash, which may be accessed at the push of a button, are useful and spacious enough for a few small items. Sadly, they don't lock, so make sure not to leave your phone in there when you park the scooter in a public area.
Any passenger you might want to take for a ride will be as pampered as you are, with wide and plush passenger accommodations, solidly mounted rubber-wrapped foot pegs, and sturdy, sizeable passenger grab handles.
Engine performance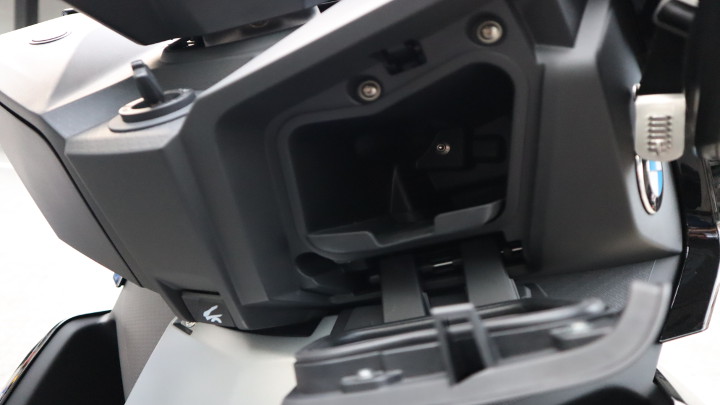 The 'C400 X' billing is a bit of a misnomer, as the single-cylinder engine only has 350cc of displacement—which means this scooter isn't allowed on Philippine tollways. A shame, as the 34hp mill has more than enough grunt to comfortably cruise at highway speeds.
ADVERTISEMENT - CONTINUE READING BELOW ↓
Power delivery is very smooth, and you won't be left wanting for power even at lower revs. Despite using a single-cylinder engine, the C400 X doesn't shake your arms off with excess handlebar vibration, so your arms won't feel very numb after a long ride.
Ride and handling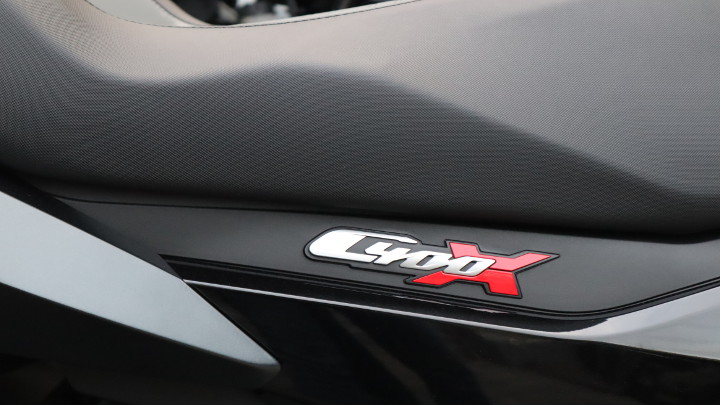 With its low center of gravity, the C400 X proves itself to be quite agile, making it suitable for weaving through Metro Manila traffic. The scooter's compact size also makes it relatively easy to slip between cars at a standstill.
The twin 265mm four-piston front discs do more than just complete the big-scooter aesthetic: They work in tandem with the single 265mm single-piston rear disc to deliver confidence-inspiring braking feel. ABS comes standard, as it should for all motorcycles in an ideal world, and is non-intrusive on the C400 X.
Extra features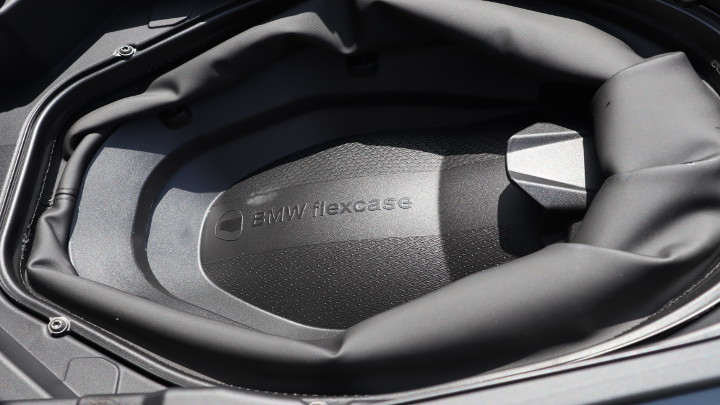 This being a scooter designed for the city, convenience and usefulness are the tools of the C400 X's trade. The two front compartments provide enough space for all your little essentials and doodads, and the under-seat compartment takes care of larger items like your helmet.
That under-seat compartment for helmet storage is pretty clever. BMW Flexcase is a helmet-shaped recess that flexes downward to accommodate a full-face helmet. This system can store only one lid, but as a safety feature, the scooter won't start if a helmet is inside, furthering the noble cause of always riding with proper gear.
Neat features under the seat don't stop at Flexcase, as the mere opening and closing of the compartment makes use of a hydraulic mechanism that ensures the seat is never slammed down. There's also under-seat storage lighting, so you can easily find what you're looking for even when it's 2am and you're on the side of the road somewhere.
ADVERTISEMENT - CONTINUE READING BELOW ↓
The verdict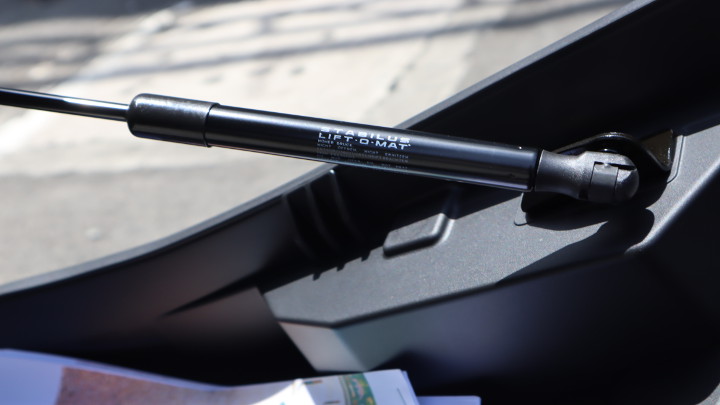 The C400 X truly fits the bill of a city scooter, and is a ride we'd love to take on day-to-day adventures. Considering that scooters aren't typically associated with fun, spirited riding, we were pleasantly surprised to find a wide grin spreading across our face when we took BMW's latest scoot out for a spin.
We'd gladly take it out on weekend rides as well, especially seeing that it has enough oomph to keep up with the bigger bikes in the BMW breakfast-ride group. Now, if only it were tollway-legal.
SPECS: BMW C400 X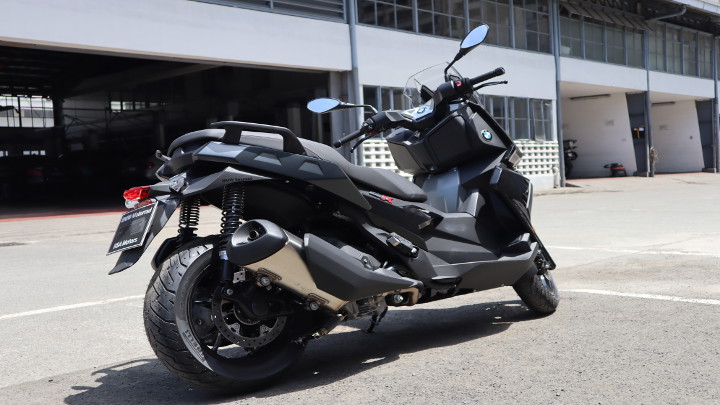 Price: P475,000
Engine: 350cc water-cooled, four-stroke single-cylinder
Power: 34hp @ 7,500rpm
Torque: 35Nm @ 6,000
Transmission: CVT
Score: 18/20