The future is here. At least, that's what Ecooter is broadcasting. The company hailing from Henan, China, introduced its new E2 series to the Philippine public just last month. These futuristic electric scooters are certainly eye-catching, but as with all new technology, the question in most people's mind is: Do they hold up to real-world use?
Ecooter Philippines was kind enough to let us demo the 2019 Ecooter E2R for two days. Did it hold its own on Metro Manila roads? Keep on reading for the verdict.
Styling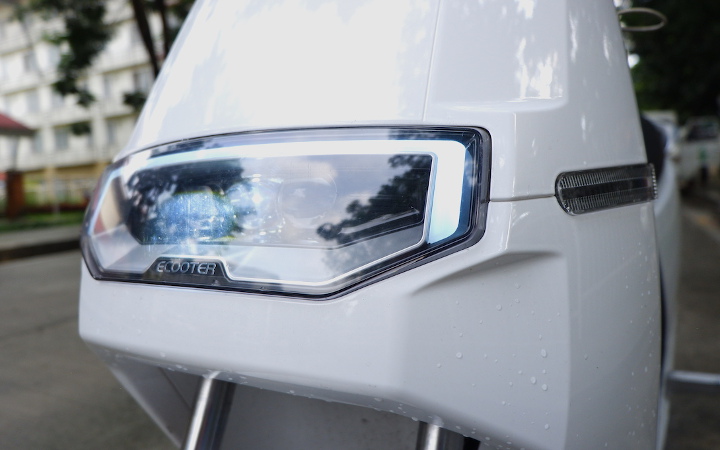 ADVERTISEMENT - CONTINUE READING BELOW ↓
According to Ecooter's aesthetic, the electric future is minimalist. The blinding whiteness of our demo unit only drives this message further home.
Examine the rear and sides, and you'll notice one major thing missing: an exhaust. No engine, no fuel—and therefore, no pipe. In place of the missing metal pipe is plastic cowling, curving around the rear smoothly from one side to the other.
Angles and curves balance each other throughout the scooter, but their smartest execution shows up at the front. Mickey Mouse side mirrors soften the angular impression cut by the head- and signal lights' sharp lines. Shift to one side and you'll see sharp corners yield, curve, then angle back.
The overall impression is one word extended: clean, clean, clean.
The saddle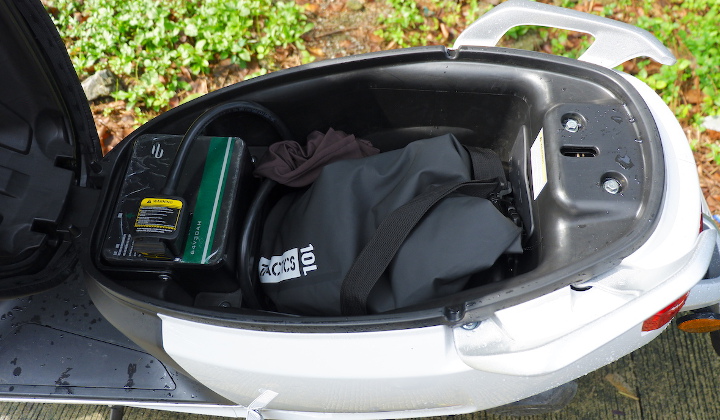 Scooters, with their thoughtfully low seats, have long been popular with beginners. The E2R's saddle height is no exception at a friendly 29 inches—accessible to both beginners and shorter people. The seat cushion is a bit firm and wide. But with some shifting, it's easy to find a spot that will stay comfortable on longer rides.
Engine performance
ADVERTISEMENT - CONTINUE READING BELOW ↓
Instead of an engine, this scoot has a 4.2kW motor. And the lithium-ion battery—rated at 64V, 40Ah—is massive. It weighs about 14.1kg and is roughly the size of six 12-volt motorcycle batteries, stacked three high and two wide.
Because there's no exhaust pipe, the Ecooter E2R doesn't go vroooom—a deal-breaker if you believe "loud pipes save lives." But if noise isn't your thing, you'll be delighted by the motor's gentle whir. It opens you up to your surroundings. Birds chirping, leaves rustling. Oh, and engines rumbling, chains squeaking, pipes puttering—who knew gasoline-fed motorcycles doubled as white noise machines?
Alas, not everything is positive. The scooter has no regenerative braking, so you're left with just two brakes instead of three. On top of that, the E2R, while zippy on flat roads, feels underpowered uphill, even with a wide open throttle. This might go back to its power output of 5.6hp or maybe just how its motor is tuned.
ADVERTISEMENT - CONTINUE READING BELOW ↓
Ride and handling
As mentioned, hills are literally an uphill battle for the E2R. On a steep and lengthy ascent, speeds topped out at 48kph for one aboard and 22kph for two (combined weight of occupants: 110 kilos).
With that said, the Ecooter shines on flat, smooth roads at speeds up to 50kph. Its electric motor and sensitive throttle allow for very quick acceleration. And it's easy to balance in crawling traffic, thanks to its light weight and low center of gravity. You can only reach the claimed top speed of 90kph on its center stand, but that's not the point.
ADVERTISEMENT - CONTINUE READING BELOW ↓
The point is the E2R is a fuss-free scooter for cruising around town. The controls respond to a light touch. The punchy throttle evens out with speed. The rear monoshock can be adjusted quickly by twisting the nut at its base. You twist the key to turn the motor on and go. Once you're home, lug the battery in (it is heavy) and charge it for three to five hours. Rinse, repeat.
Extra features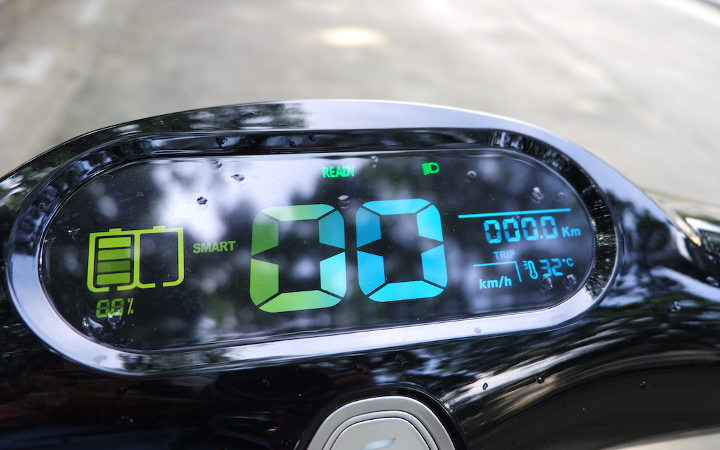 ADVERTISEMENT - CONTINUE READING BELOW ↓
The E2R costs a pretty penny, but there's a healthy number of features to help you justify the expense. For starters, the scooter's 12-inch wheels are already equipped with tubeless tires and disc brakes. The under-seat storage can fit one battery, plus a full 10- or 15-liter bag (unless you add an extra battery). Lights are LED all around, with a nifty dash button that controls the brightness of the rear brake light.
There's park mode (cuts power from throttle) and reverse mode (backs you out of a miscalculation).The best thing about the Ecooter is the Ecooter Smart app—with it you can customize dashboard colors, track trips or tire pressure, power the scooter on or off, report theft, transfer ownership, and much more. About the only other thing you'd wish for would be backlit buttons to see the controls better at night.
The verdict
ADVERTISEMENT - CONTINUE READING BELOW ↓
The 2019 Ecooter E2R is an electric scooter with a load of techy features coupled with tasteful design. It's an easy and green means of getting around the city, as long as you don't have to tackle too many hills. It does, however, command a high price for its innovation. You and your wallet will ultimately decide whether it's worth jumping into the e-craze right now.
SPECS: 2019 Ecooter E2R
Price: P190,000
Battery: 64V 40Ah
Power: 4.2 kW (5.6hp)
Torque: 50/165 Nm
Transmission: automatic
Seat height: 29 inches
Score: 17/20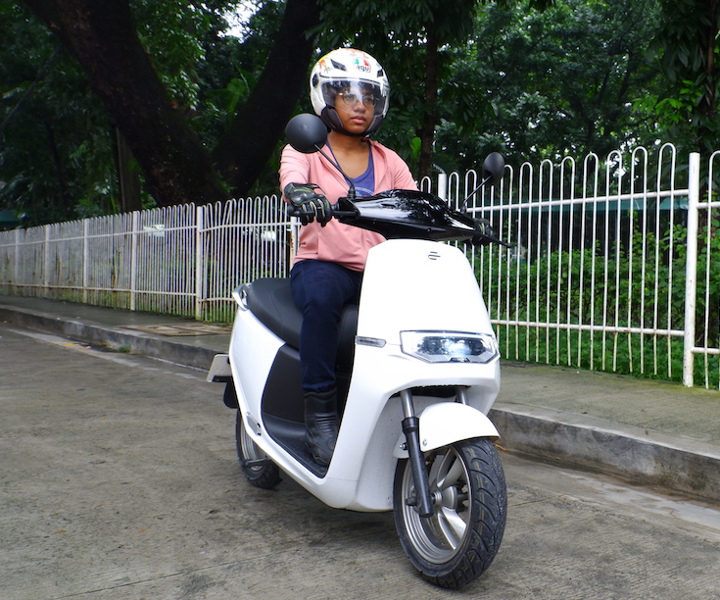 ADVERTISEMENT - CONTINUE READING BELOW ↓