In the motorcycle community, the 'GS' tag has become synonymous with adventure riding.
The legend started with the BMW R1200 GS, which was first produced 15 years ago in Berlin. Because of its prodigious off-road capability and impressive on-road handling, this dual-purpose bike powered by a torquey engine and equipped with a solid suspension setup easily won the hearts of adventure-seeking riders worldwide. Here in the Philippines, it made up 37% of the total sales of local BMW Motorrad dealerships.
The demand for the GS only became bigger with the recent introduction of the more powerful R1250 GS. Here's the dilemma: Everyone now wants a GS, but only a few can own it. How many among us can afford a P1.2-million bike? And that's only the starting price.
But BMW has made this impossible dream more attainable with the G310 GS, a smaller, simpler, and more affordable package that's also the brand's first-ever sub-500cc offering. Recently, local BMW dealership RSA Motors handed us the key to a brand-new unit to take on a quick spin en route to brunch at the secluded yet picturesque Mount Daraitan in Tanay. The journey covered 120km of well-paved roads and dirt stretches.
Here's my take on the baby GS.
Styling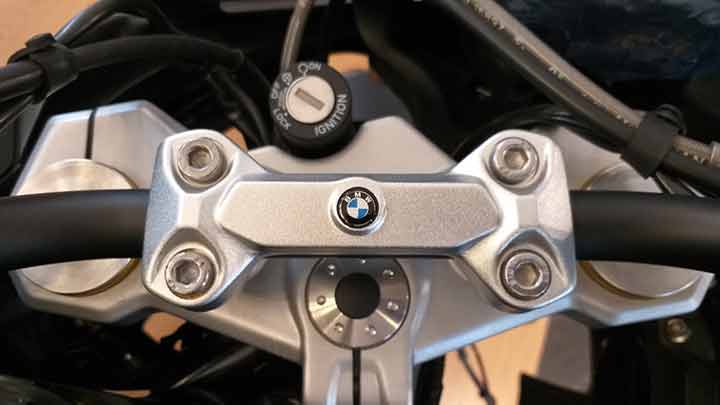 ADVERTISEMENT - CONTINUE READING BELOW ↓
High ground clearance? Check! All-terrain tires? Check! Larger front wheel? Check! Engine guard and high-mounted handlebars? Check and check! The designers of the G310 GS have done their homework well to come up with an adventure-ready bike in the entry level. At least that's how this little GS's silhouette looks.
It retains the signature GS 'beak' that many other manufacturers have been trying to copy. There's also the humpback-shaped fuel tank similar to that of the bigger GS, although a lot smaller in terms of dimensions. Even the windscreen, the two-level seat, the luggage rack, and the side panels where the BMW badge is proudly embossed can be likened to those of the big GS. Come closer to examine the G310 GS, however, and reality starts to sink in.
That said, this spirited little BMW bike was still a standout on Marilaque, a marked territory for small-displacement motorcycles. Appearing composed and respectable, our convoy of G310 GS units arrived in Tanay as if to restore order and discipline in the area, which is infamous for overspeeding vehicles and motorcycle accidents.
The saddle
Ask owners of the big GS what they think is the best selling point of their bike, and I bet their answer will be 'ride comfort.' More than its extraordinary power, awesome styling, superb handling, and bulletproof build, it's the ride comfort of the R1200 GS and the R1250 GS that remains incomparable versus those of other bikes claiming to be adventure machines.
Unfortunately, when you assess the mini GS against its mightier brethren as far as ride comfort is concerned, it's like comparing heaven and earth. The baby version lacks the latter's electronically adjustable suspension, big fork, and impressive shock absorbers. Instead, it floats on an inverted front fork with additional suspension travel vis-à-vis the BMW G310 R roadster.
ADVERTISEMENT - CONTINUE READING BELOW ↓
Recommended Videos
On the pavement, the seat of the G310 GS is satisfyingly comfortable even during long hours of riding. From the gridlock in Quezon City to the twisties of Marlique, the ride was a breeze. But as we started rolling on that rugged stretch from Tanay's national highway leading to Daraitan River, there was a sudden change in mood. I started to yearn for additional seat cushioning as my bum and back absorbed the beatings from the graveled roads.
The G310 GS is top-heavy. Because of the 32.9-inch seat height, 5'6" me struggled in putting the bike straight up. Good thing BMW offers adjustment kits to lower the seat to 32.3 inches or raise it to a towering 33.5 inches. By riding in a standing-up position, I was able to master the gearshifting, although if the brake and gear pegs had been positioned a bit lower, it would've made life easier for me.
Engine performance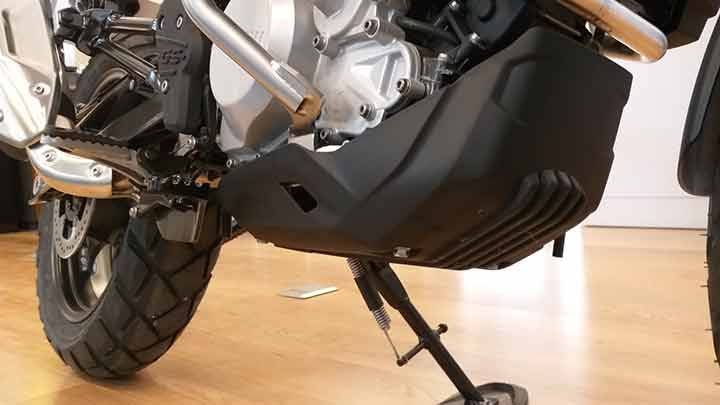 ADVERTISEMENT - CONTINUE READING BELOW ↓
The G310 GS is powered by a 313cc engine that will entice you to become playful on the road once in a while. Having a single-cylinder mill that packs a modest 34hp and 28Nm of torque, this lightweight bike produces slight vibrations on lower revs, but the shakiness disappears as you pick up speed.
And I couldn't agree more with Moto Sapiens contributor Carlo Chungunco's description of the G310's exhaust note: It sounds very much like a sewing machine.
Unfortunately, there was no instance when we could push to the claimed top speed of 150kph because of either traffic or endless twisties. The speedo reading stayed mostly at 60-70kph, while the revs played within the 4,000-5,000rpm range. Anyway, the road leading to Mount Daraitan is a newly declared traffic-discipline zone, so we all behaved by being gentle on the throttle.
Ride and handling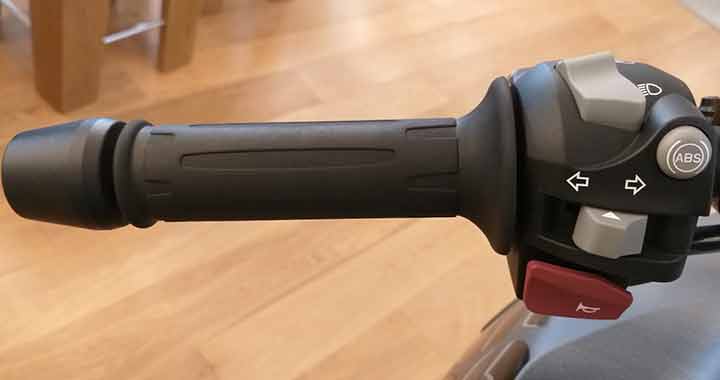 Let me be frank: The suspension tuning of the G310 GS is a bit soft overall, which is understandable for a bike designed for on- and off-road use. Under hard braking, the 41mm USD fork dives more than expected, but this kind of softness is important in loading the front end under braking, thus improving traction and making the bike turn more sharply. By the way, the front suspension is not adjustable, and all you get is spring preload on the single rear shock.
A big plus comes in the form of the standard ABS, which helped a lot in keeping the bike straight, upright, and safe as I was descending on a steep slope covered with loose soil and gravel. The G310's ABS is not just an ordinary unit—it's an integral ABS that activates both the front and rear brakes when the brake lever is pressed. If you want to play on dirt surfaces by inducing slides, simply turn off the ABS through a control button on the handlebars.
Riding through sadistic, rugged terrain with this tiny Bimmer reminds me of the German brand's solid reputation when it comes to quality, despite this bike being manufactured in India. On the pavement, meanwhile, the G310 GS leans well and turns impressively on corners, displaying well-balanced handling characteristics. The wide and high-positioned handlebars contribute to the fantastic handling, too.
Extra features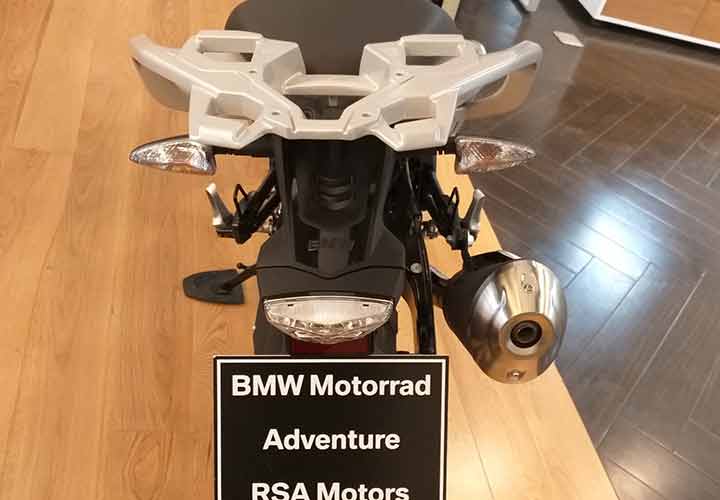 ADVERTISEMENT - CONTINUE READING BELOW ↓
Naturally, this downsized GS has downsized features. Given that its price is only a quarter that of the full-size, full-fat GS, it's normal that you get only the basic amenities.
But this doesn't mean BMW has binned its brand principle of producing motorcycles that speak highly of style, quality, and functionality. The simple yet informative LCD instrument cluster provides these qualities, showing speed, fuel range, revs, gear level, ABS, and average fuel consumption. There's no temperature meter, however, only an engine-temperature warning light to let you know if the motor is overheating.
In case you get to save up a little more, there are tons of original BMW aftermarket accessories that you can purchase to spice up your baby GS so that it looks more like its big brother. These include top boxes, crash bars, tank bags, side panniers, and even the BMW Motorrad nav system.
Verdict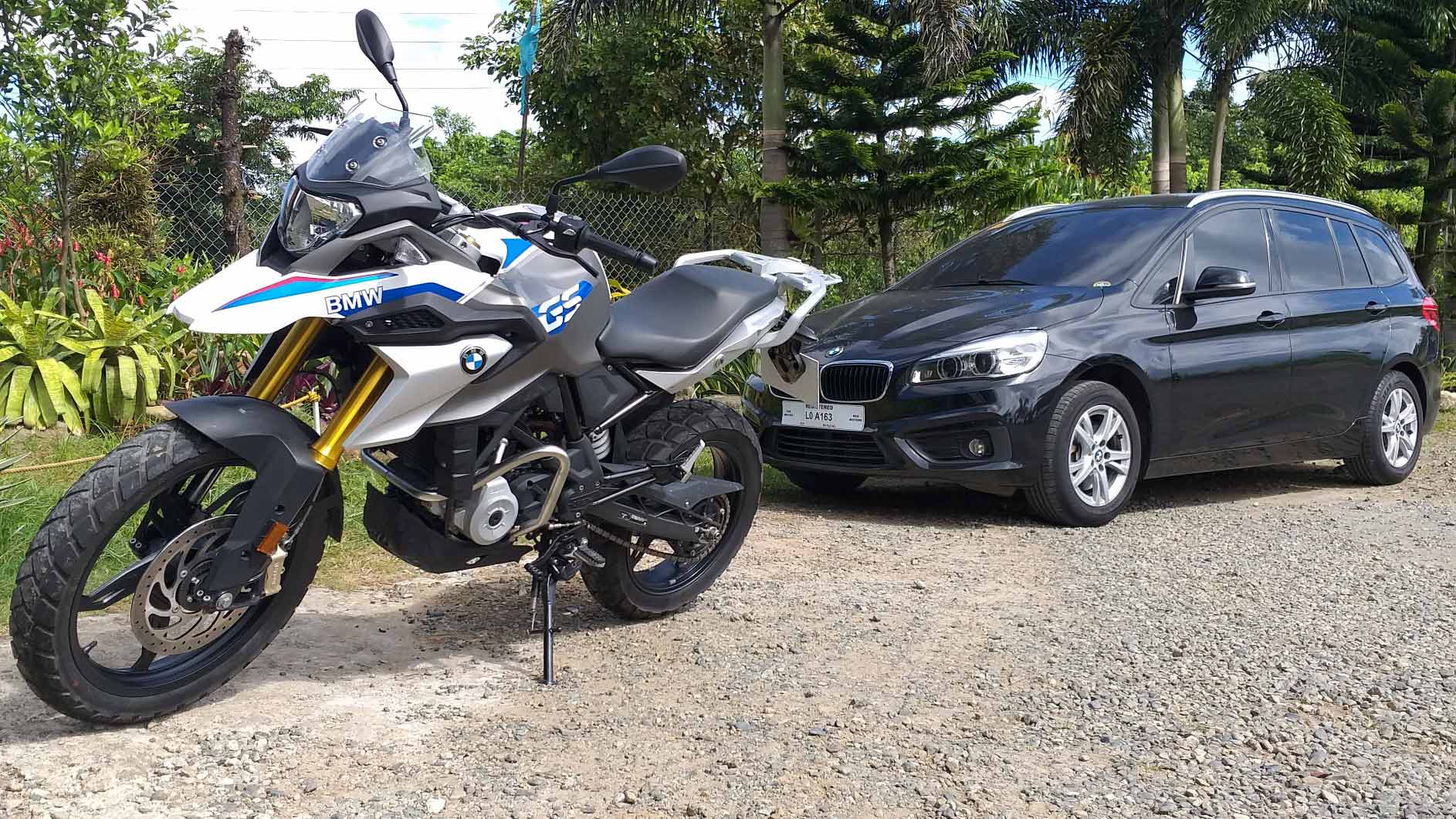 The G310 GS, though pint-sized compared with its R1250 counterpart, can be a potent road weapon. On weekdays, you can ride it to the office without worrying about the hellish gridlock. On weekends, you can take it out of town for a little adventure on open dirt roads.
And here's probably the best part: For members of the rank-and-file species like myself, it's the best way to become part of the exclusive GS circle of adventure riders. After all, it's a BMW.
SPECS: 2019 BMW G310 GS
Price: P380,000
Engine: 313cc four-stroke, liquid-cooled single-cylinder
Power: 34hp @ 9,500rpm
Torque: 28Nm @ 7,500rpm
Seat height: 32.9 inches
Final drive: chain
Verdict: 16/20