My first encounter with Ducati's 'littlest' Monster was around a year ago at the Ducati Riding Experience, where me and a bunch of other newbies learned the basics of bike control and defensive riding. It was a bit shocking at first to be handed the keys to Ducati Monster 797+ at what was essentially a riding clinic for first-timers, but I was pleasantly surprised to discover that the bike was more than willing to accommodate me as well as the students at the course who'd never ridden a motorcycle before.
It's safe to say I was enamored with Ducati's naked bike from that day on, and I found myself longing to swing a leg over it once more.
Fast-forward to this month, when Ducati gave me another shot at a short-lived romance with the entry-level Monster so I could participate in its Labor Day ride. Sadly, I didn't receive the exact same unit I rode a year ago; this time, I got the Monster 797 in non '+' guise, which arguably provides a rawer experience. Sentimentality aside, I was just ecstatic to have a Ducati parked in my garage, and the idea kept me up the night before I was due to pick up the unit at Ducati Manila's Katipunan showroom.
Continue reading below ↓
Recommended Videos
Is the Monster 797 worthy of such fanboying and excitement? Or was I just another victim of a fleeting summer romance?
Styling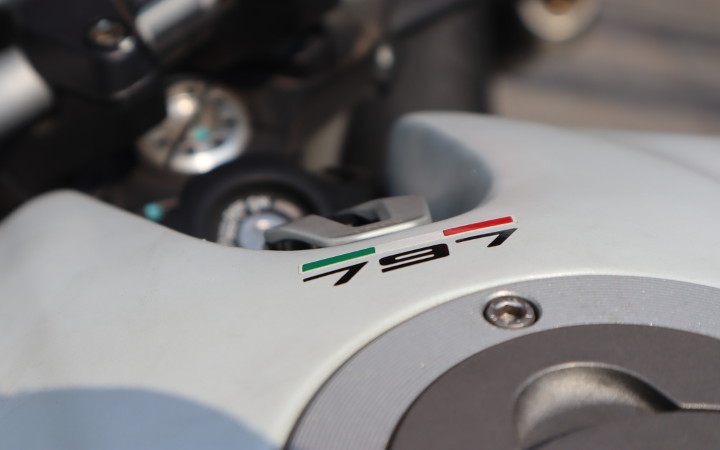 Ducati's styling—for its naked bikes, at least—is timeless. The Monster 797's aggressive yet elegant design and stance combine both form and function. This being a naked bike, Ducati couldn't really use fairings to make it look aesthetically pleasing, so with nothing but the basic components to work with, the designers made it a point to showcase how stylish the functional parts of the bike could be.
Styling cues from older members of the Monster line as well as more modern design elements can be seen: the exposed crimson trellis frame, the muscularly sculpted gas tank, the single-piece contoured seat, the sort-of boomerang-shaped swingarm, and the bright yellow Sachs monoshock at the rear. Even without a Ducati badge, this bike would still turn heads and spark stoplight conversations based on looks alone.
The Monster design has become so iconic that some small bike manufacturers have taken to building what are essentially mini-me versions—which, of course, don't capture the sheer presence of the genuine article.
The saddle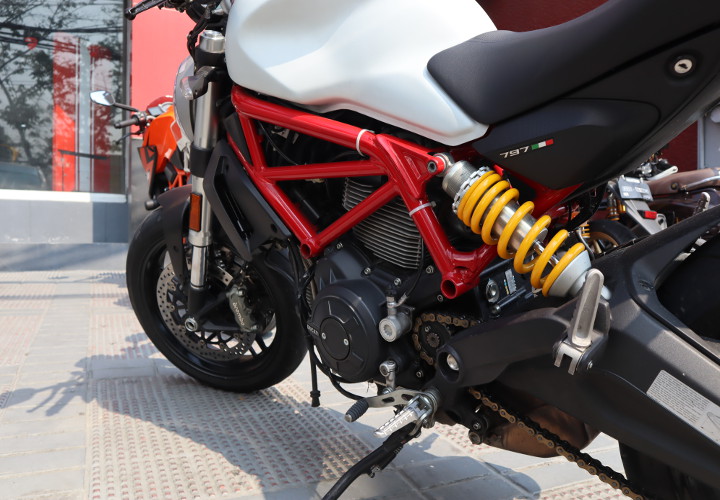 The biggest issue I had with riding the Monster 797 back then was the amount of engine heat it blew onto my legs—an inconvenience I thought I could remedy by wearing high-cut shoes or riding boots. After using the Monster on a daily basis, however, it still proved to be my biggest gripe about this bike. The heat disappears at highway speeds, though, and the journey can actually be quite comfortable if you go out for an early-morning ride.
The seat is properly cushioned and provides a good amount of support, but the contours restrict the rider to pretty much just one seating position, leading to a numb butt on longer rides. While the passenger portion of the single-piece seat is comfortably padded, your passenger would be better off holding onto you than on the grab handles under the seat, which heat up quite a bit.
All the switchgear and control surfaces are a testament to the high level of Italian craftsmanship, from the solidly mounted foot pegs to the high-quality plastic used for the turn-signal switch.
Engine performance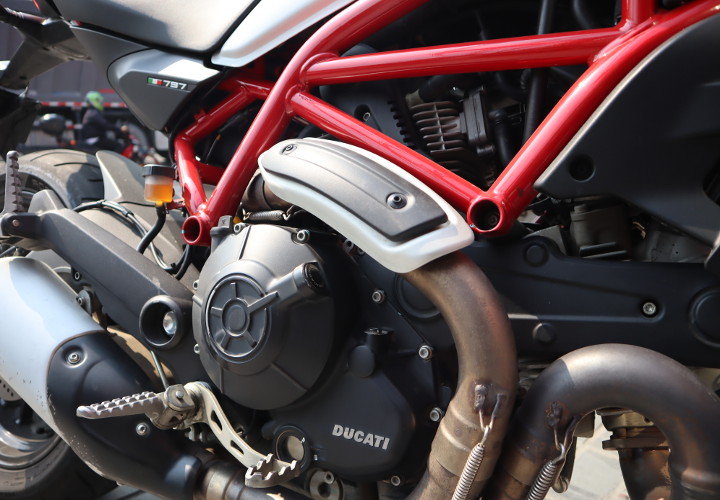 Despite its 'Monster' name and 803cc engine, this Ducati is a surprisingly beginner-friendly bike. The engine, while torquey, isn't twitchy or too aggressive, and is usable in pretty much most daily situations. It puts out 73hp and 67Nm of torque—ample for highway use and more than enough for street duties. The desmodromic L-twin might not sound as loud as its bigger brethren do until you really rev it out, but that's easily remedied by an aftermarket exhaust.
The six-speed transmission is well-geared and smooth-shifting, but finding neutral is next to impossible. It's almost effortless to do so when the bike isn't running, but because it's so hard to find neutral with the engine on—a minute or two on average—I often found myself turning the engine off first before looking for neutral.
Ride and handling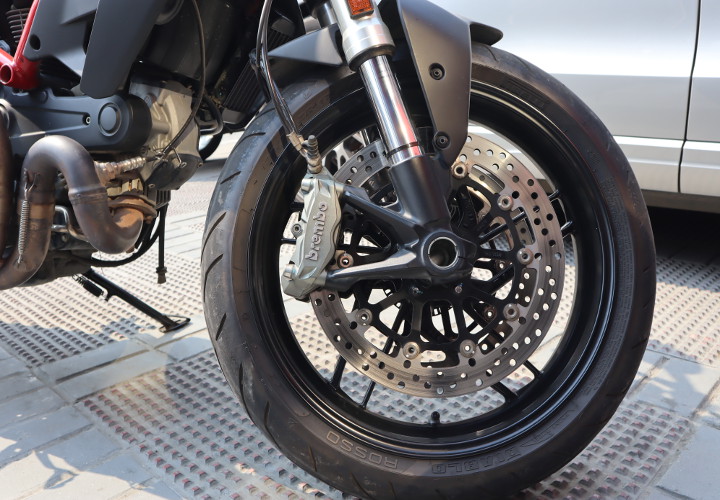 Just the sight of those Pirelli Diablo Rosso II tires on the Monster 797 give away the fact that this thing handles like a sport bike. Chucking it around corners feels natural because the grippy tires work with the stiff shocks to keep both ends firmly in contact with the ground.
The Ducati's agility both when tackling corners and running in between cars makes it an ideal ride out of the city and onto the mountain roads. The bike's slim nature, along with the contoured portions of the tank for your thighs to grip, inspires more confidence as you ride, whether in or out of town.
Brakes are Brembo units front and rear, with the front calipers biting onto huge 320mm dual rotors. The rear end gets a single rotor measuring 245mm. ABS comes as standard, too.
Extra features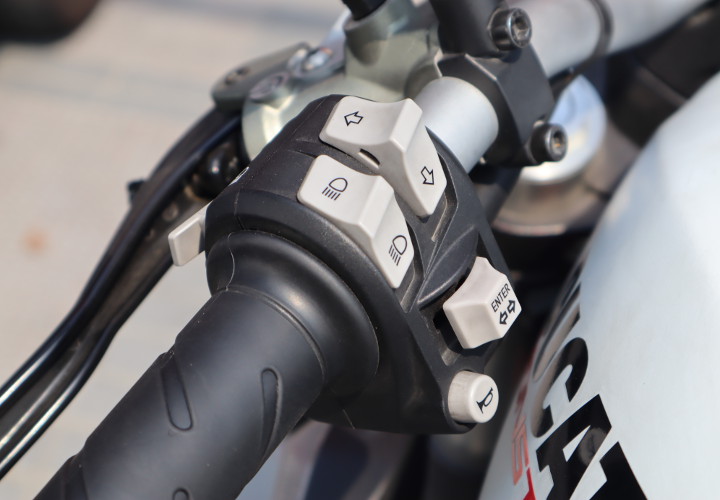 The easy-to-read digital screen features niceties such as a trip computer, a shift indicator, and even an average-speed reading. Using the lever on the left-hand grip to switch through the menus is a breeze, and simple enough to let you keep your attention on the road.
As a safety feature, the Monster refuses to start with the side stand down, and lets you know if you haven't folded it up. A kill switch is built into the side stand as well, making parking and turning the bike off a more fluid affair.
The verdict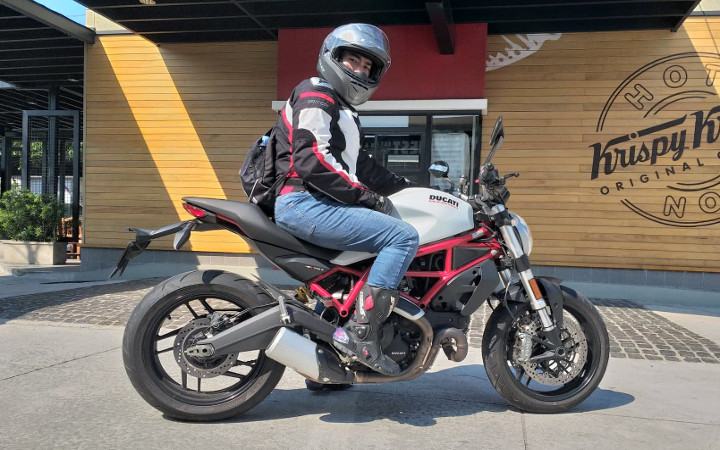 The Monster 797 comes very close to being the ideal naked sport bike, as it uses its nakedness to its advantage in order to deliver a raw and thrilling riding experience. This 'baby' of the range is far from being an entry-level ride—instead, it gives you the full Monster experience in a light and easy-to-handle package.
Getting to spend time with the Monster again after a year is something I'm thankful for. And while it isn't as perfect as I remembered, I still end up missing it when I find myself on a nice riding road.
SPECS: Ducati Monster 797
Price: P685,000
Engine: 803cc air-cooled DOHC L-twin
Power: 73hp @ 8,250rpm
Torque: 67Nm @ 5,750rpm
Transmission: 6-speed manual
Score: 18/20