It is undeniable: We are under siege. Metro Manila has been completely inundated with gridlock in a way that makes living here almost impossible, with hours wasted each day just going about our daily lives. With people foaming at the mouth for a solution, things may seem hopeless.
OTHER STORIES YOU MIGHT HAVE MISSED:
We can't help but wonder why so many tricycles in Manila City have no license plates
Size comparo: How big is the all-new Toyota Innova compared to the Geely Okavango?
I say 'seem' only because over the past few months, I have been asked by a lot of friends what scooter I could recommend. It appears that two-wheeled transportation is a solution that many would consider.
Which brings me to an interesting conundrum: I have never owned a small bike. I cut my chops on a secondhand Honda Super Four and have been on big bikes ever since. While these bikes are great during weekend out-of-town rides, in the city, they tend to have a few disadvantages: They get really hot between your legs and are generally too wide to fit into gaps in traffic, and shifting gears in stop-and-go conditions is like trying to squeeze one of those hand-grip strengtheners.
This scooter, then, was a revelation. For full disclosure, I bought this Vespa S 125 with my own money. I accessorized it with a windscreen and a top box for extra storage, but other than that, I put my money where my mouth was. So, how does the cheapest Vespa you can buy fare in the daily grind? Read on to find out my thoughts from ownership.
ADVERTISEMENT - CONTINUE READING BELOW ↓
Styling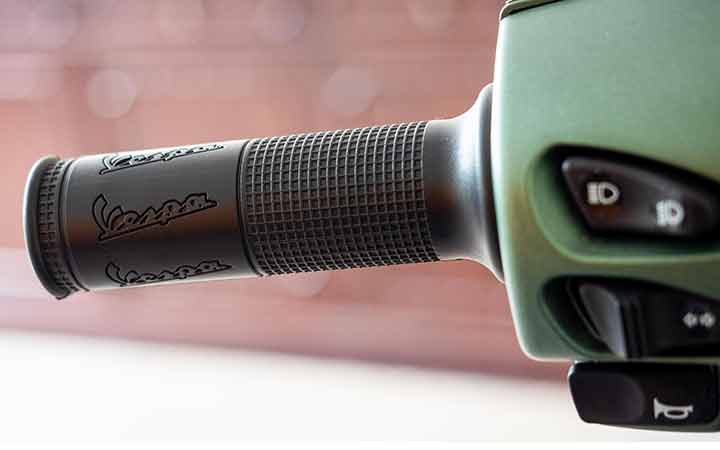 Styling is something that this Vespa cannot be faulted on. Sure, there are a lot of lower-priced options on the market from the Japanese manufacturers, and these options usually have more, well...options. But—and this important—there is nothing quite as charming on the road as a Vespa.
From the steel frame to that bulbous wasp-like butt that gave the Vespa its name, the scooter has not changed since its introduction decades ago. It just looks gorgeous. The S 125 keeps the same lines that have made Vespas such an icon during your father's and grandfather's time, but it adds the square headlight and the modern curves, and you have the present-day iteration of what is arguably one of the best-looking scooters on the road.
The eye-catching matte-green paint job with orange accents almost justifies the bike's higher price tag. Overall, it just oozes appeal—something confirmed by the many approving nods from and impromptu conversations with onlookers since I purchased the bike.
ADVERTISEMENT - CONTINUE READING BELOW ↓
Recommended Videos
The saddle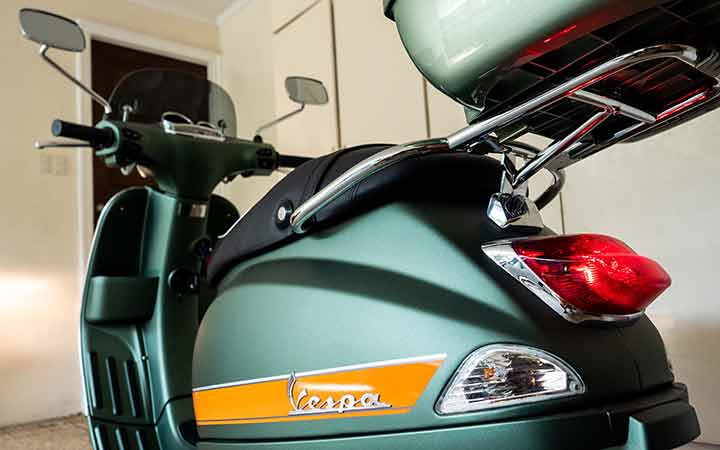 Comparing the baby S 125 and its more expensive brethren, you would be surprised (as I was) that the seat height and the dimensions are almost exactly the same. Sure, the Primavera may come with a bigger engine, but the ride height, the upright riding position, and the reach to the floorboards are identical across most of the range.
Sitting down on the plush leather seat, you immediately feel comfortable on the bike. Your legs are protected from the elements by the steel frame, and reaching the handlebars is a simple and fuss-free affair.
The gauges are nice and very readable, but they're completely let down by an almost comically unusable clock. The buttons on my brand-new unit barely register a click, a fact that has made setting the time literally impossible (until today, my clock reads four hours ahead of the actual time).
ADVERTISEMENT - CONTINUE READING BELOW ↓
Thankfully, the switchgear is relatively nice. The grips feel plush, and the addition of a fuel gauge at this price point makes for a better value proposition, when some more expensive big bikes only come with a low-fuel warning light.
Engine performance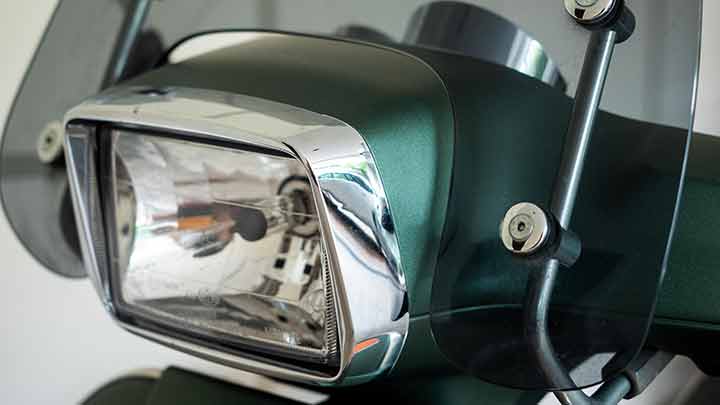 True to its name, the S 125 is powered by a 10hp 125cc single-cylinder engine. It is, for  lack of a better word, adequate. The bike has a top speed of under 100kph and can be painfully slow.
Thankfully, this can be a positive: This is the only bike I have ever owned whose throttle I can pin wide open just to accelerate to an adequate speed. This makes the S 125 a hoot in the city, proving the adage that riding a slow bike fast may be more fun than riding a fast bike slow. You can't ever expect to take this bike out of town, but keep it in the city and you will not be wanting for any power as you zip by the cars stuck in the eternal hell hole that is EDSA.
Ride and handling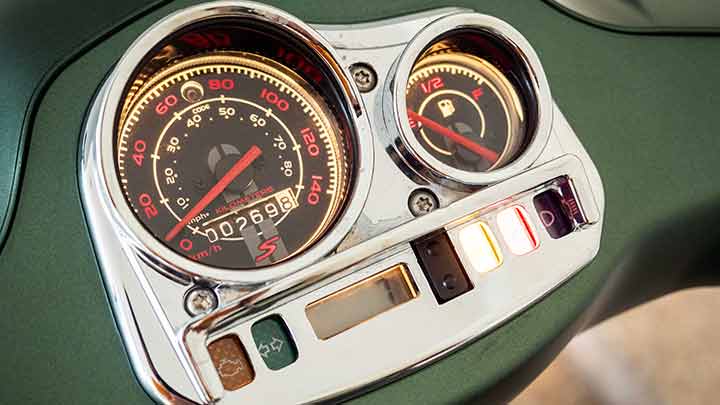 The S 125 rides amazingly. How it easily flicks from side to side and squeezes into the tiniest gaps is a testament to why scooters are the solution to unbearable traffic. I was first concerned by the size of the wheels, but as I got used to how flickable the bike was, it became a hoot to ride through the obstacle course of cars in Ayala.
One sore point is the brakes. Power is generally lacking and the omission of ABS on this entry-level model leaves a lot to be desired. Thankfully, the bike is slow enough that any amount of braking would be adequate. You could replace the brake pads with wood and this would be an approximation of the power and feel you would get from the stock brakes. This is something that is definitely on the potential upgrade list.
ADVERTISEMENT - CONTINUE READING BELOW ↓
Extra features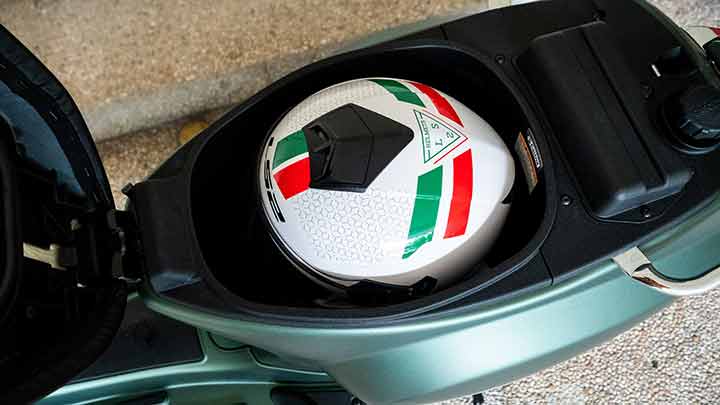 Being the cheapest Vespa in the lineup, the S 125 is quite spartan. I wish it had the lockable glovebox of the more expensive models, instead of tiny pockets that only invite bystanders to take a swipe at your wallet or phone.
Good thing, then, that the Vespa comes with adequate underseat storage. Big enough to swallow a 3/4 helmet, it serves my needs. Just don't expect to be able to fit a full-face helmet in there. This lack of storage made me buy the (expensive) color-matched top box, which adds some much-needed style and practicality to the bare-bones S 125.
The verdict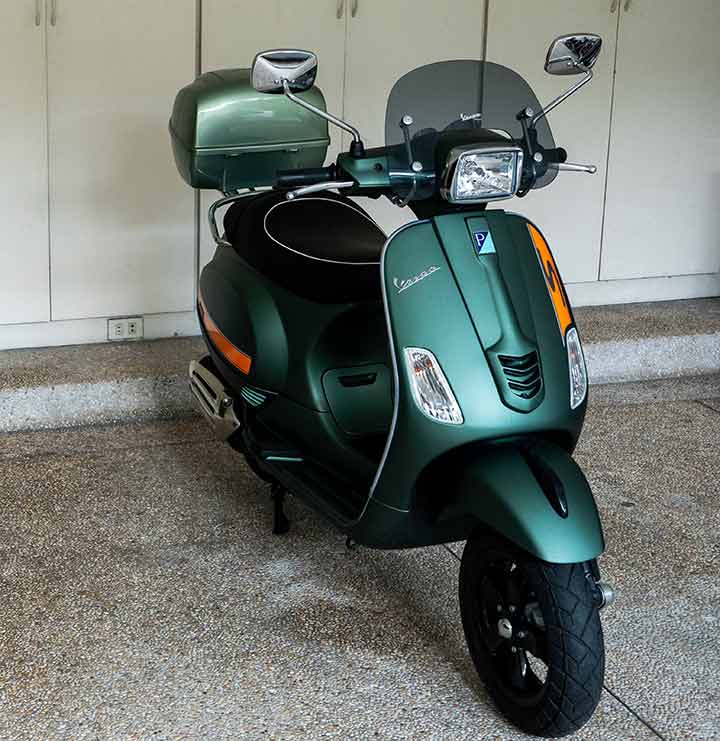 This is the Italian solution to the transport crisis. Do you want to get to work faster? Do you want a bike that serves as a fashion statement? Do you want fuel economy in the "it's so good, I haven't kept track" range? The S 125 answers all of these with a resounding yes.
Sure, there are more affordable and more practical scooter options on the market, but none of those come close to just what makes a Vespa such a special machine. Italians building bikes with passion sounds like such a tired motoring-journalist cliché, and yet here, with this bike, it is clear as day and true as rain.
SPECS: 2019 Vespa S 125
Price: P 138,000
Engine: 125cc four-stroke, air-cooled, single cylinder
Power: 10hp @ 7,600rpm
Torque: 10.2Nm @ 6,000rpm
Transmission: CVT (belt)
Seat height: 30.9 inches
Score: 18/20