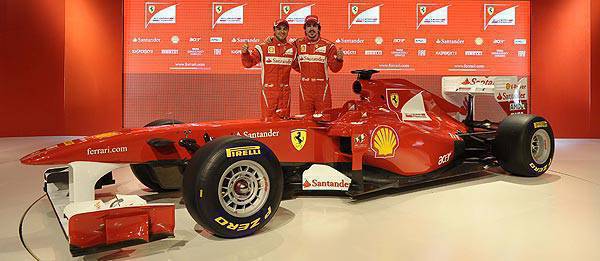 Ferrari became the first Formula 1 team to unveil its contender for the 2011 season when it revealed the Ferrari F150, an homage to the 150th anniversary of the unification of Italy.
The Ferrari F150 is the 57th single-seater built by the famed Italian carmaker to compete in the 2011 series of the Formula 1 World Championship.
One obvious modification of the F150 from its predecessor the F10 is that its nosecone appears to be higher. Besides that, the openings for its side air intakes have also been reduced while the one above the driver's head has been modified as well. The F150's rear suspension also features a new design while the one in front has been modified following some changes to the front part of the car's chassis. While the exhaust system layout is similar to the one the F10 adopted in the second half of the 2010 season, the F150's cooling system has been changed significantly to account for the return of the Kinetic Energy Recovery System (KERS) and the new exit air ducts. The car's braking system has also been completely redesigned in collaboration with Brembo.
The F150's development, however, is far from being complete as Ferrari concentrated its early development stages on mechanical components and on understanding the new Pirelli tires. The Italian tiremaker is now F1's sole supplier following the pullout of long-time supplier Bridgestone.
Continue reading below ↓
Recommended Videos
With the FIA's ban on engine performance development still ongoing, Ferrari has made no actual modifications to its 056 engine, the same one used by the F10 last season. Instead, Ferrari's engine specialists have improved on its reliability, especially on the pneumatic front, as well as on reducing its operating costs. The reintroduction of KERS has also led to a substantial change in the engine's front end, with modifications being done to the drive shaft system of the KERS itself and the crankshaft. This, in turn, led to changes to the cooling and lubrication systems.
"As is always the case at Ferrari, great attention has been paid to the performance and optimization of all materials used, in the design stages and when going through quality control, striving to maximize performance levels and reliability, while delivering the highest possible safety standards," Ferrari said in its statement.
[gallery]748[gallery]