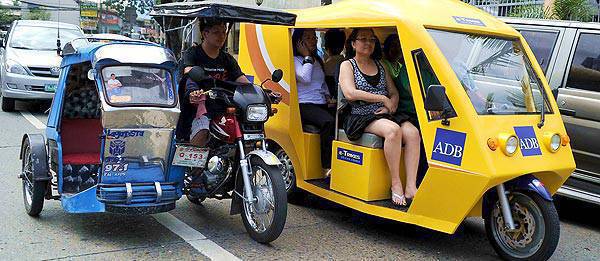 The Asian Development Bank (ADB) is joining seven other multilateral development banks (MDBs) in committing to provide more than $175 billion of loans and grants for the transportation sector of developing countries over the next decade.
"Rapid motorization is creating more congestion, air pollution, traffic accidents and greenhouse gas emissions--especially in developing countries," said ADB president Haruhiko Kuroda, who spoke on behalf of the MDBs at a news conference on the opening day of the Rio+20 United Nations Conference on Sustainable Development in Rio de Janeiro. "Developing countries have the opportunity to leapfrog to a greener future of less motorization, shorter commutes, and more energy-efficient transport systems."
According to the ADB, global carbon dioxide emissions from the transport sector are projected to increase to nearly 50 percent by 2030. In addition, losses from traffic-related congestion already amount to five percent of the gross domestic product of many Asian countries. This, then, results in many large Asian cities suffering from the highest air pollution levels in the world, which contributes to the premature death of half a million people each year.
ADVERTISEMENT - CONTINUE READING BELOW ↓
The joint MDB investment hopes to help develop and implement more environment-friendly, accessible, affordable and safe transport solutions. By itself, the ADB is already supporting green transportation solutions across Asia, including low-cost electric vehicles in the Philippines, urban metrorail systems in Vietnam, bus rapid transit systems in Mongolia and Bangladesh, and inland waterway transport in the People's Republic of China.
Joining the ADB in the $ 175-billion commitment "to help improve transport in developing countries within the next decade" are the African Development Bank, CAF-Development Bank of Latin America, the European Bank for Reconstruction and Development, the European Investment Bank, the Inter-American Development Bank, the Islamic Development Bank, and the World Bank.
If you're viewing this on a mobile device and can't see the video, please click here.
ADVERTISEMENT - CONTINUE READING BELOW ↓
Recommended Videos