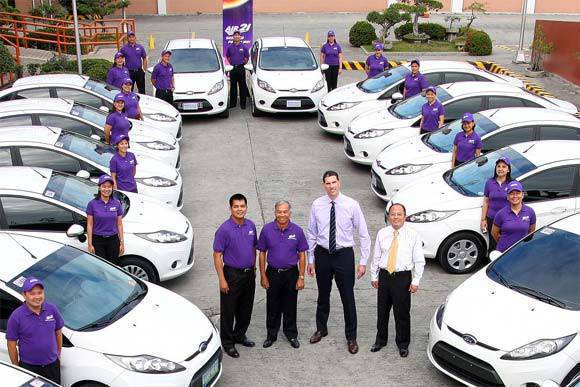 The Ford Fiesta's capability will be further tested on Philippine roads as Air21, a total logistics firm specializing in freight and cargo forwarding services, recently bought 22 units of the car.
"We at Air21 aim to provide quality freight and cargo forwarding services to our customers," said Alberto Lina, chairman of Air21's parent firm, the Lina Group of Companies. "With the Ford Fiesta, our sales and management teams can be assured of safe and reliable vehicles that meet their daily transportation requirements across the nation."
Air21's recent Ford Fiesta purchase is the biggest fleet sale made by Ford Philippines so far this year.
"This marks the beginning of a new and successful partnership. As a delivery and logistics provider, Air21 requires reliable transportation to meet their growing customer demands," Ford Philippines president Randy Krieger said. "And Ford can meet those demands with our wide range of products that are leading in quality, fuel efficiency, safety, smart design and value."
The Ford Fiesta was launched in the Philippines late last year. It was the top-selling hatchback in the country in December 2010, allowing Ford to conclude that the Fiesta has "won the approval from Filipino consumers."
"Air21 choosing the all-new Fiesta for their team testifies to the confidence our partners have in our delivery of vehicles that are of high quality and enduring value," Krieger said. "The Ford Fiesta truly represents a stylish and technologically advanced car with best-in-class safety features in its segment."
Continue reading below ↓
Recommended Videos
In photo: Members of the Air21 team with Jerry Jara, vice president for sales department of Air21; Alberto Lina, chairman of the Lina Group of Companies; Randy Krieger, president of Ford Group Philippines (FGP); and Steven Tan, vice president for sales and marketing, FGP.