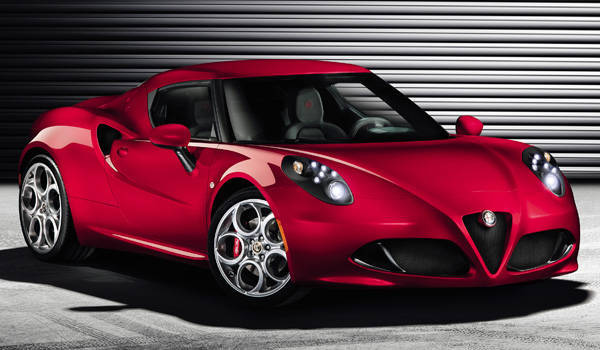 Because today is all about hearts and mushiness, here's a car you can easily fall in love with: the Alfa Romeo 4C. This is a new compact, mid-engined and rear-wheel-drive sports car from the Italian automaker, to be formally presented to the world at the Geneva Motor Show next month. It should be noted that this new coupe is not part of Alfa Romeo's collaboration with Japan's Mazda in creating a next-generation roadster.
What's with the name? According to the company: "The acronym '4C' draws inspiration from the brand's glorious past, projecting the values of technology and emotions into the future. It refers to Alfa Romeo's great sporting tradition: The 8C and the 6C in the 1930s and the 1940s, respectively, were fitted with powerful eight- and six-cylinder engines." The 4C, as you can deduce, receives propulsion from a four-cylinder turbo engine.
The 4C will be made available to customers this year. In fact, it will spearhead Alfa Romeo's return to the US market. And just how compact is this sports car? Well, it measures less than 4m in length, 2m in width and 1.18m in height, with a wheelbase of less than 2.4m.
Among the highlights of this car are a 1.8-liter turbocharged gasoline four-cylinder engine that's all aluminum, and Alfa Romeo's new twin-clutch automatic transmission. The chassis is also made entirely of carbon, ensuring lightness but also structural durability. The 4C, which incorporates a "race mode" into its operation, is said to boast a power-to-weight ratio of 1hp per 4kg.
Stylish design, compactness, lightweight construction, potent engine...what's not to love?