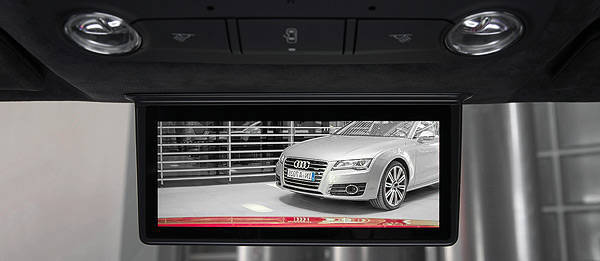 First seen in the Audi R18 Le Mans prototype race car that competed--and won--in this year's staging of the endurance race, the digital rear-view mirror will soon go into small-scale production at the end of the year as a feature of the R8 e-Tron all-electric sports car.
According to the German carmaker, the small, ultra-lightweight camera that will capture the images to be displayed on a color monitor inside the cabin is located in an aerodynamically optimized housing that's heated in cold temperatures.
Serving as the rear-view mirror is a 7.7-inch color monitor that's mounted diagonally in place of a conventional rear-view mirror. Utilizing an AMOLED (Active Matrix Organic Light Emitting Diode) display, it is reportedly more energy-efficient, thinner and lighter than conventional LCD monitors.
The digital rear-view mirror system also makes use of a control unit that produces a consistent high-contrast, brilliant image. During the hours of darkness, the same system prevents the R8 e-Tron's driver from being dazzled by the headlights of the vehicles behind it. The driver can also dim or deactivate the display at any time. Lastly, Audi is reportedly working on incorporating additional information on the monitor in the future.
So, if it's good to give the R18 a one-two-three finish for Audi in this year's Le Mans 24 Hours race, it must be good enough for the R8 e-Tron.
Continue reading below ↓
Recommended Videos