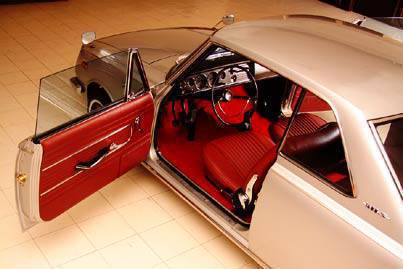 It is no surprise that many car enthusiasts are excited to see the selection of automobiles vying for the prestigious Trans Sport Show (TSS) Cup titles this week.

An exhibition of how skills and passion in restoration can breathe new life to aging metal never fail to leave big boys at awe. Like dads talking about their children growing up, restorers get to share the story of their knots-and-bolts adventure in resurrecting vehicles.

The TSS Cup has produced the likes of Alex Isip of the now-famous Alex Car Restoration Service.

Isip joined the very first Trans Sport Show as an individual competitor in 1992 where he won the Best in Class award. Bitten by the show-car bug, he has been joining numerous car shows since and has won five Best of Show and several Best of Class victories.

His restoration shop was born out of his passion for bringing old cars back to their pristine condition.

"He is one competitor who has shown consistency in his workmanship and yet remains to be humble, simple and unassuming. We practically saw Alex Isip grow up in the world of car shows. Alex's loyalty to Trans Sport Show and his success story mean a lot to us," said Sophie de los Santos, president of TradeShow International which organizes the TSS.

Another success story would be that of Xtreme Auto Center's Alex Lao, who joined the TSS Cup in 2003.

Back then, his 1967 Toyota Corona gained little attention compared with the likes of exotic cars like the Porsche Speedster and the fastback Ford Mustang. It was tucked in the far end corner of the exhibition hall, with only the "old school" purists truly appreciating the unassuming entry. But when judging commenced, the underdog surfaced as a sure winner because of Lao's excellent restoration work and project documentation.

"What makes it more special is that Alex did not have a lot of people working for him and the car was restored in his own garage. His passion and dedication were evident in his entry which won the 2003 Trans Sport Show Cup award," de los Santos said.

Every competition brews a different tale for each car restorer and their shiny metal. This year will be no different, but no less intense. The cars may be growing older but the stories behind their rebirth remain fresh.


Continue reading below ↓
Recommended Videos