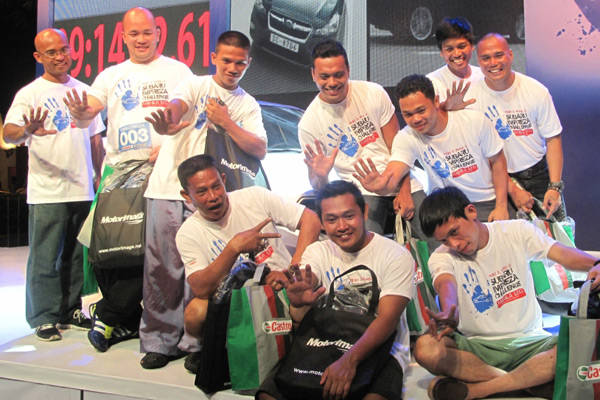 An all-male team will fly to Singapore in October for the Regional Face-Off of the 2012 Subaru Impreza Challenge following the successful staging of the Manila Leg last weekend by the Japanese carmaker's Philippine-market distributor, Motor Image Pilipinas.
The all-male team is mostly composed of veterans from the previous editions of the Impreza Challenge. They are Jason Biadog (fourth-timer and first-time finalist), Danilo Biadog (fourth-timer and fourth-time finalist), Robert Ocampo (second-timer and second-time finalist), Edgardo Marcos (fourth-timer and second-time finalist), Alex Neblasca (fourth-timer and fourth-time finalist), and Julius Mark Bautista (third-timer and first-time finalist). Joining them are four rookies: Filmark Bernante, Lemuel Perez, Marcelo Soriano Jr., and Philip Pajimula.
This year's staging was reportedly the hardest one yet. Although 110 challengers started the game, only 23 remained after five hours and 26 minutes, with a number of challengers saying that the searing heat of the sun made it impossible to hold onto the car for such a long time. Other than the challenges brought on by nature, grueling man-made tasks were given to the contenders to weed out the weak from those who were determined to win.
This year, an elimination trial called the "Castrol Edge Challenge" was introduced, with the challengers holding out away from their body one liter of Castrol Edge motor oil with their left hand while their right hand remained firmly planted on the car. The challenge supposedly took its toll on more of the challengers until only the last 10 contenders were left after nine hours and 14 minutes, giving them the opportunity to face the top challengers from other Asian countries for the chance to win a brand-new--and all-new--Subaru Impreza.
Continue reading below ↓
Recommended Videos