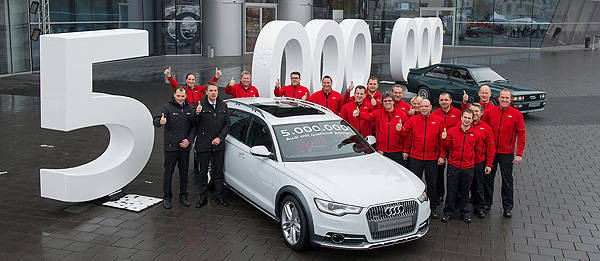 Audi has produced its five-millionth vehicle to be equipped with its Quattro all-wheel drive system: a white 3.0-liter Audi A6 Allroad TDI produced at its Neckarslum plant in Germany.
"Quattro is one of the key pillars of our brand and has been a critical factor in our successful history," said Audi AG board chairman Rupert Stadler. "The Quattro permanent all-wheel drive makes it possible to directly experience our 'Vorsprung durch Technik.' We are committed to our pioneering role and will continue to develop this advantage with new technologies."
The Quattro system owes its history to a small military vehicle built by Volkswagen that was known as the Iltis when, in 1976, a group of Audi engineers conducted test drives of its prototypes in the deep snow in Sweden. The Iltis traveled along for comparison purposes, and despite its meager 74hp, it easily outmatched the much more powerful Audis and their front-wheel drive systems. A few weeks later, a small team of engineers, led by then-Audi technical development board member Ferdinand Piech, began developing an all-wheel-drive car.
In 1980, the 197hp Audi Quattro, the first car to be equipped with the German automaker's newly developed all-wheel drive system, debuted at the 1980 Geneva Motor Show.
In 1981, the Audi Quattro began to see action in the world rally scene, with Hannu Mikkola winning the first six special trials in the snow at the Monte Carlo Rally. Unfortunately, Mikkola wasn't able to take advantage of his six-minute lead over his closest competitor when a crash against a small wall put him out of the race for good.
ADVERTISEMENT - CONTINUE READING BELOW ↓
By 1982, the Audi Quattro was virtually unbeatable anywhere in the world, winning seven races and capturing the World Rally Championship's manufacturers' trophy. A year later, Mikkola took home the drivers' title.
Originally planned for low-volume production, the high demand for the Quattro led Audi to continuously upgrade it until it was finally discontinued in 1991.