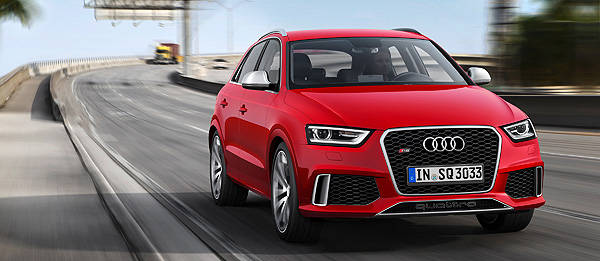 Audi has finally decided to give one of its crossovers the high-performance treatment, appending the "RS" moniker to the Q3.
The new RS Q3 is the first-ever Audi crossover to be handed over to Quattro GmbH, the German carmaker's high-performance subsidiary, for a full, no-holds-barred transformation.
"The RS Q3 transfers the performance philosophy of Audi to the compact SUV segment, thereby creating a new performance class," said Quattro GmbH managing director Franciscus van Meel. "In addition to the RS 5 Cabriolet, the RS 6 Avant and the RS 7 Sportback, the RS Q3 is the fourth RS model that we are launching in 2013. The RS family is growing to eight members--more than ever."
Powering the RS Q3 is the same 2.5-liter TFSI engine used by the TT RS and the RS3 Sportback. Linked exclusively to a seven-speed, S Tronic twin-clutch gearbox, the powerplant puts out 306hp and 420Nm, giving the RS Q3 a 0-to-100kph time of 5.5sec and an electronically limited top speed of 250kph.
According to Audi, for the first time, the five-cylinder engine is also complemented by a standard start-stop system which, along with a regulated oil pump that only supplies lubricant when needed, contributes to fuel economy that sets a new precedent for an RS model--up to 13.65k/L based on a combined city and highway test.
Audi claims the RS Q3 also has a pleasant exhaust note that--thanks to the 1-2-4-5-3 ignition sequence and the air induction and exhaust systems' geometry--"also ensures that the spirit of the legendary five-cylinder Quattros of the 1980s lives on in the soundtrack played by this state-of-the art performance SUV."
ADVERTISEMENT - CONTINUE READING BELOW ↓
Besides the engine, the RS Q3 also gets RS-specific body detailing, including a high-gloss black honeycomb front grille and RS bumpers, a Quattro emblem in the air intake for the front, and a distinctive diffuser and large elliptical tailpipes for the rear. A roof spoiler, roof rails in matte aluminum, and special door sill plates and door trim strips also make the car stand out.
RS accents can also be found inside the car. The instrument cluster has gray gauges with white scales and red needles. Contrasting stitching in rock gray also trims the three-spoke, flat-bottom steering wheel and the gear selector lever. Black headlining is standard, with a lunar silver headlining available as an option, while the pedals and foot support are finished in bright aluminum. The standard inlays are piano-black, but aluminum race or carbon inlays designed by Quattro GmbH are also available as alternatives.
The RS Q3 is offered with an exclusive body color known as Sepang Blue pearl effect.
Following its launch at the 2013 Geneva Motor Show, the Audi RS Q3 will go on sale later this year.