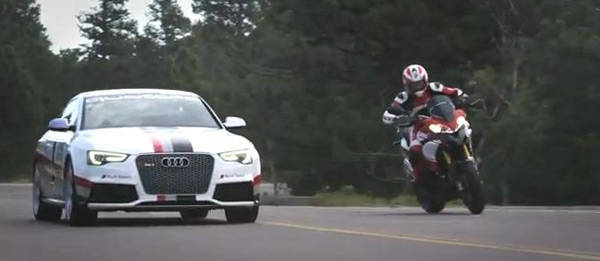 Last week, Audi revealed that it had something planned for the 2012 Pikes Peak International Hill Climb race that involved an RS5. Well, Audi has finally revealed what it is, and it involves an RS5 tackling the nearly-20km-long course side by side with a Ducati Multistrada 1200S.
Okay, the only time we get to see both vehicles in a single frame is when they cross the start and finish lines simultaneously, but that shouldn't stop us from appreciating the throaty exhaust of the RS5.
The stunt is part of a promo that Audi and Ducati are holding in the United States, where the prize is "a chance to experience the power of the Audi RS5 and the Ducati Multistrada together in an unparalleled ride-and-drive experience."
Now, why can't we have awesome promos similar to this one?
If you're viewing this on a mobile device and can't see the video, please click here.
Continue reading below ↓
Recommended Videos