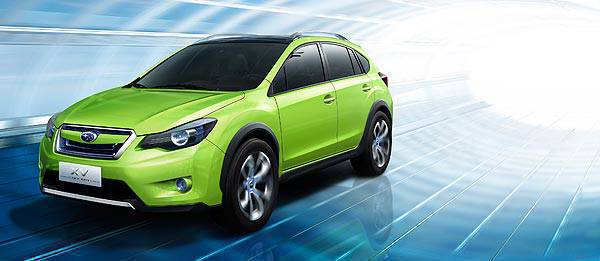 Subaru has unveiled a concept car that supposedly defines a new generation of crossover vehicle by "blending exceptional sport-utility vehicle (SUV) practicality with a fashionable form."
The XV Concept, as it is called by the Japanese carmaker, was engineered to combine a crossover-like commanding silhouette with a fashionable image into a single package.
The front is unmistakably Subaru with its standard design elements like the hexagon grille, winged motif and hawk-eye headlights. Step around to the rear and the same hexagonal design is carried over, particularly into the clear blue base under the license plate. The wheel arch cladding also offers the image of functionality while being playful, thanks to the black metallic highlights.
Inside, what Subaru calls "silvery white leather" is used for the seats while the use of sporty mesh in certain areas work to "create a high quality, yet casual mood." Yellowgreen piping similar to the concept car's exterior color caps off the interior's sporty and stylish finish.
A large multifunction display for the XV Concept's navigation, car audio and vehicle information systems sits on top of the center panel. Subaru's own EyeSight advanced driving assist system has an LCD monitor positioned between the two highly-visible combination meters that lets the driver check the images captured by the system's stereo cameras.
Continue reading below ↓
Recommended Videos
Subaru's designs are polarizing at best and this XV Concept is another perfect example, which is why we'd like to hear what you think of it by posting your comments below.
[gallery]882[gallery]