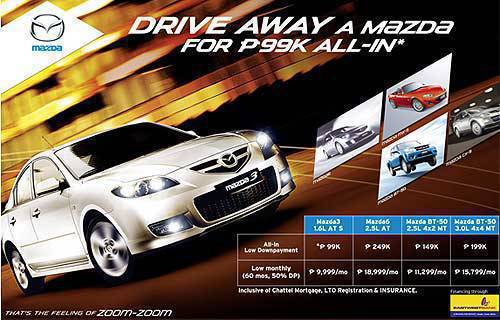 The 1.6-liter
Mazda3
has never been more affordable thanks to
Mazda Philippines
' all-in deal for a downpayment of P99,000. Buyers of the more upscale and sportier
2.5-liter Mazda6
can take it home for a downpayment of P249,000.
BT-50 pickup truck
buyers can get the 2.5-liter 4x2 model for a downpayment of P149,000 and the 3-liter 4x4 variant for an initial fee of P199,000.
Buyers who want the low monthly payment option payable for up to 60 months with a 50-percent downpayment can get the Mazda3 for P9,999 and the Mazda6 for P18,999 every month.
Either way, Mazda Philippines' installment plans come with the chattel mortgage, three-year LTO registration and insurance.
Isuzu
Isuzu Philippines offers generous discounts of P20,000 for the
Isuzu Crosswind
and P40,000 for the
Isuzu D-Max
.
On top of that, Isuzu Philippines also continues to run its Holiday Power Test Drives promo where a simple test drive of either the D-Max or the Alterra can get six lucky winners to take home either one 32-gigabyte Apple iPhone 3GS, one of two Sony PlayStation 3 units with 80-gigabyte hard drive, or one of three Canon IXUS 95IS digital cameras. Another batch of six winners who registered at www.isuzuphil.com can also take home a package consisting of one 120-gigabyte Apple iPod Video with two Skull Candy T1 headphones and accessories, one of two HP Mini netbooks or one of three Oakley sunglasses.
Those who actually buy an Isuzu vehicle get a chance to take home the best prizes: a 40-inch Samsung LCD TV with home theater package, one of two Canon EOS-450D digital SLR cameras, or one of three Nintendo Wiis with accessories.
Isuzu's Holiday Power Test Drives! promo runs until January 15, 2010.
Nissan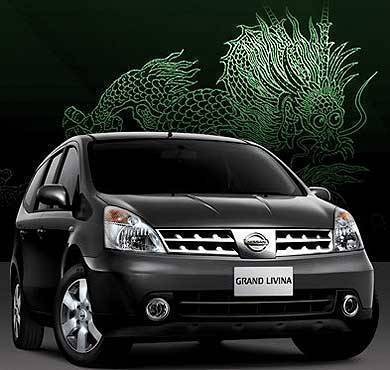 Fancy going on a Macau trip with a friend? A
Nissan Grand Livina MPV
can be your ticket to Asia's casino capital.
Nissan Motor Philippines offers the
Drive Your Way to Macau
promo for clients who take the Nissan Grand Livina for a spin. One can get a raffle stub for a chance to win a three-day trip to Macau just by test driving a Grand Livina.
Nissan Philippines' Drive your way to Macau promo runs until December 31.
Universal Motors
Universal Motors offers the Big Three Treats Big until December 15 to buyers of the
Urvan
,
Navara
and
Patrol Super Safari
through financing schemes via Banco de Oro Unibank and EastWest Bank.
Urvan buyers get a chance to bring home one of 20 32-inch Samsung LCD TVs, while ten lucky Patrol Super Safari customers could take home a 40-inch Samsung LCD TV. A Nissan QUICKN navigation system awaits them is at stake for Navara buyers.
Motorists who buy any of the three models also get to take home freebies, including a three-year LTO registration, tint, matting, seat covers (except for the Patrol Super Safari), chattel mortgage fee, and P5,000 worth of free fuel.