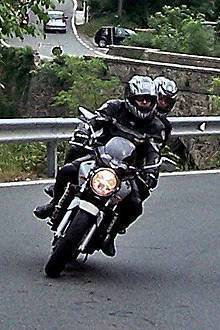 With the higher number of street crimes in 2011 attributed to motorcycle-riding criminal elements, Rep. Winston Castelo (2nd District, Quezon City) has filed House Bill 5720, which would authorize the Philippine National Police to "adopt a strategic policy against criminals riding in tandem on motorcycles thereby rationalizing more aggressive interdiction operations."
Also known as the "Riding in Tandem Interdiction Act of 2012," the bill supposedly gives law-enforcement agencies a stronger legal framework to effectively and efficiently respond to criminals who ride in tandem on motorcycles while committing a crime.
In filing the bill, Castelo cited that 1,700 crimes on the street reported last year were committed by riding-in-tandem criminals, an increase from the 1,565 incidents recorded in 2010.
Castelo also noted that with the rising statistics on crimes involving motorcycle-riding criminals, the PNP, in response, created the "Motorized Anti-Street Crime Operatives Program" of the NCR Police Office.
"The PNP has theorized rightly that criminal elements have taken advantage of the high-speed mobility provided by motorcycles as effective instruments of crime," Castelo pointed out. "Arrested suspects were found to be involved in strings of robbery, car theft, and even murder cases."
If the bill is passed, an initial amount of P100 million will be appropriated from the General Appropriations Act "for the purpose of upgrading the physical and technical capacity of the PNP to implement this act."
Continue reading below ↓
Recommended Videos
Photo from SXC.hu