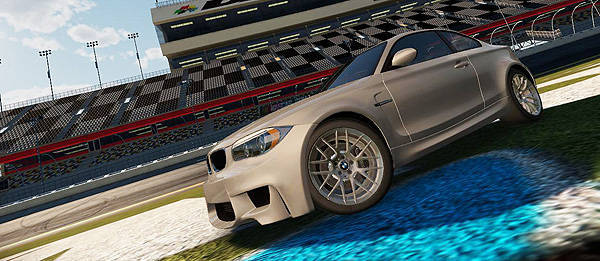 BMW has teamed up with video-game developer Eutechnyx to create Auto Club Revolution, an online racing game and car community for the PC.
As exclusive launch partner, BMW was involved in the development of the online racing game from the early stages. According to the German carmaker, Auto Club Revolution is not just a classic racing game with real-world tracks and realistically detailed models, but it is also designed to become an established forum for racing fans, automobile manufacturers and car enthusiasts. Over the long term, this is designed to develop into a strong community with links to BMW channels.
"It is always a real challenge to build a vehicle's distinctive handling accurately in a game--generating the models from CAD data is just not enough," said Doug Wolff, team leader for Auto Club Revolution. "To reproduce the handling of the BMW 1-Series M Coupe in an authentic manner, we first took it out on a real racetrack. That is the only way to know exactly how the car corners, for example."
The game will also feature an exclusive 'BMW Experience' for the brand's fans: a special game experience which includes a specially designed racetrack where players will be able to demonstrate their driving skills with the 1-Series M Coupe. Once they have successfully completed this BMW challenge, players can transfer the 1-Series M Coupe to the main game for free and set new track records by themselves or with friends.
Continue reading below ↓
Recommended Videos
Besides the 1-Series M Coupe, other BMW vehicles that are featured in the game are the 135i, the M3 Coupe, the M5 and the Z4 M Coupe.
"Our customers are tech-savvy and love to be able to put their dream car together the way they want," added Andreas-Christoph Hofmann, BMW's vice president of brand communication. "Auto Club Revolution has the possibility to make our models accessible to a large number of car enthusiasts. It was extremely important to us that our models be portrayed realistically. In Eutechnyx, we found a partner who shares our highest quality standards."
Auto Club Revolution can be found at BMW.AutoClubRevolution.com. All that's required to play the game is a PC with an Internet connection.