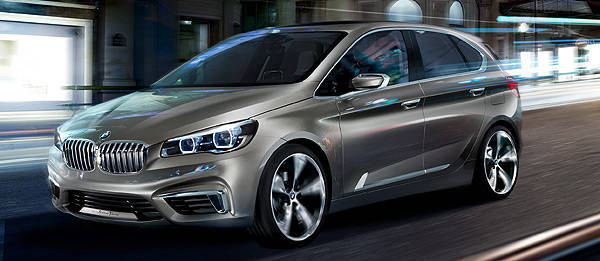 BMW is giving us a glimpse of its front-wheel-drive future by showing off its Concept Active Tourer at the 2012 Paris Motor Show this month.
A plug-in hybrid, the Concept Active Tourer is "the first in the premium compact segment to combine comfort and space functionality with dynamic performance and style."
The BMW Concept Active Tourer has a drive concept that's new to the German carmaker as its 188hp, three-cylinder, 1.5-liter TwinPower turbo gasoline engine doesn't power the rear wheels--as has been the case in all its models to date--but the front wheels. What powers the rear wheels is its synchronous electric motor that has an output of 200Nm that, if necessary, can power the car on its own for a maximum range of 300km.
With both powerplants combined, BMW promises that the Concept Active Tourer can achieve "highly sporty performance figures while maintaining extremely low fuel consumption and emission levels" with its 0-100kph sprint time of no less than eight seconds and a top speed of 200kph. The car also reportedly has an average fuel consumption of less than 2.5L for every 100km (40km/L) and a carbon dioxide emission level of less than 60g/km.
The Concept Active Tourer retains BMW's characteristic design cues, starting with the distinctive, slightly front-tilted radiator grille that sits between twin headlights with LED positioning lights. Furthermore, two large air inlets below the headlights emphasize the car's width. The rising shoulder line and the large, 20-inch wheels give the car a sporty yet elegant appearance, while the large rear light clusters and large tailgate give it a sense of solidity.
Continue reading below ↓
Recommended Videos
For its interior, the Concept Active Tourer offers an entirely new sense of space as the center console appears to hover between the two front seats, guaranteeing maximum legroom for both the driver and the front passenger. The door trim panels and seats are covered in light, soft full-grain leather that emphasizes the luxurious, elegant ambience of the interior. Orange contrasting seams underscore the vehicle's sporty character. Literally capping off the interior is an innovative panorama sunroof that extends across the entire roof surface. Infused with suspended particle device technology, the desired brightness or temperature effect can be achieved with the press of a button, with the sunroof "either being darkened to the level of powerful sunglasses or raised to crystal-clear brightness." A special lighting effect can be done to the panoramic sunroof by manually adding a large-area leaf structure design to it.
[gallery]1266[gallery]