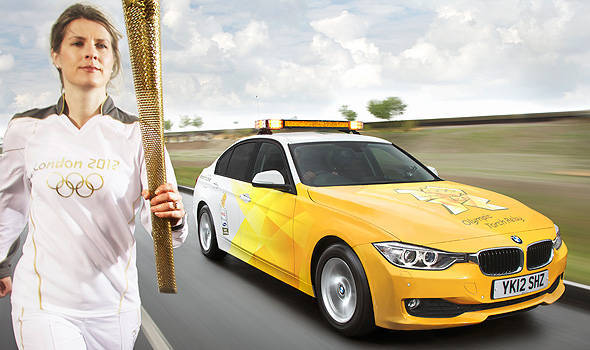 The ongoing annual Board of Governors meeting of Asian Development Bank in the Philippines isn't the only event that BMW is providing a fleet of vehicles for as the German carmaker will also be supplying the vehicles for the 2012 London Olympics and Paralympic Games.
"From motorcycles to electric vehicles and 4x4s, the requirements of the 2012 fleet are hugely diverse," said Richard George, transport director of the London Organizing Committee of the Olympic and Paralympic Games (LOCOG). "BMW and Mini have provided a variety of different cars, ideal both for city driving and long distance, to travel to Olympic and Paralympic venues around the country. It was vital that our partner in this field could deliver a one-stop-shop solution and meet our sustainability targets. BMW has surpassed our requirements and we are delighted to be working with them."
For the fleet of vehicles it'll be using for the Games--from transporting personalities and personnel to and from over 30 venues in and around London, to doing utilitarian duties like serving as mobile camera platforms--LOCOG has set an average fleet emissions target of 120 grams of carbon dioxide per kilometer. This is less than the new car emissions standard set by the United Kingdom of 138 grams of carbon dioxide per kilometer. According to LOCOG, the BMW and Mini fleet surpasses its target with an average carbon dioxide emission of 116 grams per kilometer.
ADVERTISEMENT - CONTINUE READING BELOW ↓
"Our London 2012 fleet shows what BMW technology can achieve today in terms of fuel economy and low emissions, including the first major presence of super clean EU6-compliant cars on UK roads," said BMW's UK marketing director, Chris Brownridge. "We look forward to sharing our vision of sustainable urban mobility during the Games, including our revolutionary electric vehicle technology at the BMW Group Pavilion in the Olympic park."
A total of 3,122 BMW and Mini vehicles will be used for the Games and these are:
* BMW 1-Series ActiveE (160 units);
* Mini E (40 units);
* Mini Countryman Cooper D (200 units);
* BMW 320d Efficient Dynamics (1,550 units);
* BMW 520d Efficient Dynamics (700 units);
* BMW 5-Series Active Hybrid (20 units);
* BMW X3 xDrive 20d (17 units);
* BMW X5 xDrive 30d (10 units);
* BMW F650GS, R1200GS and R1200RT motorcycles (25 units total); and
* BMW Streetcruiser bicycles (400 units)
ADVERTISEMENT - CONTINUE READING BELOW ↓
Recommended Videos