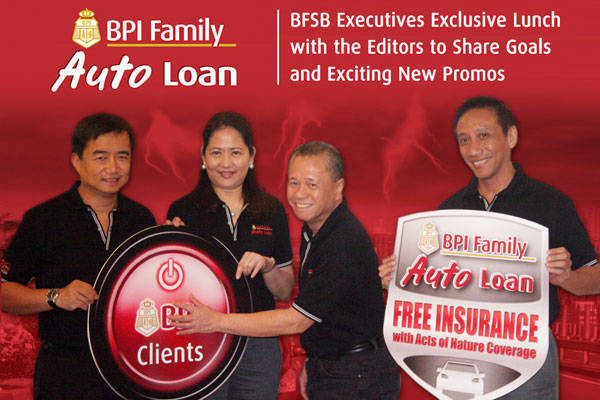 In March 2010, a few months after hundreds of cars in Metro Manila had been wiped out by Typhoon Ondoy, BPI Family Savings Bank introduced its free one-year insurance promo that came with Acts of Nature coverage. The campaign was such a success that BPI Family Auto Loan has introduced it again for 2012.
If you apply for an auto loan today or anytime until June 1, 2012, you'll get a free one-year comprehensive insurance with Acts of Nature coverage. The free insurance package includes:
* Own damage;
* Theft;
* Voluntary third-party liability, bodily injury;
* Voluntary third-party liability, property damage;
* Unnamed passenger personal accident; and
* Express roadside assistance.
"Comprehensive insurance usually amounts to about three percent of the market value of the vehicle," said Dave Sarmiento, BPI Family Savings Bank's senior vice president for auto and motorcycle loans. "Meaning, a car worth P1.5 million has a comprehensive insurance amounting to P45,000."
Well, thanks to this promo, you won't have to worry about the insurance cost during your first year of car ownership.
"Our aim at BPI Family Auto Loan is to make it easy for Filipino car buyers by lessening the costs of owning a brand-new car," added Sarmiento. "This way, we also help them prepare for the unexpected and ensure that when typhoons, floods or other calamities hit, they are surely protected."
Continue reading below ↓
Recommended Videos
So, if you're buying a new car in the coming days, seriously consider this offer. Interested parties may log on to the BPI Family Auto Loan website at www.bpiloans.com; visit the over 800 BPI or BPI Family Savings Bank branches nationwide; or call (02) 845-6777 for more details.