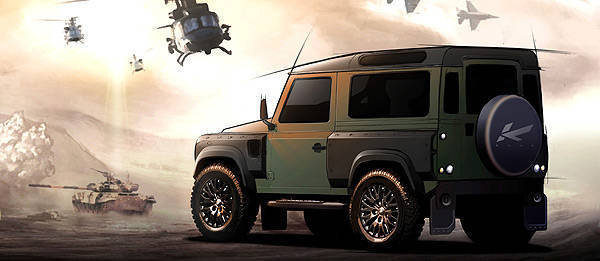 A. Kahn Design believes the world's fighting forces would be better equipped if they embraced the car-customization shop's ingenuity, as demonstrated by its Concept 17 Defender. Stylish? Absolutely. Better equipped? Maybe, and that's only because of the optional bulletproof feature.
According to A. Kahn Design, the other elements that make the Concept 17 Defender stand out from the ordinary, run-of-the-mill models are a four-piece arch kit, an exhaust system, spare wheel cover, mud flaps, and a unique paint job that "will ensure the vehicle remains more agile in the war zone, enhancing the chances of survival."
Propping up the hardcore sport-utility vehicles are Kahn 8x18 1983 RS Defender wheels that supposedly convey the essence of the vehicle's identity.
Of course, a car-customization shop isn't doing its job if it doesn't modify the vehicle thoroughly and A. Kahn Design promises exactly that by giving its customers what they want, like having the exterior done in the color of their jeans while the interior gets the same shade as their green T-shirt, for example. The shop could even change the color of the interior's clock if the customer wanted it to.
"A. Kahn Design is for the individual who will not submit to a life of uniformity and who will only accept perfection," the company said in a statement. "Dedicated to the creation of luxury bespoke vehicles, we redesign the ordered monotony of mass-produced vehicles and rebuild them into individually tailored creations."
Continue reading below ↓
Recommended Videos